The author box has, in recent years, become a crucial figure on blogs. And bloggers with this knowledge keenly sought-after the best author box plugins to be in their best game and remain competitive. With readers growing more interest in connecting with their favorite authors on various social platforms, publishers with no author box on their blogs always gasp for straws maintaining credibility. And unfortunately, most WordPress themes are without support for the author box.
Some themes deliver the default WordPress author box, while others rarely include as many features as you may want to include. Most commonly, they lack support for necessary custom features to set up a refreshing author box.
Well, adding an author box to your WordPress site shouldn't imply messing up the design. Neither should it compel you to compromise your authors' privacy policy.
Six best author bio box plugins for WordPress
The following list of the best author box plugins for WordPress considered the above-mentioned features as well as their maintenance policy. Some of the popular author box plugins with poor maintenance couldn't make this list since there are no guarantees of how secure they could still be with no update for several years.

This is the plugin to install if you really want the best author box plugin at the moment. And it doesn't look like there could ever be a challenger at least in the next coming years. The Simple Author Box not only includes all the features and customization settings you could ever ask for but regularly maintained by the developers to ensure your website security while adding a unique author box to your blog.
As expected, the simple box features support for multiple author information, which allows you to add custom author image from your WordPress dashboard and over 39 social media icons. To reduce the workload on customization, the Simple Author Box plugin, by default, uses your active theme's font family and color for a seamless and immediate blend with your theme right after the installation/activation, which doesn't take more than 5 minutes. The Simple Author Box also unlocks an advanced text editor on your user edit page, allowing you to switch between HTML and visual editor. This ensures that you can implement text effects and create links in the author's biographical information without any knowledge of HTML.
The colors and appearance settings tab offers full flexibility for easy customization. You can adjust the author box margins, border values, including the colors, paddings, icon colors, avatar style, etc.
Some notable features of the Simple Author Box
Post type support: This allows you to select where you want to display the author box for a specific post. In other words, making your author box a dynamic figure on your blog.
Support for Gutenberg block editor: This makes your author box visible and customizable in your design mode. You can add or edit your author box using the WordPress author box Gutenberg block.
Mobile-friendly: Designed to automatically adjust to varying screen dimensions to ensure that your website visitors are able to read and fully interact with your author box.
RTL text direction support: Allows you to change your author box text direction to move from right to left in support of different writing systems such as Arabic and Hebrew.
Multiple authors: You could assign a post to multiple authors or editors.
Guest author: Assign posts to authors with a little contribution or guest authors without creating their user account on your blog.
Support for manual implementation: Allows you to manually implement the author box on your preferred template: single.php or archive.php file.
Link Control: You can adjust the behavior of the links in your author box, such as open in a new tab and non-follow link attribute.
The Simple Author Box is a freemium plugin, with more advanced features only available on the premium version.
Fancier Author Box
The ThematoSoup team consisting of Slobodan Manic and Dragan Nikolic are the developers of the Fancier author box. The plugin helps blog owners to spark a unique identity on their blog by adding a simple and attractive author box. Following just a few steps, you can use Fancier Author Box to set up an author bio box on your WordPress site. Though this plugin doesn't come with lots of customization options unlike those mentioned above, it makes up with a dozen of features. Aside from the author's name and biographical information, it shows links to the author's various social profiles. And also supports Google Authorship, widgets, shortcodes, responsive design, translation, and freedom to set your author box custom color. Fancier author box displays the author's latest post in a separate tab.
All changes to the plugin are made through the user settings, which appear on your WordPress dashboard the moment you install and activate the plugin. Unfortunately, Fancier Author Box doesn't allow you to add custom images for your author as the previous plugins. You can only use a Gravatar account image. Overall, the plugin gives you a fantastic author box, suitable for both WordPress beginners and professionals.
Ultimate Author Box Pro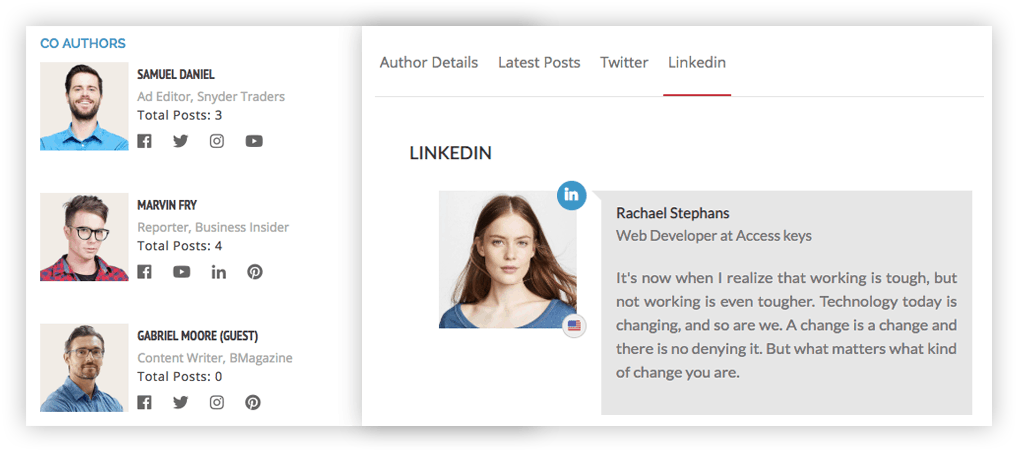 For those of us familiar with the Ultimate Author Box Lite plugin, the Author Box pro is simply its premium version. The plugin is already an excellent WordPress author box plugin, which allows bloggers to add more information about their authors on their posts.
But as you would expect, the Author Box Pro is not just the paid version of the lite. It's an upgraded version of it, with extra features. Just like the Ultimate lite, the Pro doesn't require that you have any coding skills before you can install and customize an author box. Customizing this plugin just requires you to head over to the settings on your WordPress admin panel for the general settings, permission settings, layout settings, and custom settings.
Some of the excellent features include social media tabs and icons, the latest posts tab, authors' avatars from Gravatar, phone number, emails, and many more. Installing this plugin seems like a great way of showing off your authors to your readers while serving as an appreciation to your authors.
Molongui Authorship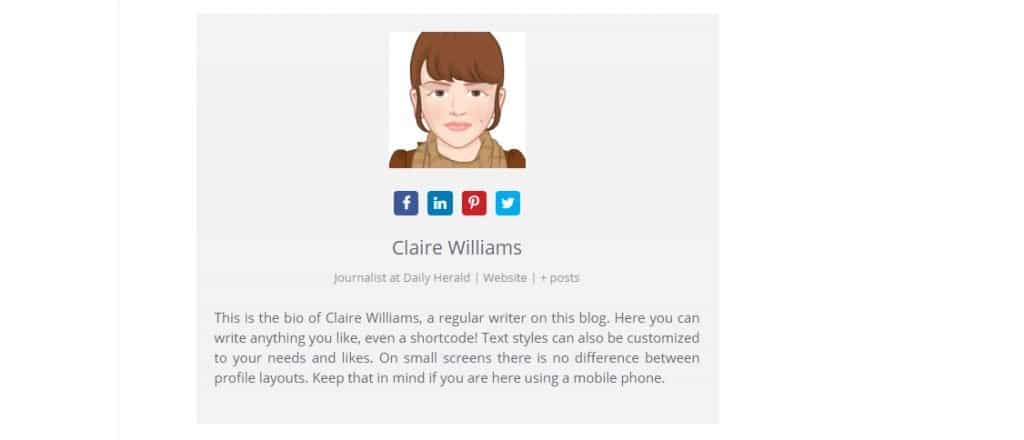 Molongui Authorship remains one of the best author box plugins for WordPress used by bloggers in resolving many questions on the conventional author box in WordPress. The plugin is designed by a passionate and reputable WordPress plugin developer – Amitzy. In complimenting the default WordPress author box, Molongui Authorship extended this blog feature into new and more useful ways. Molongui isn't just a good option for your WordPress blog. It's one of the most customizable author box plugins you could find today if you can't lay hands on the Simple Author Box.
Molongui plugin offers a long list of features for your author box, including the option to accord posts to guest authors and also create posts with multiple authors. With the bylines feature, you can create author box, without necessarily requesting your new authors/guest authors to create an account on your site.
Some features common with the free version of the plugin is a fully-featured author's bio box for your regular authors, support for Google and Facebook Authorship, customized author avatars, flexible design options, over 70 social networks links, responsive design and more. The premium version plugin allows you to access even more advanced features. These features include but not limited to custom post types, Author box shortcodes, and customizable author bio box layout styles.

The multi-faceted WP Post Author is a simple and straightforward author box plugin for just any user. It's a free plugin developed by AF Themes under free Software Foundation; GNU (General Public License). This basic and simple-looking plugin is known for its minimal design, yet it has all the basic functionalities of an appealing author bio box. Under the post content, the plugin displays the authors' name, image, biographical information, role, email address, and social media links. You will also find other widgets and shortcodes needed to display your author box anywhere on your WordPress post.
Another feature to mention is the availability of the hide and show option, which allows you to hide some part of author information for some specific posts. There is no much customization you can do on the WP Post Author plugin, aside from changing the alignment to either right, left or center. You also get an option of either displaying the authors' image in a square or circular frame. Additionally, you have the option to add your author box on the sidebars as well as other widget areas.

The VK post author display is also another amazing author box plugin that quickly adds identity to your post. Depending on your choice, the VK plugin can display the author box in your post alongside social media links. It allows users to either use personalized profile information on the author box or different information in different posts.
From the plugin's attractive admin panel, you will find six eye-catching pre-installed templates to customize your author box appearance. You can choose any of these templates and perform a few tweaks for a match with your theme. Some interesting features of the plugin include the option to upload the author's image, and to display them in different shapes; square or circle. It also has options to display an author's email address, website, and title.
In conclusion
The beauty of WordPress includes your ability to choose from a host of plugins to activate a specific feature. And your search for the best author box plugin is no different. Depending on your specifications and in terms of features, the Simple Author Box stands out in the above list of the best author box plugins for WordPress, whether you're going for a free or premium author box plugin.