License Manager
For anyone who has had to manage multiple clients/license, this addition to the Coming Soon & Maintenance Mode plugin will come as a life-saver. If you are an Agency license-holder, you will be able to log in to the License Manager dashboard where you will get to handle everything license-related.
create and manage as many licenses as you need
create

keyless licenses

that are domain activated and do not require a license key for activation
enable

per-license features

configuration such as the white-label option, extra templates & expiry date
see a

detailed list of sites using

your licenses
disable sites and licenses as needed
A few more important bits:
this is a non-breaking change; if you don't want to use the License Manager you don't have to, your master license key will continue to work forever

this won't cost you anything extra

– the License Manager comes as a part of the Agency license
your clients won't see any changes nor will they have to do anything special as a result of this change
Branding
Do you work in an agency? Are you a soloprenuer who works with dozens of clients on a monthly basis? Then you can quickly rebrand the plugin, and sell it as part of your service.
Change the name of the plugin, add new descriptions.
Remove all WebFactory branding, as well as the original plugin name, visuals, and descriptions.
Upload a custom logo, change colors, and modify the plugin's CSS until you make it your own.
Let your customers think it's a custom plugin crafted specifically for their needs.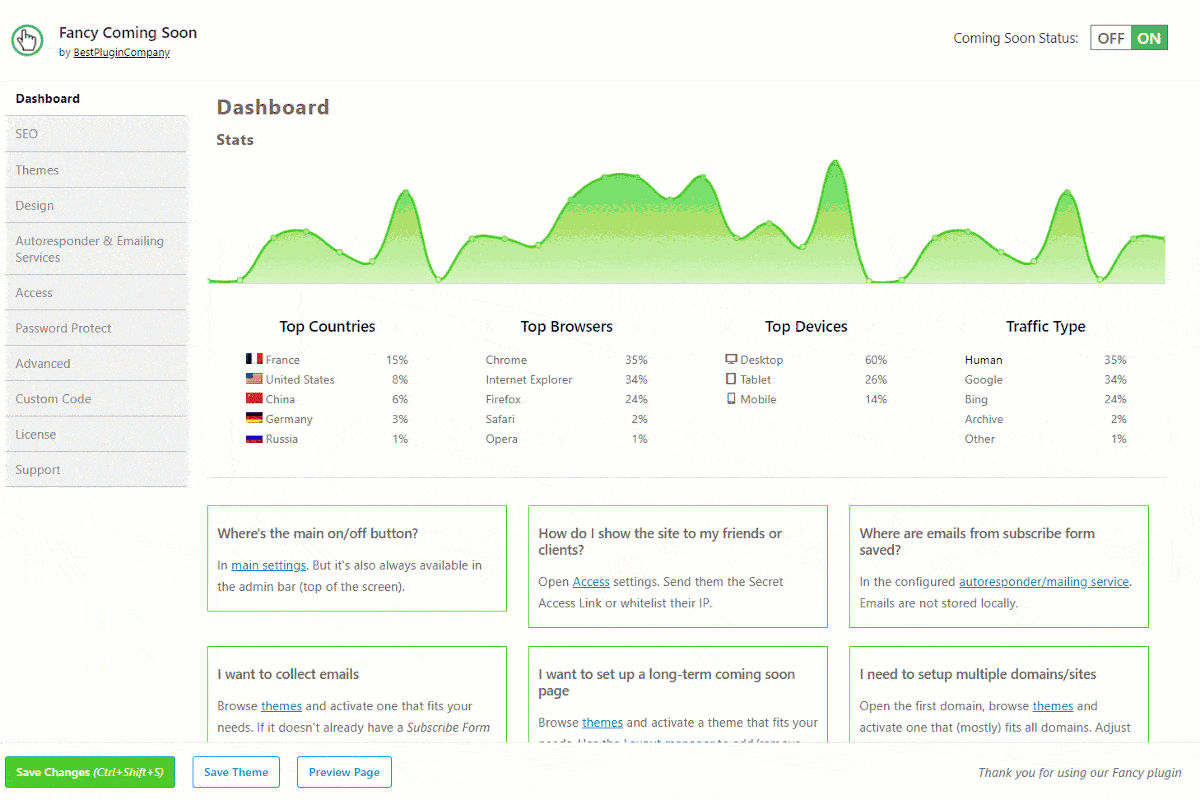 Remotely Control all Sites
Need to quickly put a site from your network in maintenance mode? Want to instantly publish the other one? You do not have to log in separately – just click a button from your personal dashboard.
Enable or Disable the coming soon mode for any site.
Synchronize the data from the plugin in one click.
View traffic stats (number of visits, countries, device type, browser) directly from the Dashboard for any site.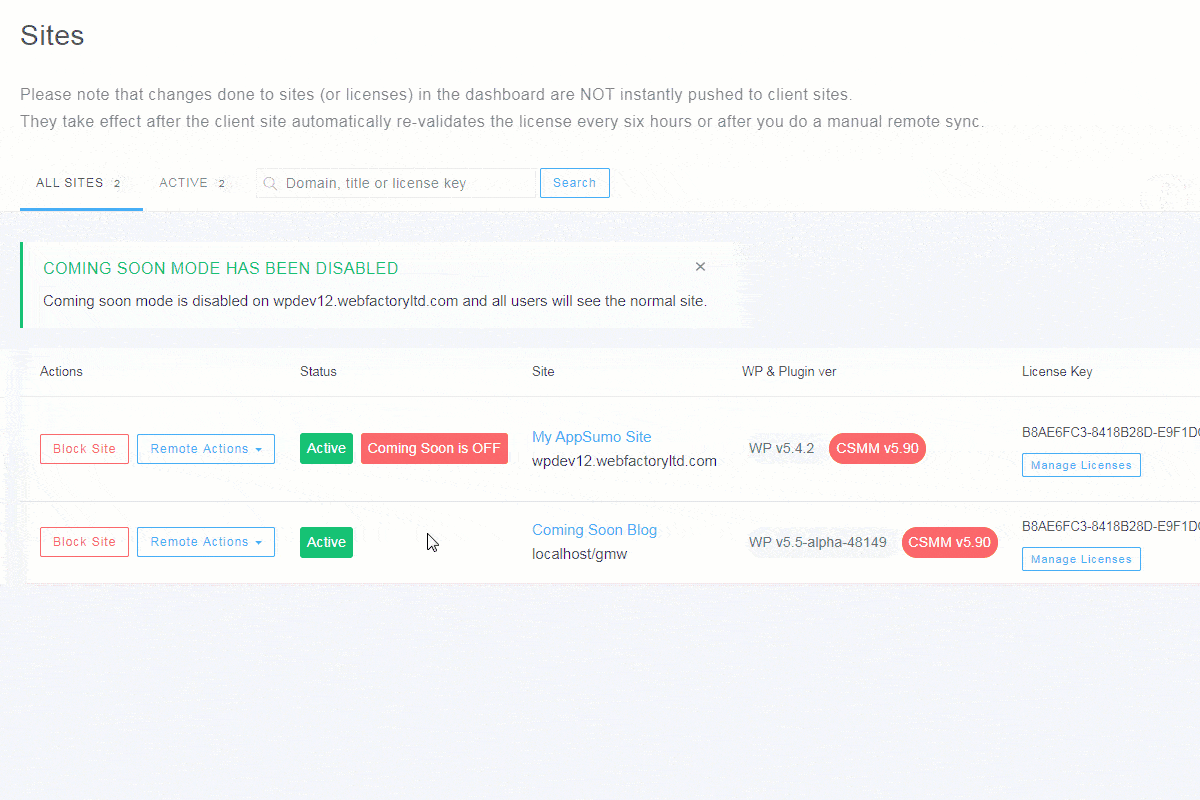 SEO
SEO Snippet Preview – provides a real-time preview of how the site will look in Google's search results
SEO Analysis – runs over 20 tests on various aspects of your SEO and provides actionable advice
SEO Title
Meta Description
Exclude Search Engines – shows the normal site to search engines despite if coming soon is enabled
Block Search Engines – completely blocks search engines by sending a "503 Service Unavailable" response
Favicon Image – show a custom image in peoples' browsers
Social Preview Image – the preview of your site displayed on social media
Google Analytics Tracking ID – know your stats and track the site with Google Analytics
Tracking Pixel & 3rd Party Analytics Code – you can also track your site with any 3rd party tracker you use
Facebook Page URL – for metadata and better social networks integration
Twitter @username – for metadata and better social networks integration
Themes
Themes can easily be previewed and activated from the plugin
No extra downloads are needed
View the complete list of themes
PRO license comes with 170+ themes; extra Agency pack with 50+ themes is available during checkout, or later via support
Agency license comes with 170+ themes
Design – Layout
The drag & drop builder features 10 modules which can be completely customized
The builder is far simpler to use than the average WordPress builders found in many plugins
Content Overlay – a transparent background added to the entire content section
Content Width – width in pixels
Content Position – 4 content box positions
Content Animation – 47 content intro animations
Modules Spacing – spacing between modules
Use a Custom Page
Create a page by using your favorite builders like Gutenberg, Elementor, Divi, Beaver Builder, Oxygen, Visual Composer, or any other. Then simply select the page you have created and set it as the coming soon page.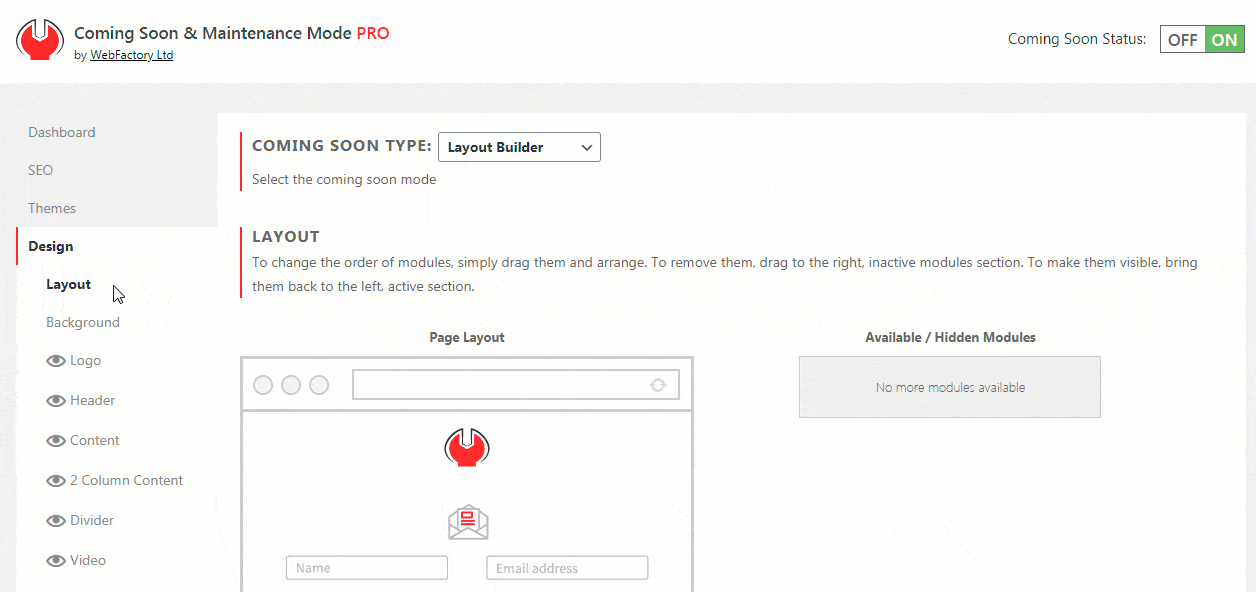 Design – Background
Choose from a static image background or animated video background
Select an image from our 400,000+ images gallery, or upload your own
Background Image Size – display in original size, resize an image so it's fully visible or cover the entire screen
Background Image / Video Filter – 27 Instagram-like filters
Background Image Position – 9 predefined positions
Background Color – choose any background color you want to use instead of the image
Background Video Source – choose any YouTube video that will be played muted and looped
Design – Logo
Upload logo or select from the Media Library
Maximum Logo Height – width is calculated automatically, so you can easily change the size
Logo Title – used for SEO
Design – Header
Header Text – write a catchy headline and draw-in your visitors
Header Font – choose from more than 700 Google Fonts
Header Text Size – change size in pixels
Header Text Color – choose any color you want; we suggest matching the color to your logo is using one
Design – Content
Content – write and import media files
Content Text Size
Content Text Color
Content Font – choose from more than 700 Google Fonts
2 Column Content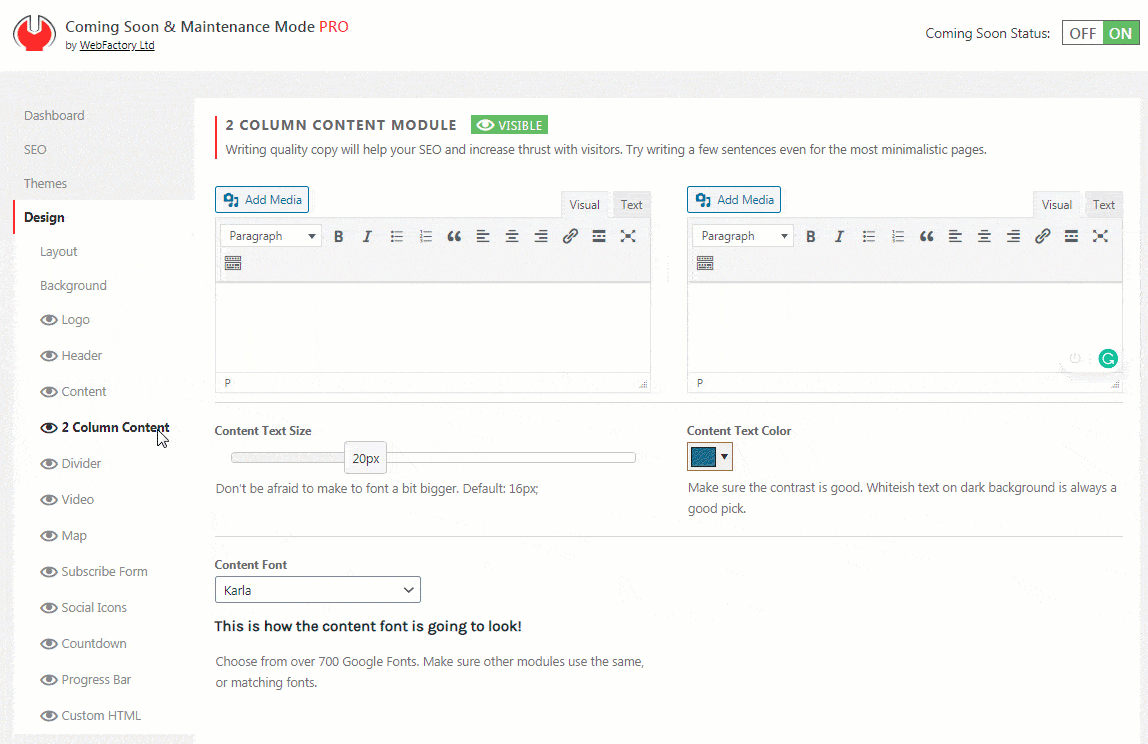 Content – write and import media files into two separate content fields
Content Text Size
Content Text Color
Content Font – choose from more than 700 Google Fonts
Design – Video
Video Type – Youtube, Vimeo, and any other source
Video ID – Youtube and Vimeo video ID
Video Embed Code – iframe code for any other video source
Autoplay Video – if enabled, a video will automatically play on page load
Clean/Minimal Interface – minimalistic, but removes most of the video controls
Mute Video – When using autoplay, we suggest muting the video
Design – Map
Address – any location you can think of
Zoom Level – anything from the entire world to street view
Map Height – width is always 100% and responsive
Google Maps API Key – Google requires everyone to create their own free API key for the maps to work properly
Design – Subscribe Form
Email Field Placeholder Text – make sure visitors understand what they need to write
Subscribe Button Text – text displayed on the button
Show Name Field – turn on if you want to ask visitors for their name
Name Field Placeholder Text
Anti Spam Text – let your user know you won't spam them
Subscribe Button Position
Antispam Text Size
Antispam Text Color
Success Message Background Color
Error Message Background Color
Error Message Text Color
Input Fields Placeholder Color
Customize Form Styles
Size – Input Text and button
Color – Input Text, button text, input background, button background, button hover background, input border, button border, input focus border, button hover border
Design – Social Icons
Icon Size – 4 predefined sizes (small, medium, large, and extra large)
Icon Color – pick any color you want to match your site
Icon URL – link to a social profile or any other site
Icon image – choose from 400+ icons
Design – Countdown
Countdown Date/Time – time that will be counted down to your launch date
Countdown Numbers Size – make them more or less visible
Countdown Numbers Color – match your page style
Countdown Labels Size – you can make them barely visible or put the focus on the labels
Countdown Labels Color – the entire color palette is in front of you
Countdown Days Label – type anything for the label
Countdown Hours Label – type anything for the label
Countdown Minutes Label -type anything for the label
Countdown Seconds Label – type anything for the label
Design – Progress Bar
Percentage of Completion – choose a number that will be displayed on the bar
Bar Height – change the height while the width is controlled by the plugin
Bar Color – make it visible and match style to your page
Label Size – change according to the bar width
Label Color – be creative and select a nice color
Design – Custom HTML
Custom HTML
Use Custom HTML Only – if you enable this option, the plugin will ignore all other modules, background or content settings and display only the HTML you provide. Basically, you'll get a blank template to work with. Basic CSS reset rules will be automatically added.
Divider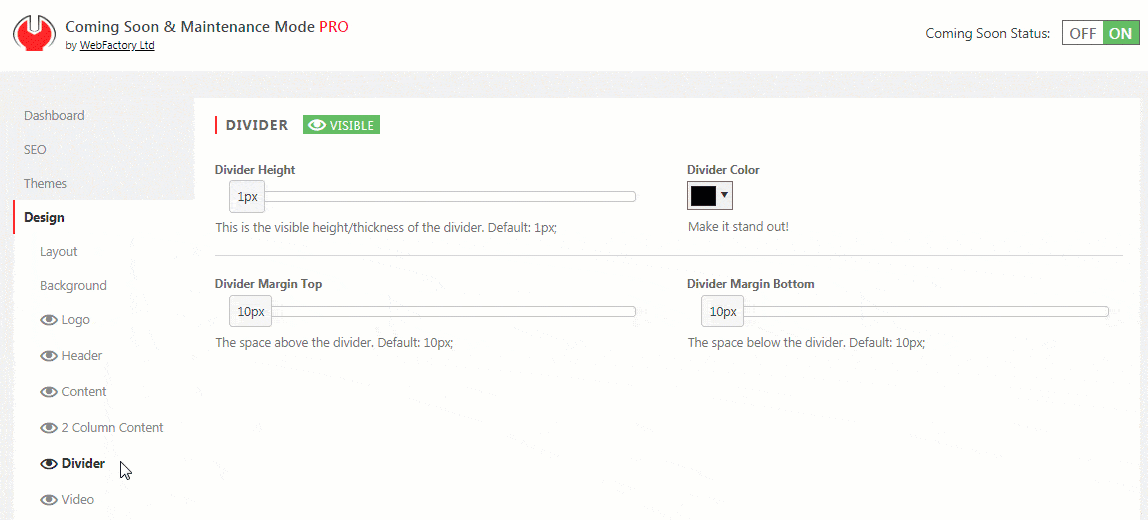 Divider Height – change the height of the divider and make it more or less visible
Divider Color  choose any color to match your theme
Divider Margin Top  – set the space above the divider
Divider Margin Bottom  set the space below the divider
Autoresponder & Emailing Services
Email / Integration System – MailChimp via API, Zapier, Universal Autoresponder Support
Debugging – shows detailed info to help resolve any integration issues
MailChimp API Key
MailChimp Mailing List
Zapier Endpoint URL
Universal Autoresponder Support – following variables are automatically configured based on the provided HTML form code: Action URL, Method (POST/GET), Email Field Name, Name Field Name, Extra Data
All messages are easily translatable; following messages are available: Invalid Email Address, Invalid Name, General Error, Successfully Subscribed, Already Subscribed
Access Rules
Show normal site to logged in users
IP Whitelisting
URL Based Rules – provide per-URL setting for enabling/disabling the Coming Soon mode giving you the option to hide or show only selected pages on the site
Secret Access Link – a link to share with people who need to see the normal site behind the coming soon page.
Custom Login URL – if you're using a custom login URL and can't access it, enter the custom login URL here. That URL will never be affected by the coming soon mode
Advanced
Send no-cache Headers – if you don't want the coming soon page's preview to be cached by Facebook and other social media enable this option. Once you switch to the normal site social media preview (visible when sharing the site's link) will immediately be refreshed. Normal visitors won't notice any differences with the option enabled.
Custom CSS Code – have full control over the style of your page
Custom Head Code – the code will be outputted before the closing head tag
Custom Footer Code – the code will be outputted before the closing tag
Export Settings – easily transfer settings between different domains/sites
Import Settings – all settings are imported and overwritten from the chosen export file
Reset Settings – reset to default values
Support
built-in contact form gives you access to our friendly support agents with no hassle
site details are automatically sent to ease troubleshooting