Do you want to promote events or begin offering them on your website? Are you looking for a virtual assistant in the organization of your events? Then you are at the right place.
There are hundreds of such plugins for WordPress, but the only thing you have to do is read our description and choose one from our list of best event plugins.
What are the benefits of an event plugin?
This plugin is multifunctional and helps you in many different aspects, for example displaying event calendars, adding and managing your venues, or selling tickets. Usually, you will find an event plugin with an event calendar that is easy to set up and manage, a built-in RSVP and ticketing system, a payment options system, email notifications, attendee management, and so much more.
Here is a list of the best event management plugins in 2022:
Amelia
Eventin
The Events Calendar
Events Manager
WP Event Manager
Event Organiser
#1 Amelia

Are you running a service-oriented business like a beauty parlor, fitness club, or educational enterprise? Meet Amelia, your go-to WordPress booking plugin designed specifically for businesses like yours. With Amelia by your side, you can streamline and automate your booking processes, efficiently manage your schedules, and provide your customers with an exceptional booking experience.
But that's not all – Amelia is not just user-friendly; it's also feature-packed. Here's what you get:
Offer packages of services, resource bookings, event tickets, and a convenient event calendar view.
Keep your clients engaged with real-time notifications and personalized appointment and payment reminders.
Easily handle group bookings and recurrent appointments, making your business operations smoother.
Manage payments, taxes, and invoices seamlessly with native Amelia WooCommerce integration.
Event List 2.0 Booking Form
Provide customers with a comprehensive overview of upcoming events and streamline ticket reservations with various ticket types.
Simplify the refund process by automatically initiating and processing refunds for customers, ensuring a hassle-free experience.
Allow customers to complete transactions conveniently through personalized and secure payment links sent via email or within their customer panel.
Efficiently share resources like rooms, equipment, or cars among employees, enabling clients to view available time slots and make appointments accordingly.
#2 Eventin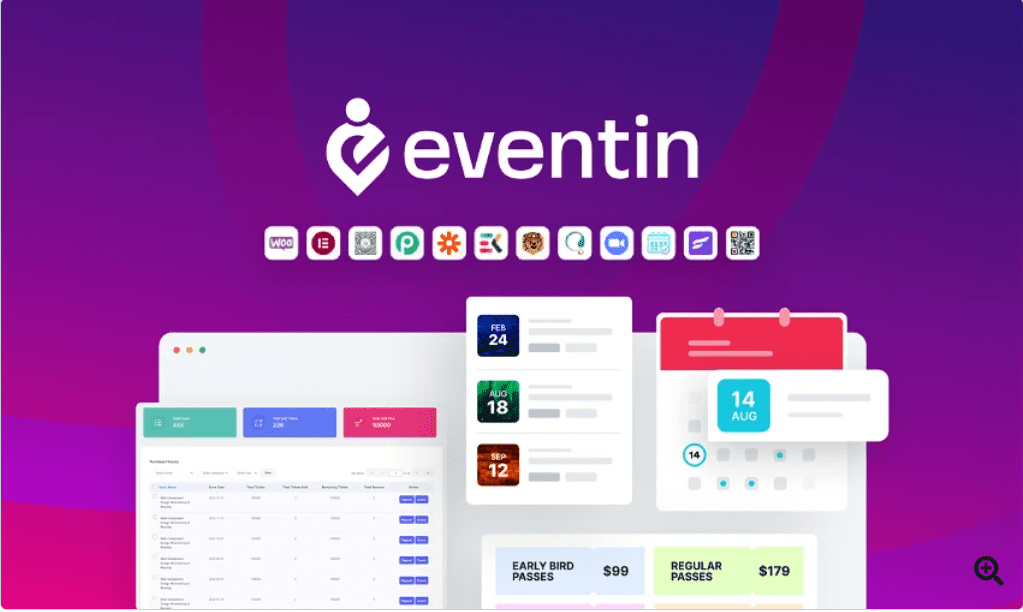 With Eventin, event planning and managing have never been easier and more efficient. This all-consuming plugin offers numerous possibilities and makes event management a piece of cake. It gathers all in one place and lets you organize every single part of your event.
It enables you to create, promote, and manage unlimited events with custom ticketing options. This plugin is a great alternative to all types of event calendars and integrates perfectly with other tools and plugins to allow you to track everything connected to payments, analytics, and so much more.
Eventin lets you manage an unlimited number of events with custom schedules, event countdowns, and speakers. With this WordPress plugin, you can schedule one-time or recurring multiple events at no additional cost and even launch dedicated event websites.
Moreover, if you integrate it with WooCommerce, you will be able to offer special coupons, accept payments, take partial deposits with multiple gateways, and confirm your orders via email.
#3 The Events Calendar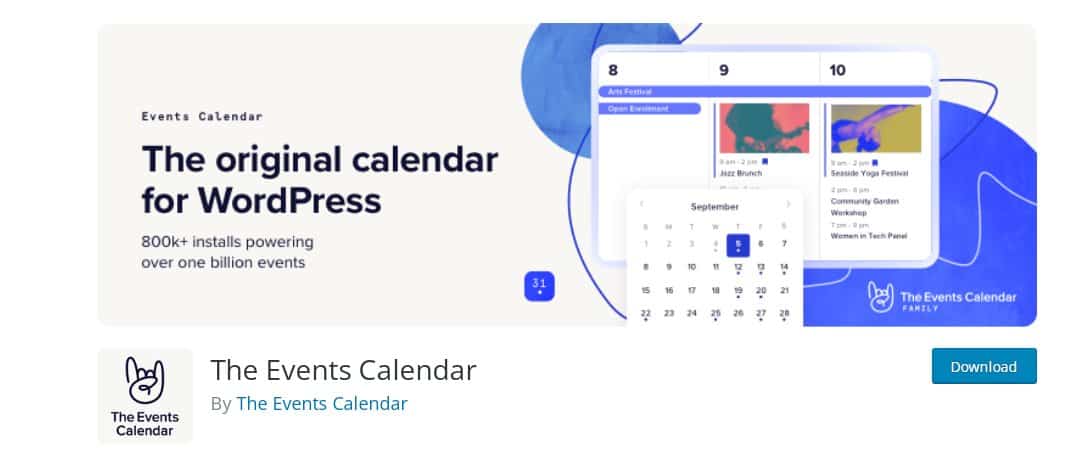 The Events Calendar is a great event management system designed to help you manage all aspects of your events. With this plugin, you will be able to easily create and manage an events calendar on your WordPress site.
Whether your events are virtual or in-person, this calendar plugin boasts professional features. It has a beginner-friendly interface, making it easy to add all your event details, venues, organizers, and many more. You can even put the spotlight on the chosen events to increase engagement in those events and add filtering so that your users are able to find the event they are searching for.
#4 Events Manager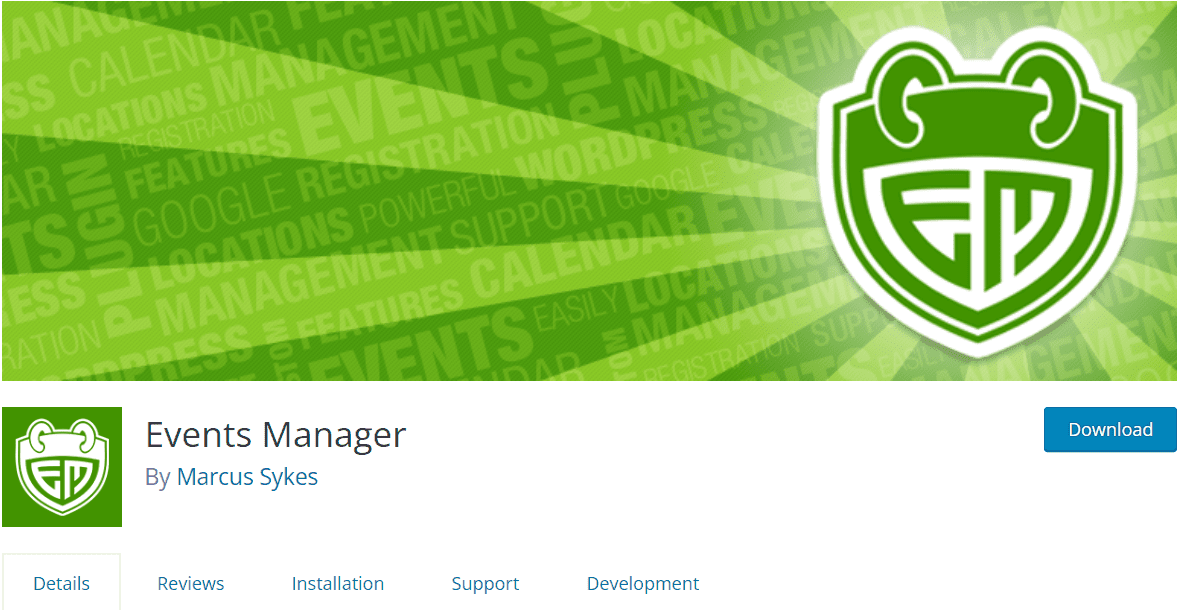 The third on our list is the Events Manager plugin. The plugin is imagined and built around a calendar and allows your users to make bookings for your events.
The plugin is extremely simple to use and works basically like a desktop calendar. You can add an event, set the time when it starts and ends, post it and wait for the user registration and submission. This plugin will save you a lot of time and enable you to assign event locations, receive and accept or reject submissions from your guests, set recurring events, insert widgets, and so on.
#5 WP Event Manager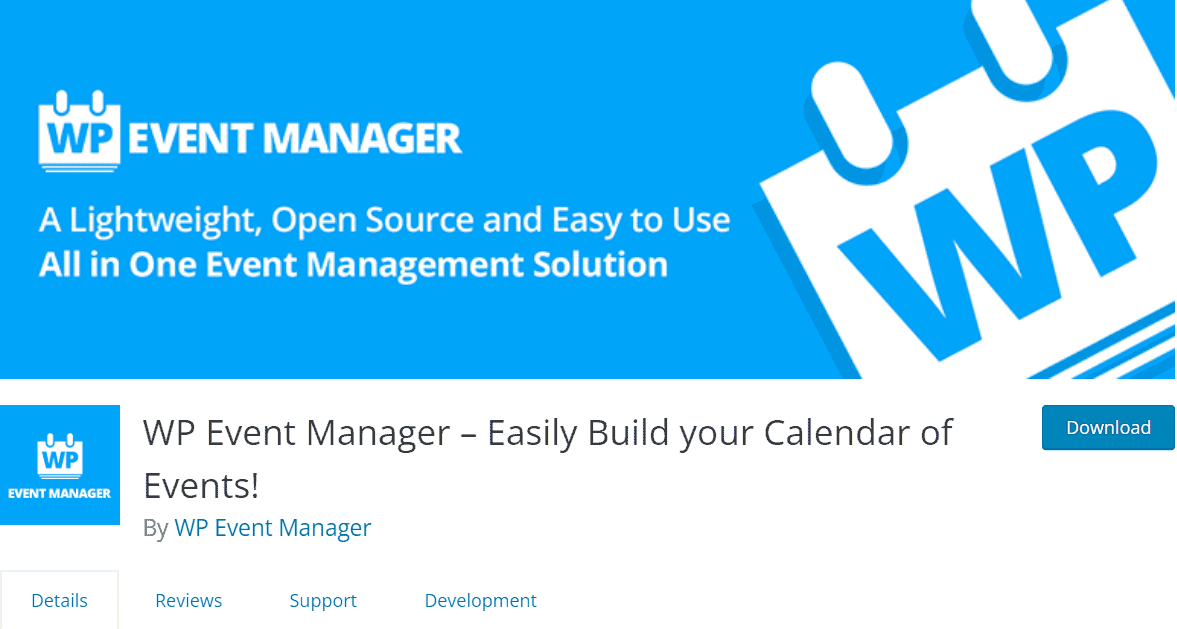 Next on our list of best event plugins is WP Event Manager. This is a full-featured event management system within WordPress for both live and virtual events. This free plugin will allow you to create an event in a very short amount of time. You will be able to add, remove, and organize your event listings without leaving the dashboard and assigning event locations to each of your events. Furthermore, you can give access to your event organizers, personalize your events by creating custom fields and even get live previews of your events.
#6 Event Organiser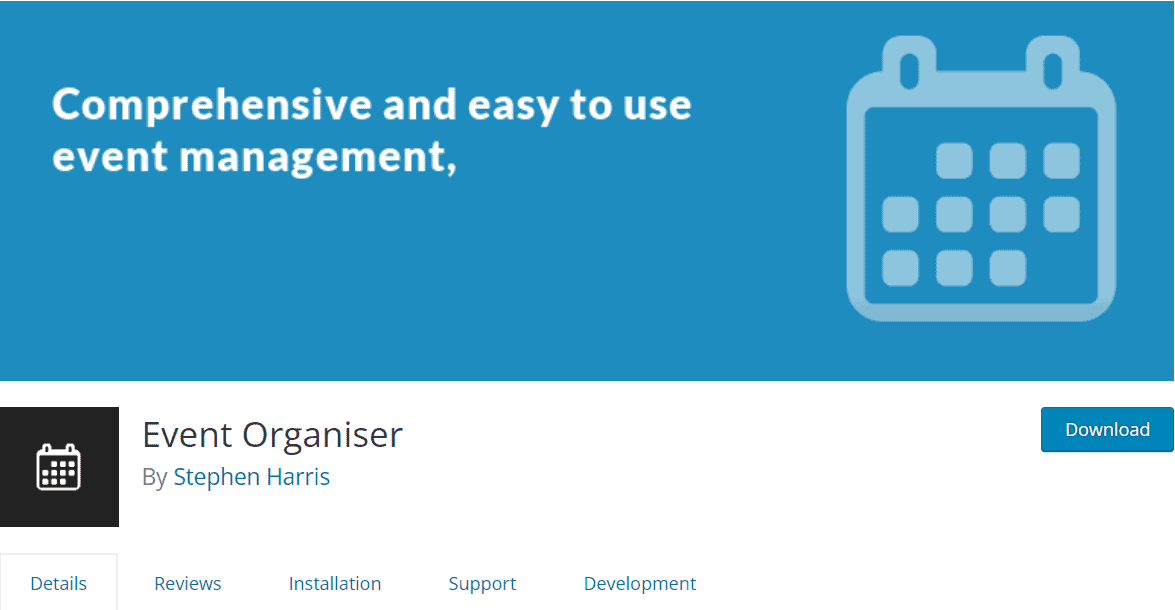 And the last on our list is the Event Organiser plugin. This plugin enables you to create events and add further features that allow you to manage your events. You can create one-time or recurring events with complex patterns, create and maintain venues for your events with Google maps support and a fully featured content editor, and add widgets, shortcodes, or custom permissions.
Conclusion
If you are creating events quite often, you know how much time and organization it requires. This is why event management plugins exist. Whether you organize small, big, virtual, or in-person events, you cannot go wrong with getting such a plugin. We, of course, recommend the plugin that is number one in 2022 – Eventin.