Today we will be talking about CRM plugins, what they are used for, and what exactly they are. We will also be listing some of the best ones when it comes to WordPress. The CRM industry keeps growing, and it can easily be said that it is the biggest software market in the world.
Now let's talk about CRM itself. Let's start with the basics. CRM stands for Customer Relationship Management. Easily said, it is software that allows you to form a type of bond with your customers. It helps you understand them, their needs, complaints, and simply to engage with them. Their work is based on collecting, viewing, and analyzing high numbers of data. This is very useful to have because it might show you your best attributes but also some problems.
The first step in choosing the right CRM software is determining which problem you are trying to solve.
We will try to give you a few tips regarding making a decision and investing in CRM software. The first tip for sure is, do not choose software just because it is the most famous. Other companies may advertise some software, but you do not know the reason they used them if their recommendations are really honest or just another way of profit. Some CRMs have more features than the others, so choosing software with the most number of your necessary features. Focus on the features that will most likely solve the problem, which was the cause of your download. Integrations are important, for example, Orbitype deeply integrates your WooCommerce online store database with your email inbox, your website comments and your reviews which can simplify your daily workflow.
The next tip is also crucial: do not forget your goal. Your goal is profit. Emphasizing features that will get you closer to your goal. Finding software that works quickly is always a good plus. You do not want to wait a long time to see a small difference than when not having it. The last tip we are giving you is to make sure that you have someone to talk to if an additional problem occurs. That means having a reliable support system.
But remember, look at the ones that best suit your needs.
EngageBay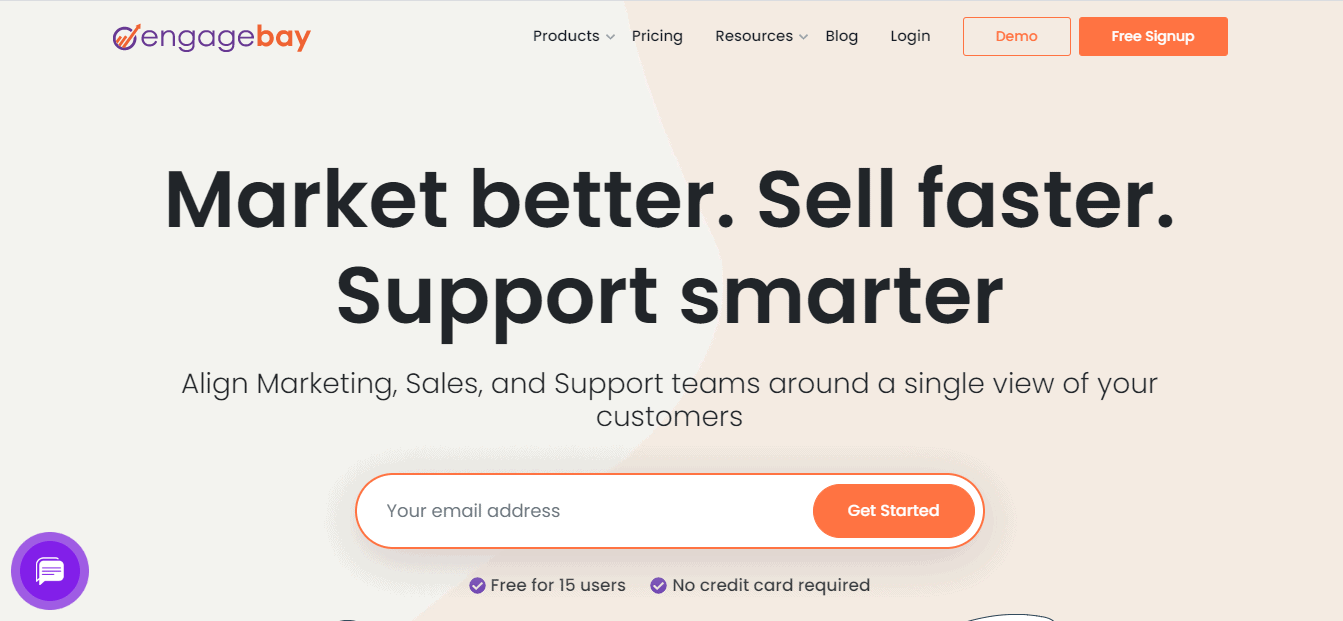 EngageBay is an award-winning product for nurturing and engaging clients for their utmost customer satisfaction.
The software provides a seamless experience for customers of small and mid-sized real estate agencies. This diverse package of solutions includes small business CRM, marketing automation, sales bay, live chat, and helpdesk.
EngageBay makes it possible to automate manual tasks, track deals, and sales pipeline, provide real-time assistance that easily converts visitors into customers, and prioritize and solve customer support inquiries.
Starting at a monthly subscription as low as $8.99, EngageBay is feature-loaded, easy to set up and use, and has complete access to the cloud. It can be integrated with many third-party applications. It has excellent lead and pipeline management. Customer support is among the finest in the industry with prompt resolutions to issues.
WP ERP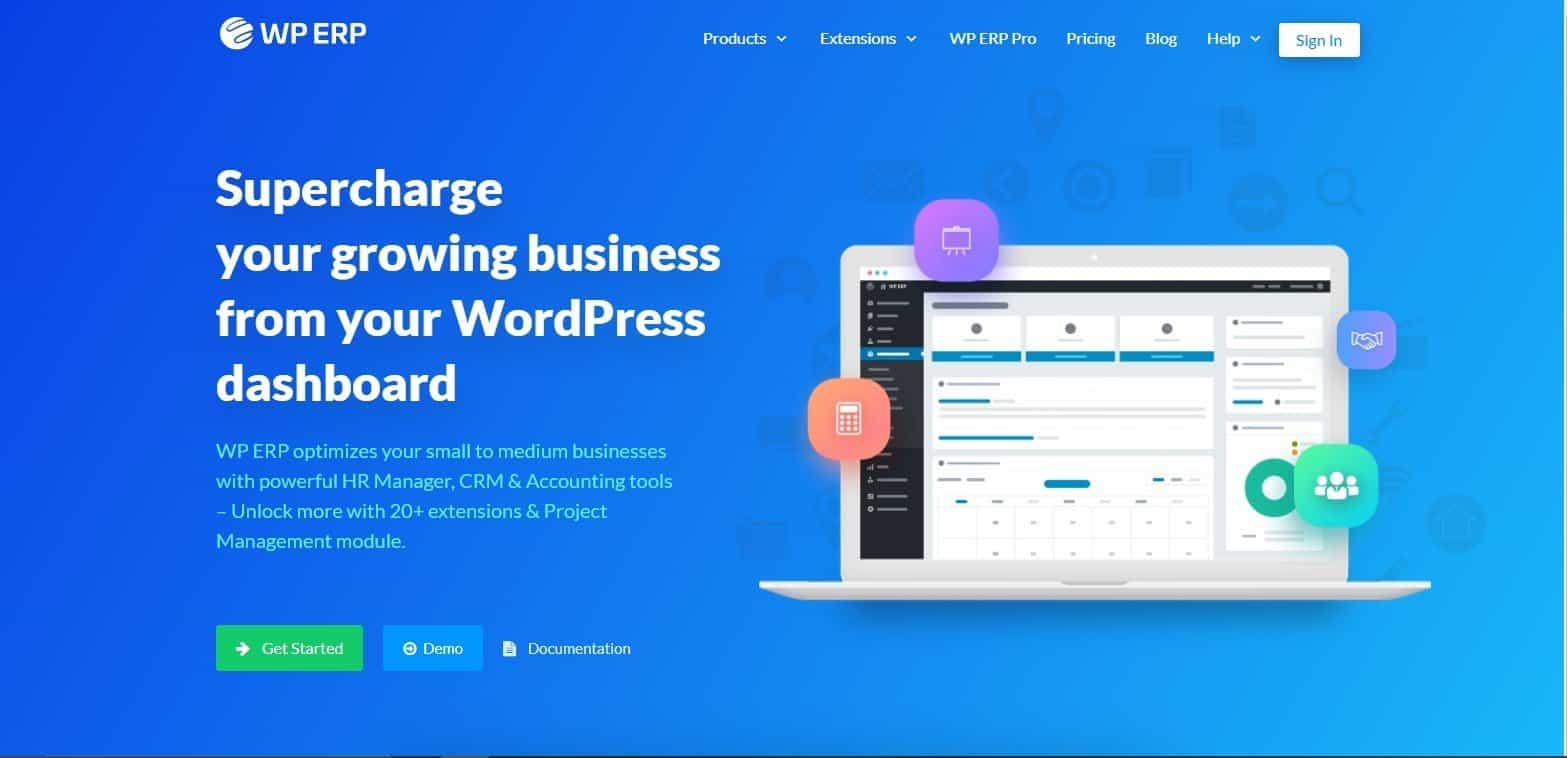 The first one on our today's list is WP ERP. This is possibly the best plugin. It comes with a lot of features, but the best thing is it is free. So, trying it out does not cost you anything but a small amount of time. It also does have a paid plan, which is also not expensive. Not every business requires the premium version because some features are made specifically for bigger traffic businesses.
Some of the basic plan's features include Email marketing, Task management, Document Storage, Calendar/Reminder System, activity logs, which allow you to check back on customers to remind yourself of what you have talked about, and much more. It does offer not only CRM but also HRM. So, making sure everything runs smoothly has never been easier. Based on thousands of its reviews from happy customers, it is straightforward to use even if you do not have much experience in this field.
WordPress CRM Plugin
The second on our list is WP-CRM. This is a great plugin that can be added to your existing WordPress site by only extending the user management system. This plugin is also free, with the possibility of expansion if more features are required. The premium version costs $99. This plugin offers some great features like notifications management, user activity and note tracking, excellent user organization, a few languages you can choose from, and many more. This is another plugin worth trying.
HubSpot

HubSpot is another plugin that allows you to connect your WordPress site, but it is also much more than just a CRM plugin. It provides its users with in-depth analytics and an email marketing tool that sends automated emails and newsletters. This plugin is also free, with an unlimited number of users and data! You can add some addons which fulfill your need, but you would have to pay for them. Features like pipeline management, reporting dashboard, company insights, email tracking, live chat, and more are available in the free version. Based on many reviews and a higher number of users, it is safe to say that this plugin does what it says it does.
Bitrix24

The free version of this tool can be another way for you to deal with whatever problem you are experiencing. You can download it, but it is also available as an online version. Like the ones above, it is free, but his restriction includes 12 users and 5 GB of online storage. Some of its features include a CRM activity system, currencies and taxes, custom fields in CRM, CRM activity stream, and much more. With the numerous amounts of possibilities that this plugin offers, it is worth giving a closer look.
Lead Form Data Collection to CRM

The last plugin on our today's shortlist is Lead Form Data Collection to CRM. This plugin is free, but there is also a pro version. Some of its best features include redirection of users to the desired page after a successful submission form, conversion of new users to CRM contacts, notification receiving after a positive or negative Lead capture, etc. This plugin also allows you to add certain add-ons that you think will help you.
Conclusion
With this last plugin, we finished up today's article. We hope you found this article helpful and that we helped you in your search for a good CRM Plugin for your WordPress site.
Keep in mind the tips we have given you when it comes to making a decision. All of the plugins above are free, but you do not want to push yourself and maybe pay a premium version, only to realize that a basic plan would have been just enough. Good luck in your search.