Coming Soon pages are not a new thing. People have been using these simple landing pages since the dawn of the Internet. So, it shouldn't surprise you that WordPress counts dozens of similar plugins that let you create coming soon pages.
But just like with any other plugin you can install, there can be significant differences to the same functions. So, if you already have a different plugin installed, let us show you a few reasons that will make you want to switch to Coming Soon & Maintenance Mode.
170+ Professionally Designed Themes
Having so many themes to choose from will save you time:
Instead of starting from scratch, choose a theme, modify it, and publish within minutes.
Images, backgrounds, font types, and sizes have been already taken care of by professional designers.
Have a niche in mind? There's a template for it.
There's no need for hiring a designer just for your coming soon page.
Control Licenses from a Centralized Location
Whether you're working alone, or have hundreds of clients who will need a coming soon page, the License Manager lets you control everything from a single location:
Create & manage as many licenses as you need.
Create

keyless licenses

that are domain activated and do not require a license key for activation.
Enable

per-license features

 configuration such as the white-label option, extra templates & expiry date.
See a

detailed list of sites using

your licenses.
Disable sites and licenses as needed.
Remotely Control all Sites
Need to quickly put a site from your network in maintenance mode? Want to instantly publish the other one? You do not have to log in separately – just click a button from your personal dashboard.
Enable or Disable the coming soon mode for any site.
Synchronize the data from the plugin in one click.
View traffic stats (number of visits, countries, device type, browser) directly from the Dashboard for any site.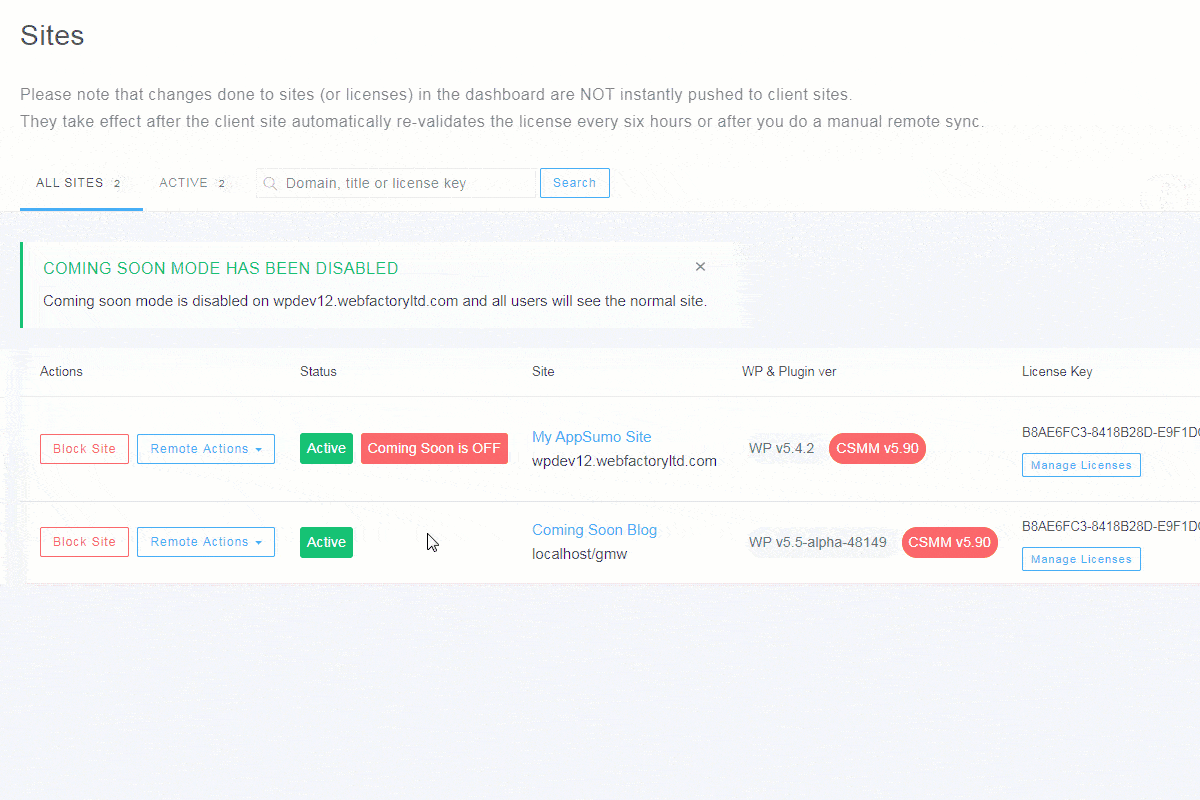 Rebrand the Plugin & Make it Your Own
Do you work in an agency? Are you a soloprenuer who works with dozens of clients on a monthly basis? Then you can quickly rebrand the plugin, and sell it as part of your service.
Change the name of the plugin, add new descriptions.
Remove all WebFactory branding, as well as the original plugin name, visuals, and descriptions.
Upload a custom logo, change colors, and modify the plugin's CSS until you make it your own.
Let your customers think it's a custom plugin crafted specifically for their needs.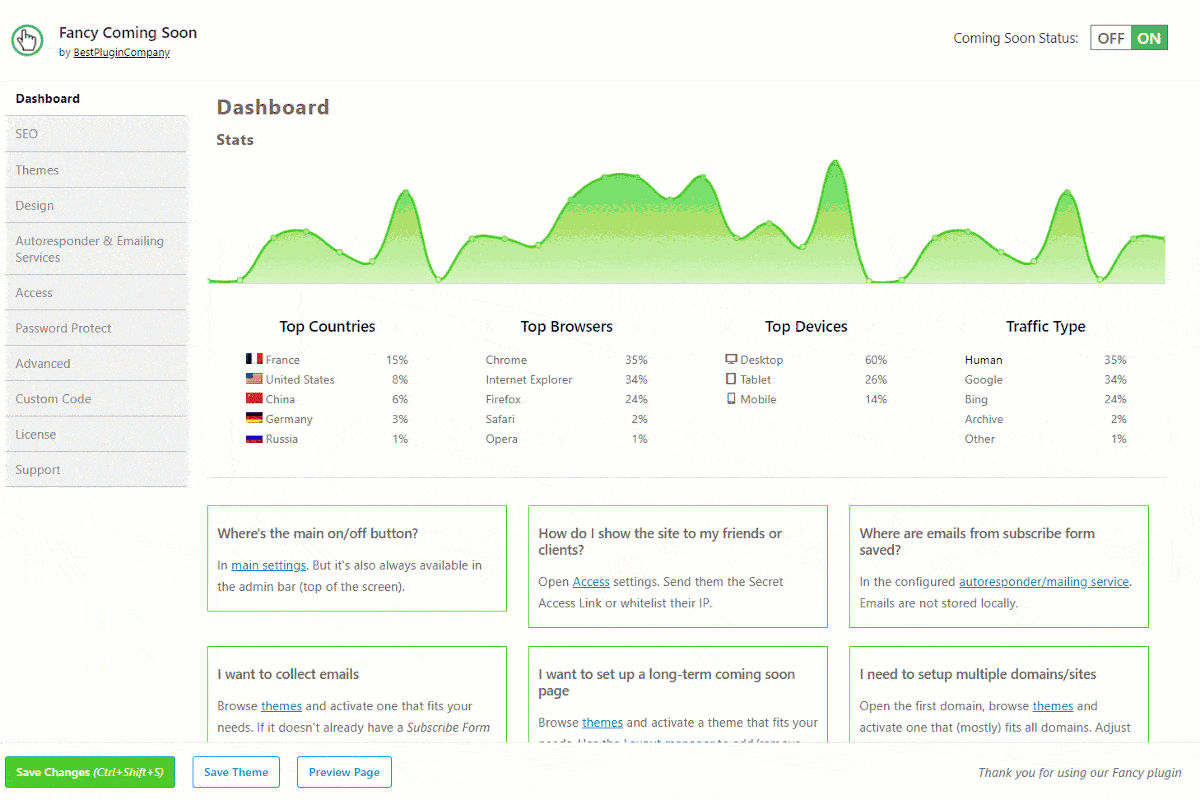 Use More than 2 Million Images Directly from the Plugin
One of the most crucial elements of a coming soon page is a background image or color. While most of the other plugins give you an option to upload an image, Coming Soon & Maintenance Mode comes with Unsplash & Depositphotos integration, that connects you to millions of images.
And you don't have to download, edit, and upload the images each time – you can do everything directly from the plugin's settings.
Search for an image and set is the background without leaving the plugin.
Don't waste time on browsing random sites with low-quality pictures.
Apply Instagram-like filters and create unique images without leaving WordPress.
Sleep tight because all the images are completely free, and no one will accuse you of stealing.