Today, we have a lot of sources of communication. The number of different applications increases every day. Despite that, email is still present, and we can't imagine business communication without this method of exchanging messages.
Gmail is an email service provided by Google. Most people work with Gmail every day and spend most of their workday sending and reading these electronic messages.
What is the Gmail extension,  and how to add it to Gmail?
The Gmail extension is a Google Chrome extension that directly impacts the layout and function of your Gmail account and dashboard.
Adding the extension is very simple. When you find and select the extension you want on Google, click on the "Add to Chrome." After that, the extension will ask you to access your Gmail account. If you agree, log in to your Gmail, and you will see in the top right corner icon of the added extension that it is ready for use.
There are many available extensions for Gmail, and the following text will be more about some of them. It will be about the twelve most frequently extensions, their features,  as well as the reasons why we should use them.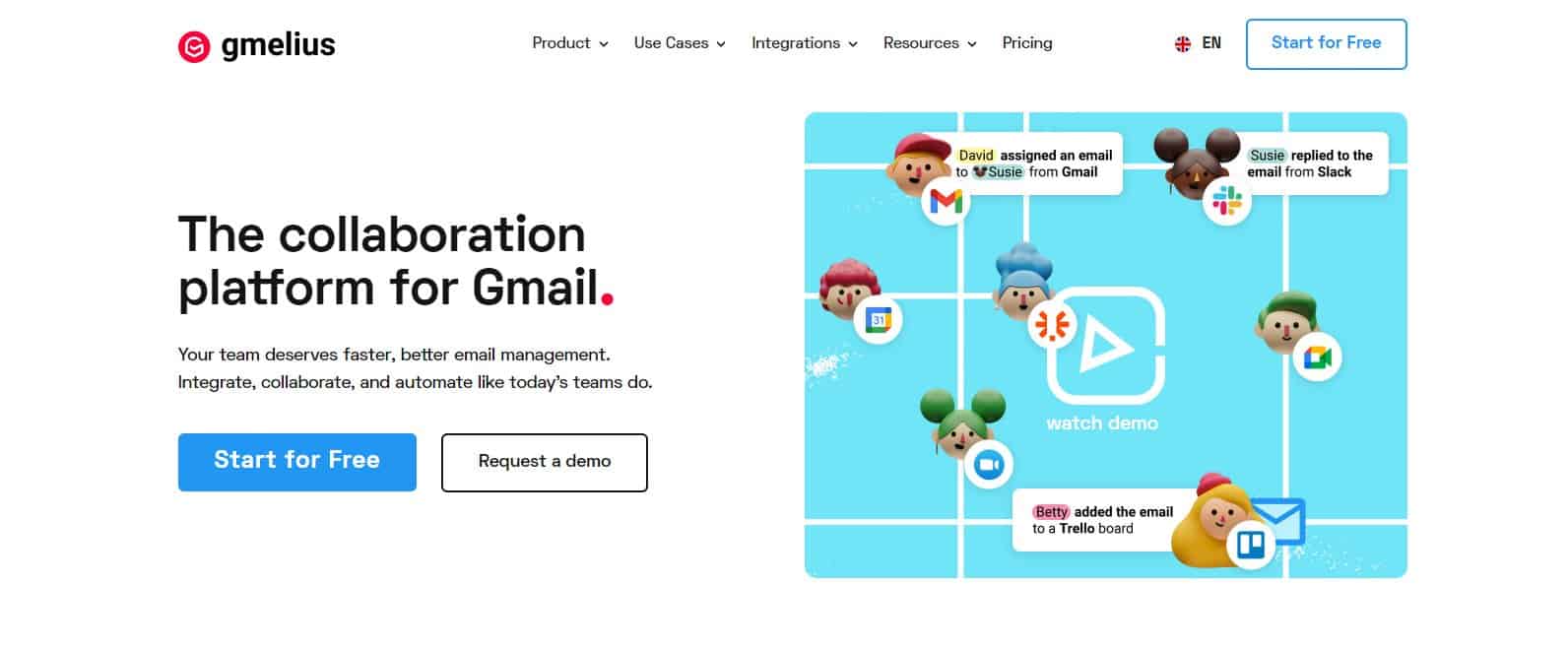 This extension is the collaboration platform for Gmail. The Gmelius integrates with your tools and connects your teams. Working together was never easier. For example, you don't have to forward an email to your teammates. You can @mention them only. Or you can create your favorite email templates and share them with any members of your team.
Pricing depends on the plan that's you chose for your team (Plus, Growth, Enterprise). The Plus costs 9$ per month, but the great news is that you can start with a free trial.
These are some of the main features:
Shared inbox
Shared Gmail labels
Email Notes
Analytics
Workflow Automation
Email Templates
Meeting Scheduler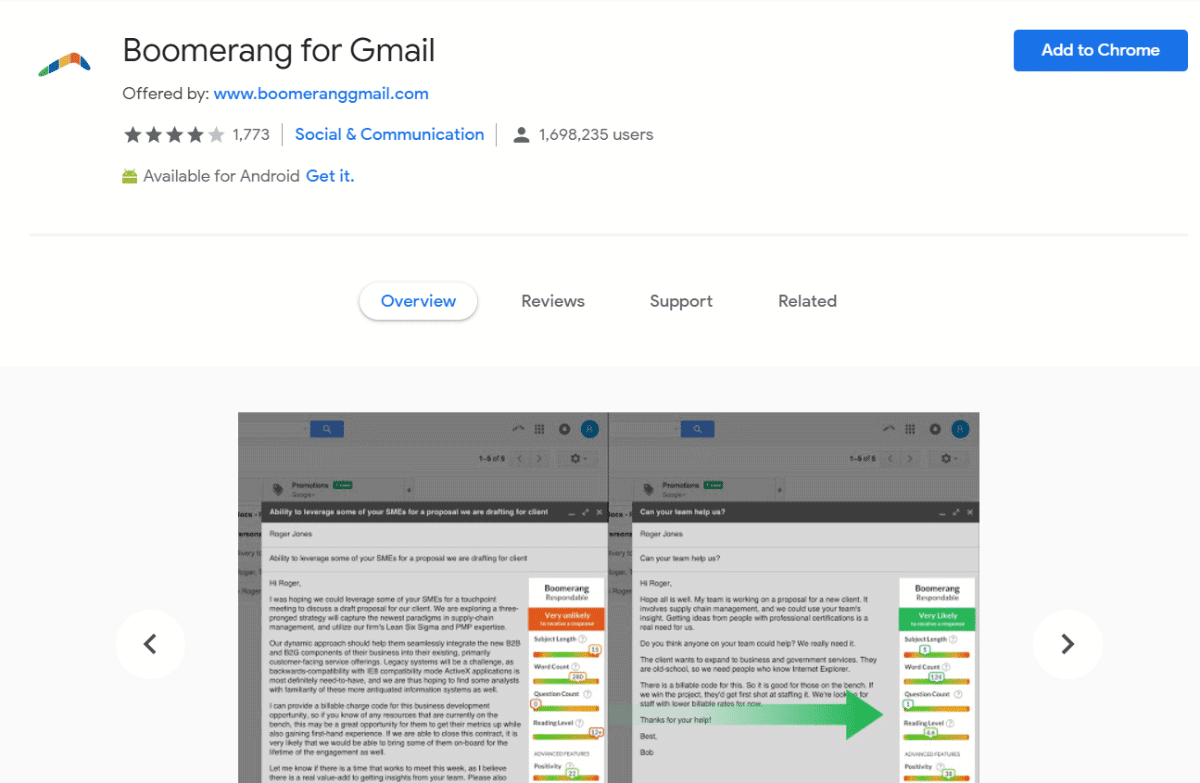 There is one more extension for sending your messages later, even if you are not online. Besides that, you can take control of when you receive email messages. It means that you can postpone incoming emails by making them disappear from your inbox. But, don't worry, the Boomerang for Gmail allows you to binge them back at the specified time.
It is free for the ten emails (basic plan). The next plan is Personal, which has an unlimited number of emails and costs 4.99$ per month.
These are some of the main features:
Return to Inbox Later
Email Reminders
Send Later
Scheduling Features
Inbox Pause
Recurring Emails
Email Tracking Software
Gmail Snooze
Gmail Notes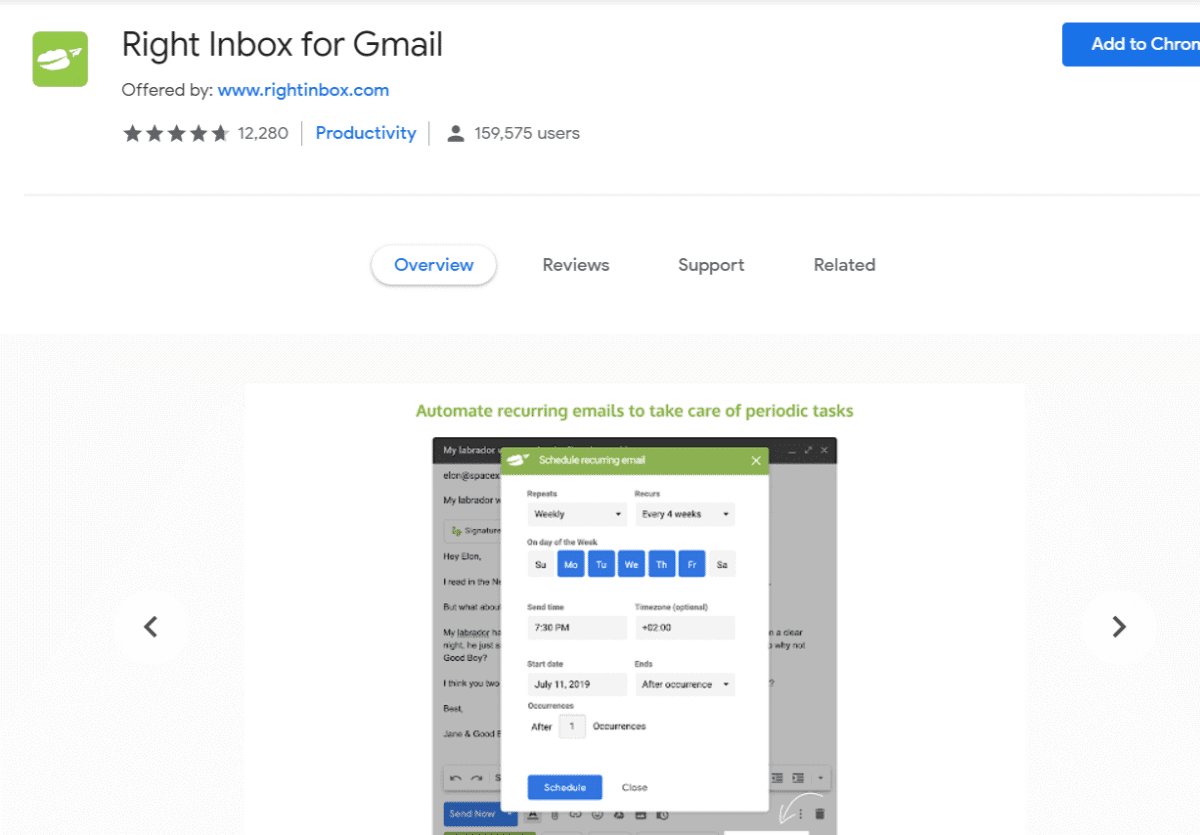 Have you ever forgotten to send an email? Probably yes, and it wasn't a great experience. Never worry about forgetting important emails because the Right Inbox for Gmail allows you to set your reminders and task. Imagine that you need to send some emails for three hours, but you have scheduled an important meeting at that time. Write your emails now and schedule them to be sent whenever you want with this powerful extension. The extension is useful for all sales, recruiting, and marketing professionals.
It's free for ten emails per month, but you can upgrade to unlimited numbers of emails for 7.95$ per month.
These are some of the main features:
Send Latter
Reminders
Private Notes
Signatures
Sequences
Templates
Recurring Emails
Email Tracking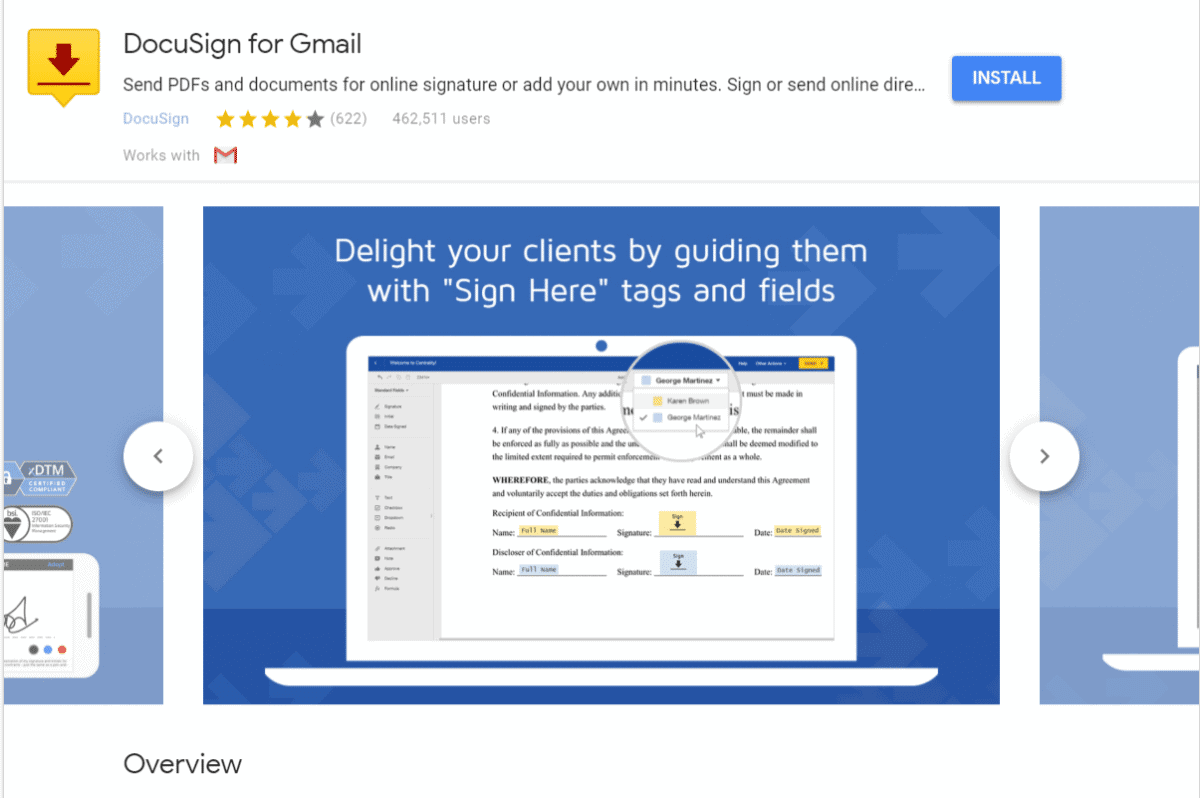 Documents, such as some contracts, are not valid without a signature. To send a document with a signature, it is necessary to print it, sign it, scan it, and then send it by email. It is taking our sweet time. To resolve this problem and create a better customer and employer experience, use DocuSign for Gmail. It is a Gmail extension that converts your Gmail account into a signing tool.
Like the other extension has a free trial. The first pricing plan is the Personal plan, and it costs 10$ per month.
These are some of the main features:
Sending signable documents
Sending reminders
Personalized branding
DocuSign CLM
DocuSign Insights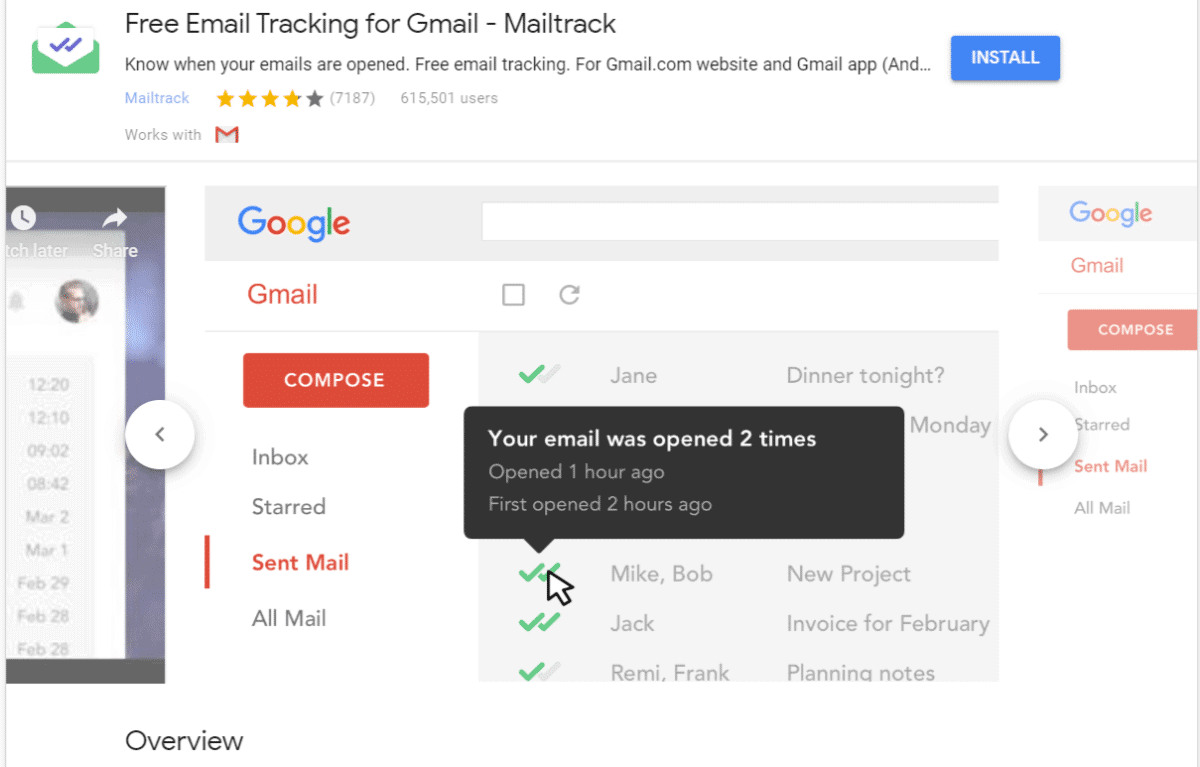 You send an email two days ago and still don't get a response. You are wondering: did my recipient read my email? There is no a "seen" option in the email messages. Luckily, we have an extension that gives us a response to the mentioned question. It's called Mail Track for Gmail, and it's completely free.
This extension adds two checkmarks for reading email messages, and it's practicable for account managers, businesses, and salespeople.
These are some of the main features:
See which emails have been read
Realtime notifications
Email activity
Reminders
Daily email tracking reports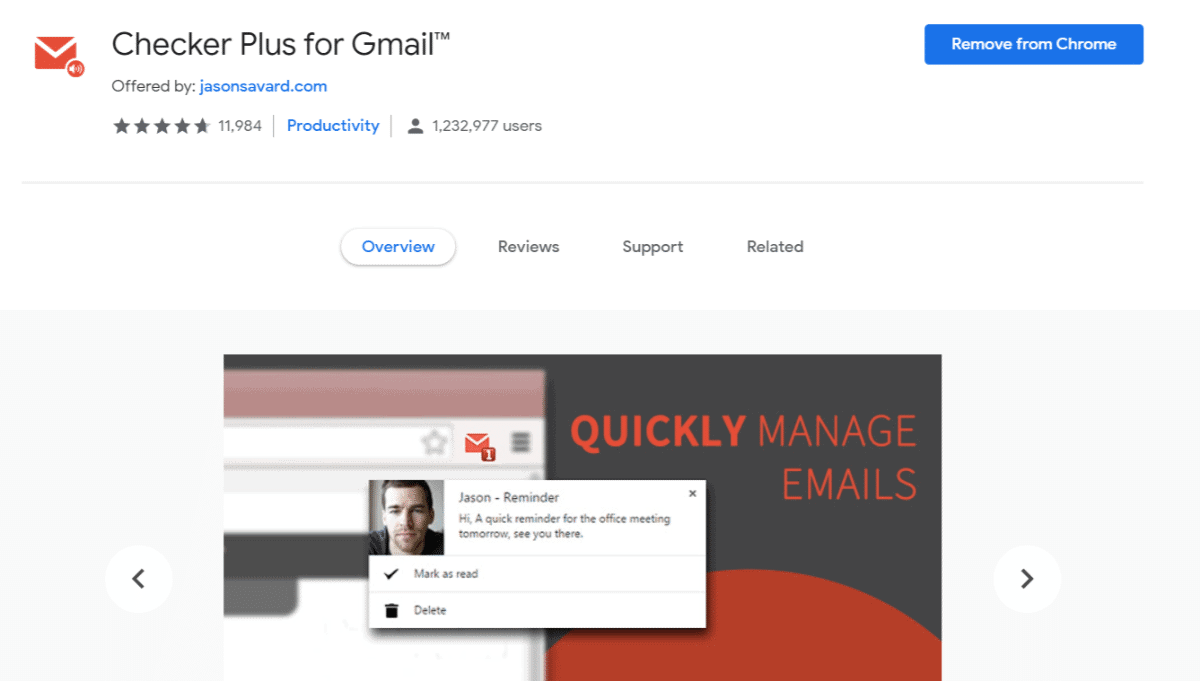 Do you already have a lot of tabs opened in your browser? You have closed your Gmail tab, but you expect an answer, and you need to open it again to check your inbox. Did you know that you can get notifications about the new messages, read or delete emails without opening the Gmail tab? Checker Plus for Gmail is an extension that allows this.
These are some of the main features:
Getting notification for emails
Voice notification
Working with email messages without opening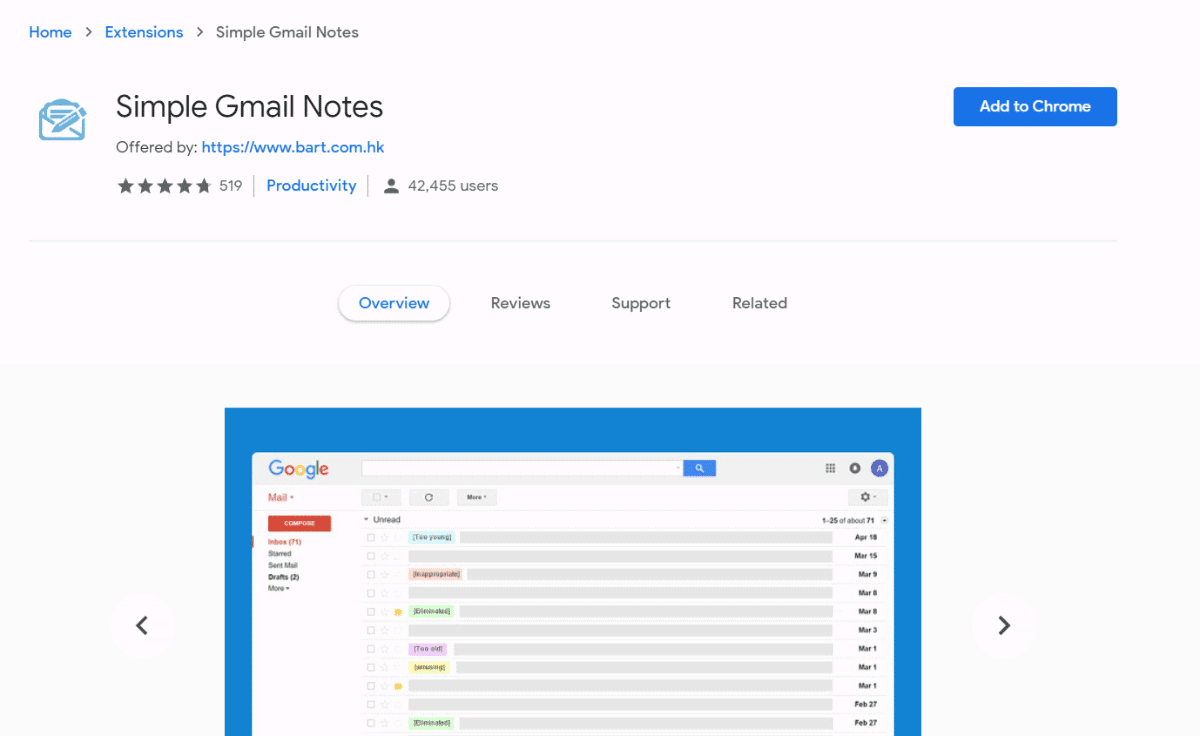 If you are a lover of good organization and like to write notes, then this extension is welcome for you. Simple Gmail Notes provides to create notes to your email. It is completely free and open source.
These are some of the main features:
Add Note to individual Gmail conversation
Store Notes to your Google Drive
Show abstract in the email
Support multiple Gmail accounts in the same browser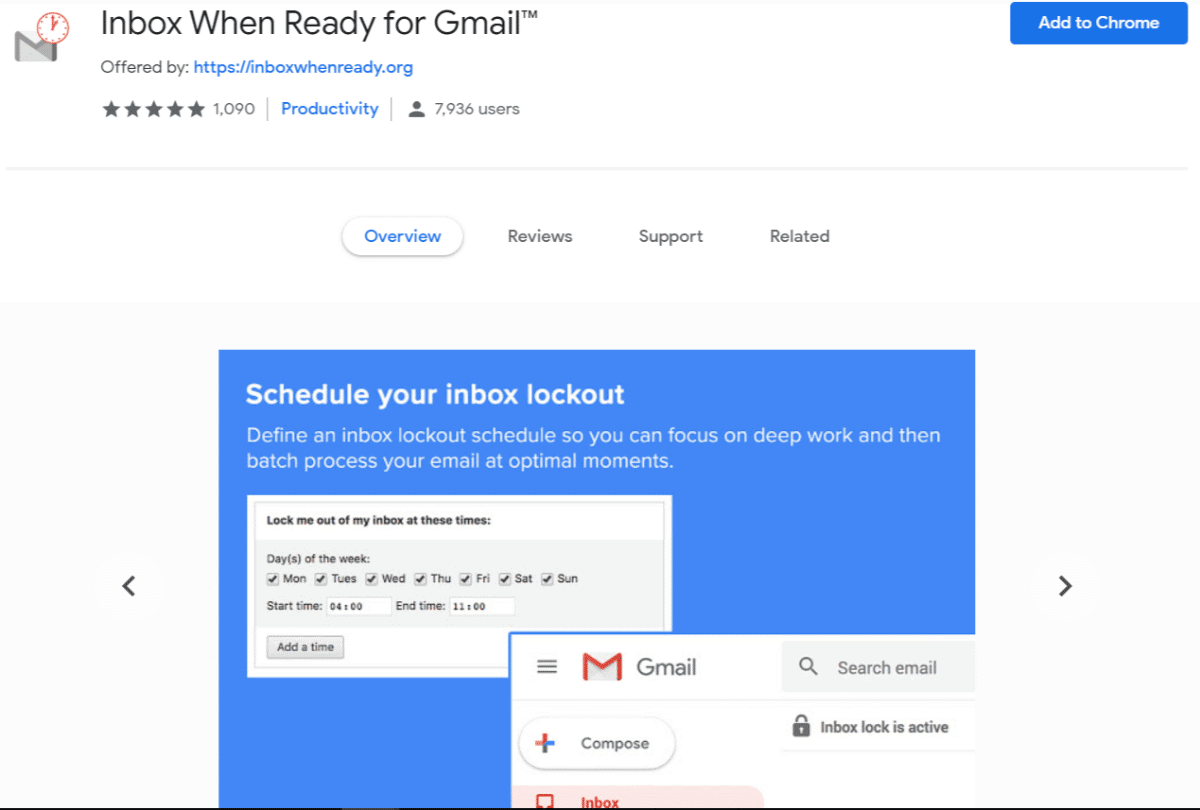 Sometimes you need to read some important messages again and again. Or you need to focus on writing the new emails. At those moments, you don't want to spend time in your inbox. We can't know when we will receive an email. But, we can lock our inbox for some period. Inbox When Ready for Gmail is an extension that allows us to hide and lock our inbox for a scheduled period.
The free plan of this extension puts a message: "I am using Inbox When Ready" to protect my focus. PRO version costs 4$ per month and disables the message.
These are some of the main features:
Hide your inbox
Schedule your inbox lockout
Set an inbox budget (how many times you want to check your inbox)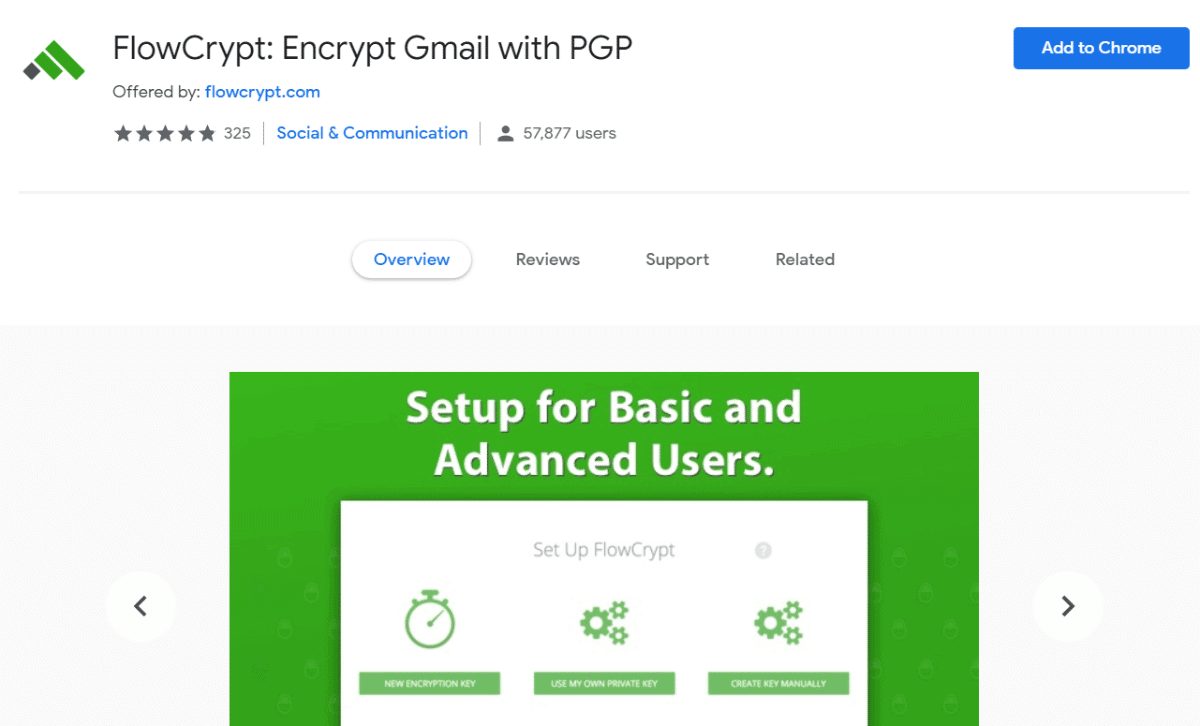 Sometimes, when you are not entirely sure about the security of your email messages, there is an extension that can provide it. FlowCrypt Gmail Encryption encrypts your emails. You will get a button into your inbox interface: encrypt and send. This allows you to send encrypted messages using the PGP(Pretty Good Privacy). It is helpful for some sensitive content into Gmail, and it's free.
The main feature is:
Send encrypted email and attachments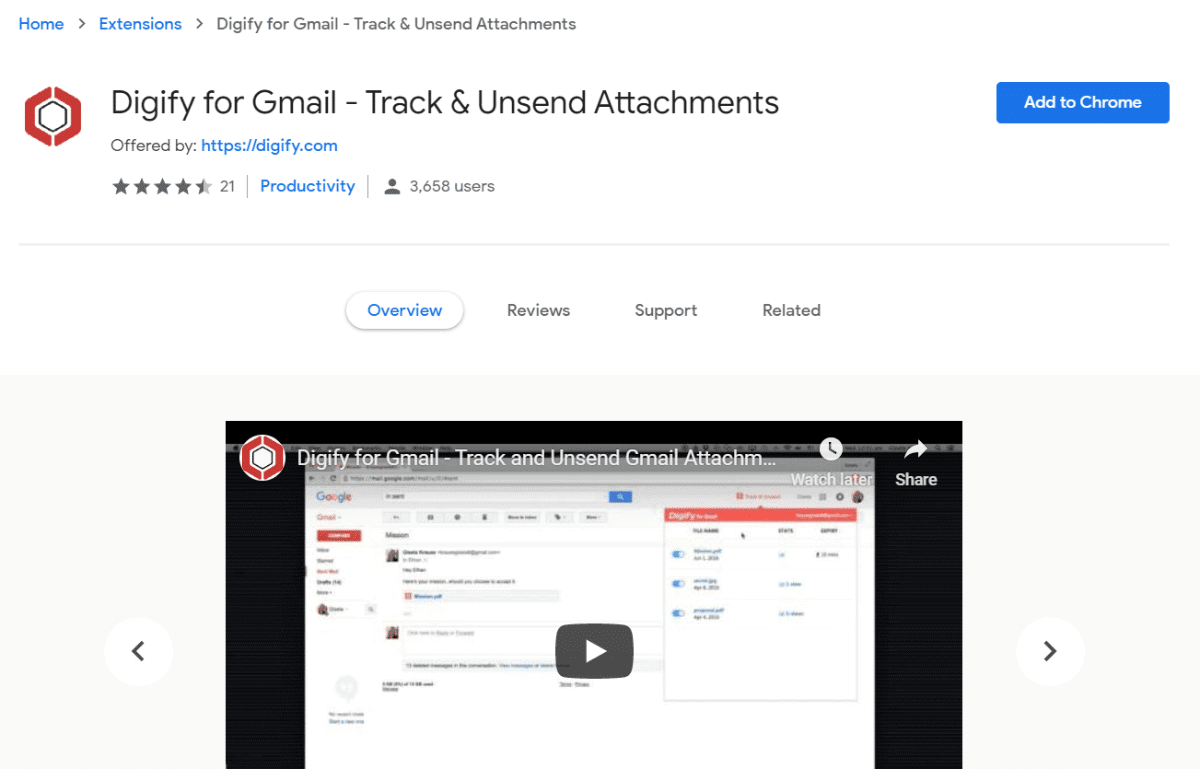 There is one extension that is similar to the previous. Digify for Gmail encrypt your messages and attachments, but also provide some additional functions. This extension implements content protection, rights management, and file tracking. You can control who can access your messages and files.
The first pricing plan is PRO and costs 99$ per month. If you don't want to pay immediately, you can choose a free trial to test first.
These are some of the main features:
Access control
Restrict forwarding
Revoke access
Most formats supported
Print and download permissions
Watermark
Expiry
Securely hosted and compliant
Admin control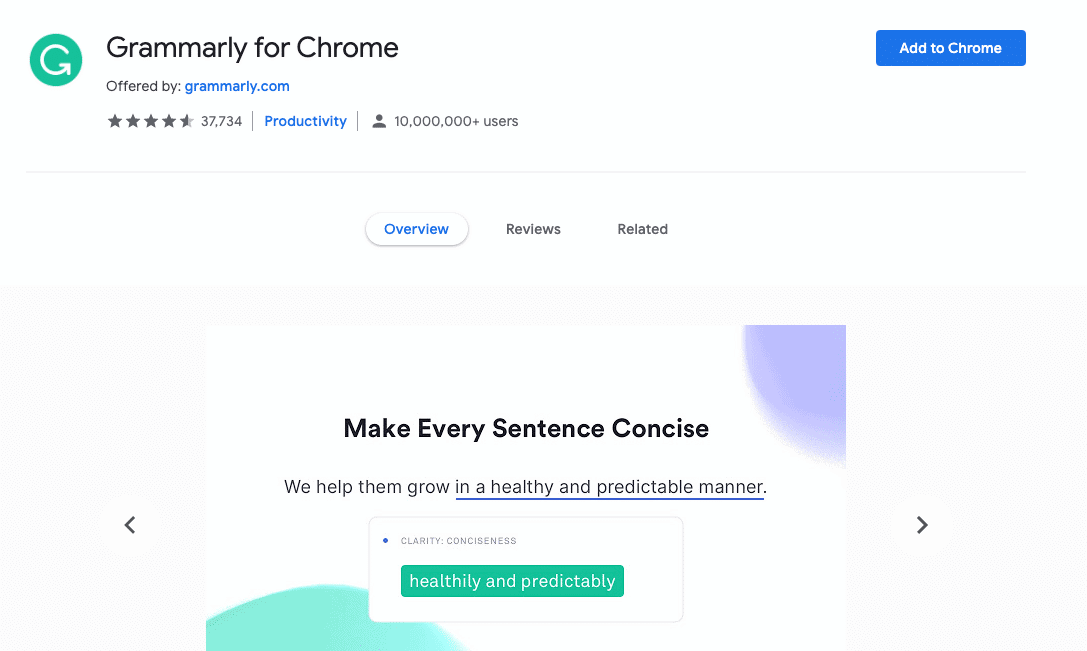 Writing your emails can be faster and better with Grammarly for Chrome extension. This extension corrects your grammatical errors, so you don't have to worry about that. It is useful for people who communicate writing a lot. Every incorrect word is underlined with the red line and suggests how to write that word correctly. The extension provides some other suggestions such as clarity, engagement, delivery, and premium.
Grammarly and all suggestions, except the premium, are free. The premium suggests some additional improvements such as word choice, phrases, etc. The price depends on the plane you chose.
These are some of the main features:
Improves spelling, grammar, and punctuation
Help make your writing easier and understand
Help make your writing more interesting
Help you make the right impression on your reader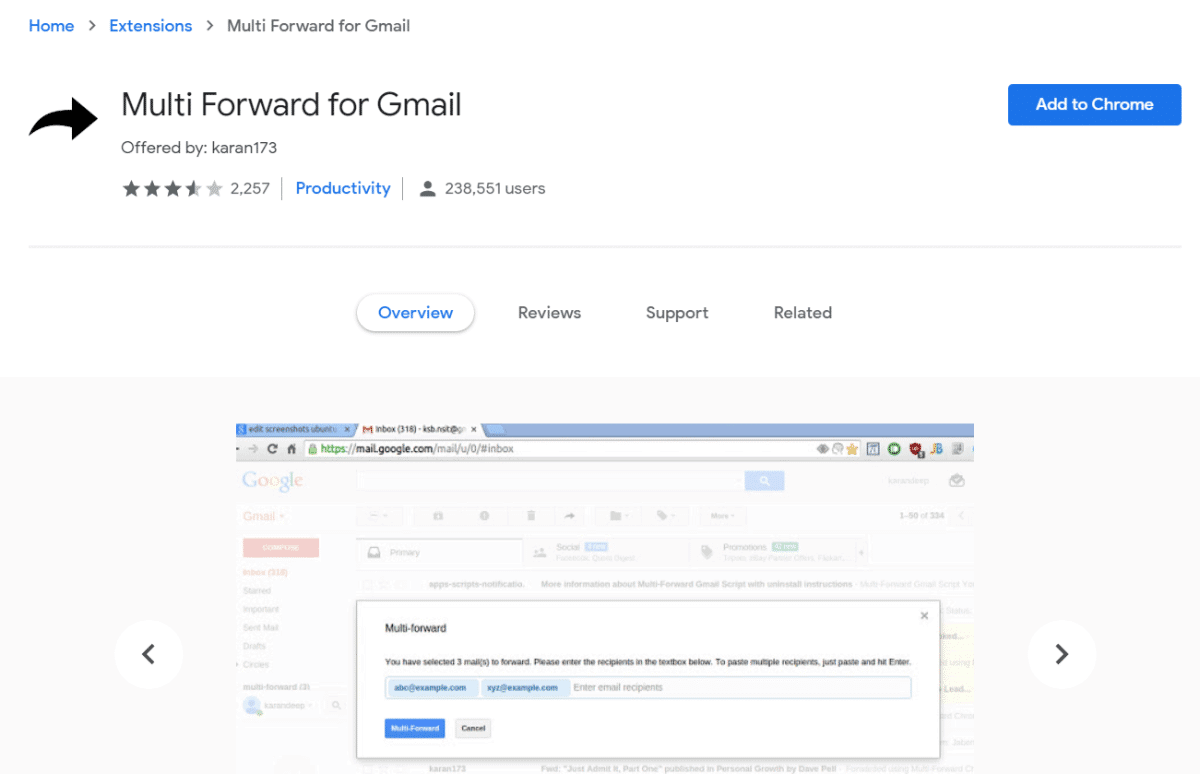 This extension is helpful if you have a lot of emails that need to forward to multiple contacts. With Multi Forward for Gmail, forwarding email messages never was easier because you don't need to forward your emails one by one. Just click the forward button, type the email addresses of your recipient and forward them to everyone. The extension is completely free.
The main feature is:
Forwarding emails to multiple contacts

Email marketing is not all about open and click-through rates. There is always a place for creativity and email template design innovation. That's exactly what this chrome extension for Gmail is all about.
It's simple to use and allows marketers to save any email from their Gmail inbox as a simple screenshot, PDF file, or straight-up HTML template.
Just like many other products by SendPulse, this chrome extension is free but brings immense value to email template creation and makes the whole process easier.
Main features:
save email as HTML template
save email as a full-length screenshot or PDF file
Edit saved templates and use them in your email campaigns
Conclusion
The extensions for Gmail are helpful tools that help us to be more productive and faster. Nowadays, everyone needs more time to finish all business, so if something can help you, why should you not choose it?