A relatively new name on the international web hosting arena, MilesWeb is fast emerging as a cheap hosting provider for high-performance websites. Especially in the last couple of years, MilesWeb has risen to place itself among the highest-rated web hosting companies. As a result, various trusted rating and review platforms like Host Review, Google, and so on are brimming with responses by those who have or are still using MilesWeb's hosting services.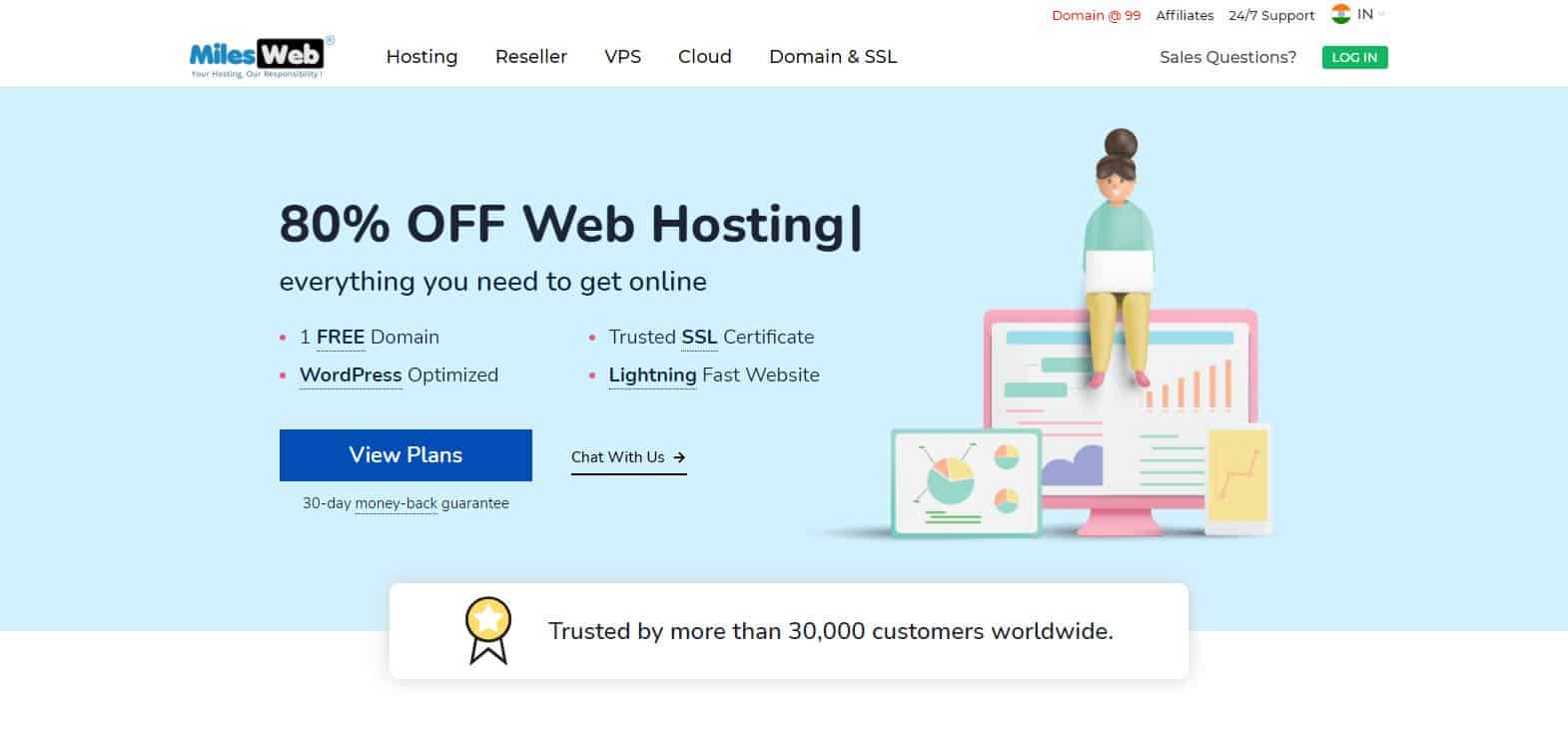 The positive or negative public opinion aside, the fact that a hosting company whose name is not even that known compared to giants like GoDaddy or AWS is enough to get people talking is something in itself.
In front of the big names, MilesWeb is a relatively new player on the field. However, the web hosting services it provides are of such high value that it has allowed them not only to survive but thrive in the highly competitive industry.
Of course, they boast of features that are the best the users can afford for their price:
Free Domain and SSL Certifications
Unlimited Bandwidth
95% Uptime Guarantee
WordPress Optimized Hosting and
30-Day Money-Back Guarantee
MilesWeb WordPress Hosting Review
MilesWeb is a hosting provider that specializes in giving budget hosting solutions. Incidentally, they claim to have drafted their services for websites of small and medium enterprises.
As most of the startups or beginner business websites are mostly WordPress-based, they have designed perfect plans that focus on performance and cost-effectiveness.
By the time you finish reading this piece, I think you will get a clear idea of MilesWeb and its hosting services specialized for WordPress websites. To help you do that, I have listed some of the highlights of MilesWeb's web hosting services for WordPress sites.
The Winning Features of WordPress and Web Hosting Services of MilesWeb
MilesWeb is one of the very few companies that provide WordPress hosting services at the cost of their regular web hosting. Although it is a common occurrence where the hosting providers fail to keep up the quality norms while lowering the price, MilesWeb is a clear exception. Over the years, it has continued to offer cheap WordPress hosting while keeping up with the highest standards in the industry.
Page Loading Speeds
A website owner should make it a principle to keep the fastest page loading speeds for websites. It is one of the most crucial parts of running and managing websites. The longer it takes your web pages to load, the more traffic you are bound to lose.
That said, there are very few providers that offer top servers for shared or WordPress hosting to deliver the fastest speeds.
Although it may be too much to compare them with those who charge unreasonably high prices, MilesWeb's WordPress hosting gives the best page loading speeds for their cheap price range.
As per statistics, 800-900ms is the average page loading time in the hosting industry. Considering that, WordPress websites hosted on MilesWeb's hosting take lesser times to load.
Guaranteed Uptimes
Maintaining high uptimes is the epitome of any hosting company worth it's salt. With that in mind, you cannot possibly expect any provider to offer guaranteed high uptimes for cheap hosting service.
Still, there seem to be quite a few companies that boast uptimes of over 99% at cheap rates. Needless to say, they don't offer any guarantee to their claims and leave it to the user's discretion.
MilesWeb offers a guaranteed 99.95% uptime with its WordPress hosting services. Aside from being one of the highest uptime guarantees in the industry, it is rare for any provider to claim such performance at such cheap rates. Meaning, this uptime guarantee is the best any user can get at this low cost.
24/7 Technical Support
The most vital aspect with which you should judge any hosting provider is technical support. You cannot expect any hosting service to be absolutely hitch-free. Hosting services, no matter how advanced, are technical mechanisms that are bound to present some issues.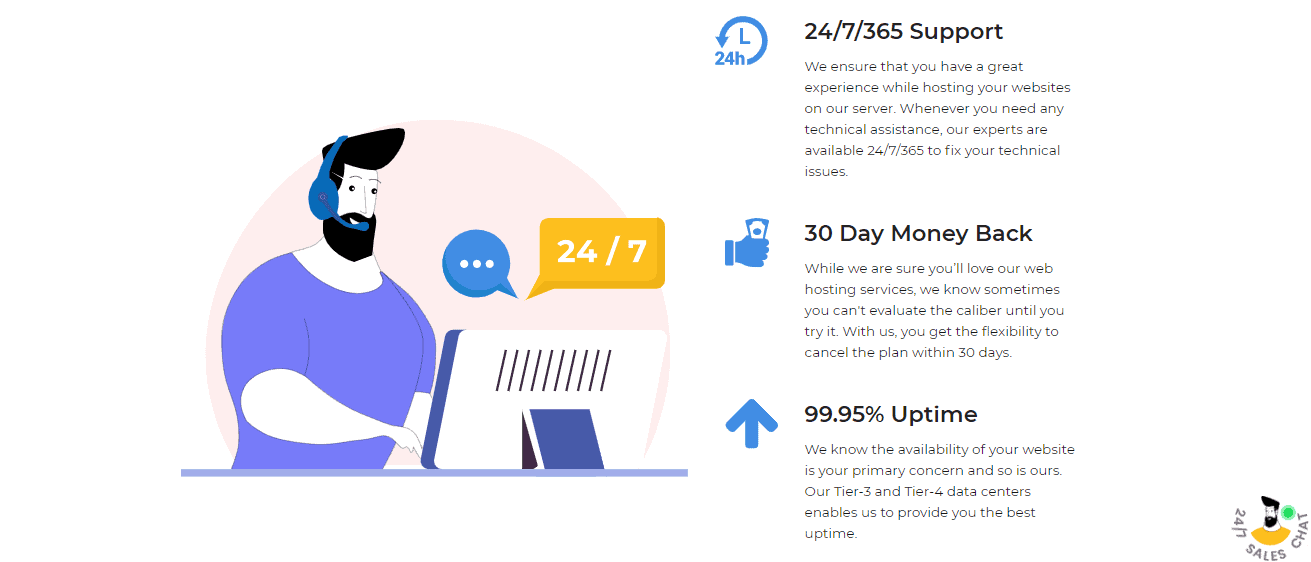 Good technical support always goes a long way in improving the overall service experience. It should respond to your queries quickly and accurately. More importantly, the support should be compatible with you and understand your problem.
Presently, a lot of hosting companies do not have an option to contact the technical team instantly. As a result, long wait queues on phone, delayed response on emails, and prolonged times to get connected on the chat support.
This particular issue is absent from MilesWeb's support chat. Therefore, you can expect a minimum response time for your tickets and chat from their support team. Your entire issue, from the first text of "Hello" to the last "Thank you for contacting us," you will be interacting directly with their highly skilled support executives. These are well-trained individuals that can understand your problem and offer an apt solution to solve it. Of course, chat support is available 24/7 and is open even on holidays. All of these characteristics have won MilesWeb many awards for their technical support.
Fully Managed WordPress Hosting
When I say "fully managed hosting," it means that the user does not have any role in managing technical aspects of the hosting. Instead, the provider takes care of it all, and you can focus completely on your website.
Fully managed WordPress hosting is the most premium of value-added web hosting services. The provider takes over the maintenance duties like hosting configuration, WordPress installation, malware scanning, and removal, caching, etc. Thus, it dramatically reduces the load of managing the technical aspects of the hosting.
MilesWeb also assigns its managed WordPress hosting users a team of experienced and certified experts. The team handles various functions like upgrading WordPress and relevant applications and troubleshooting technical issues in the backend. They also offer recommendations for installing plugins and themes that may work well with your website.
MilesWeb is by far the only hosting provider to offer managed WordPress hosting at the same price tag as its regular web hosting services.
Option to Choose your Datacenter
A data center can go a long way in improving the overall performance of your website. The reason- a website hosted on a server of the data center closest to your target population is likely to receive more traffic than a data center that is far away. Ultimately, it helps your website to gain more popularity and rank better in a certain region.
MilesWeb has data centers in many distinct locations scattered all over the world. What's more, you can freely choose any data center to help your website gain more advantage from the SEO perspective.

It is a luxury very few hosting providers can afford at such cheap rates. In fact, some companies charge extra for the privilege of choosing a data center for hosting.
MilesWeb's WordPress hosting is the perfect choice if your website has a country code in its domain name.
Lowest Prices in the Industry
As of now, MilesWeb is offering heavy discounts ranging from 75-80% on its WordPress hosting services. The discounts differ from country to country. However, they still bring the overall costs down to the cheapest in the respective markets.
Say for India, MilesWeb offers an 80% discount on its WordPress hosting. You can start your WordPress hosting with MilesWeb at ₹40 per month.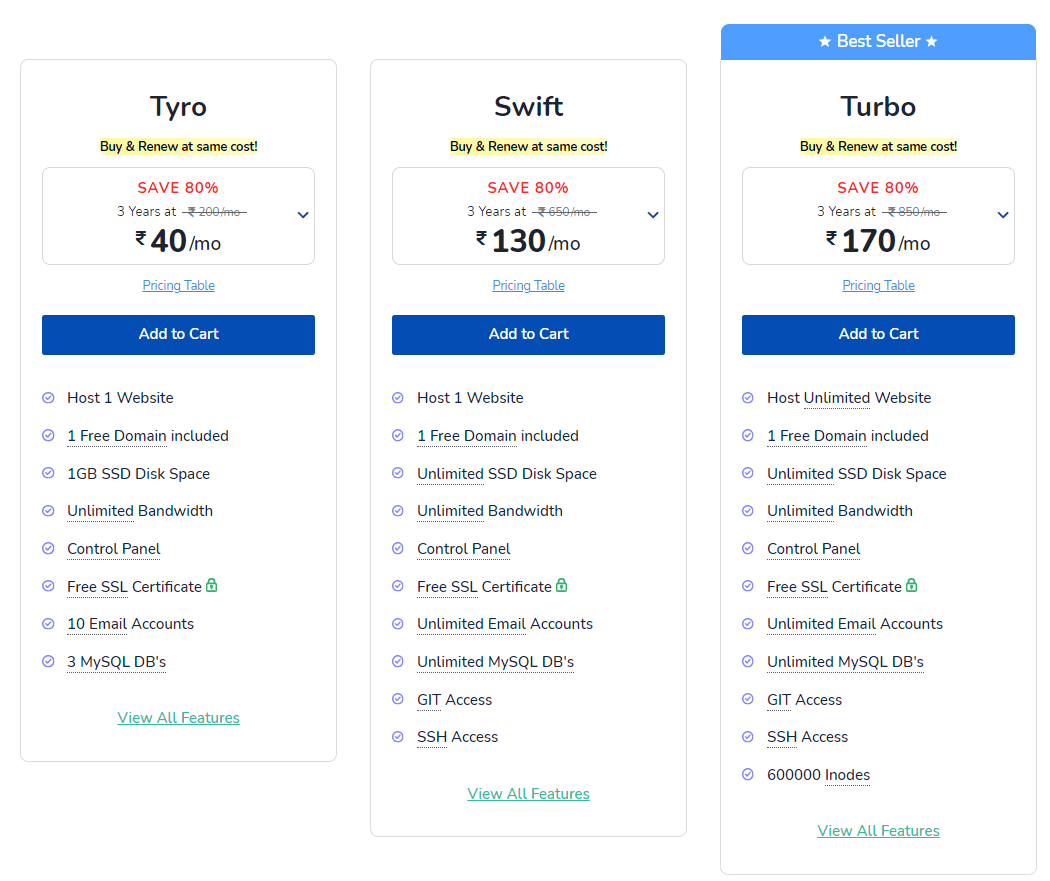 Then, in the UK, MilesWeb offers a 75% discount on its WordPress hosting with plans starting at £1 per month.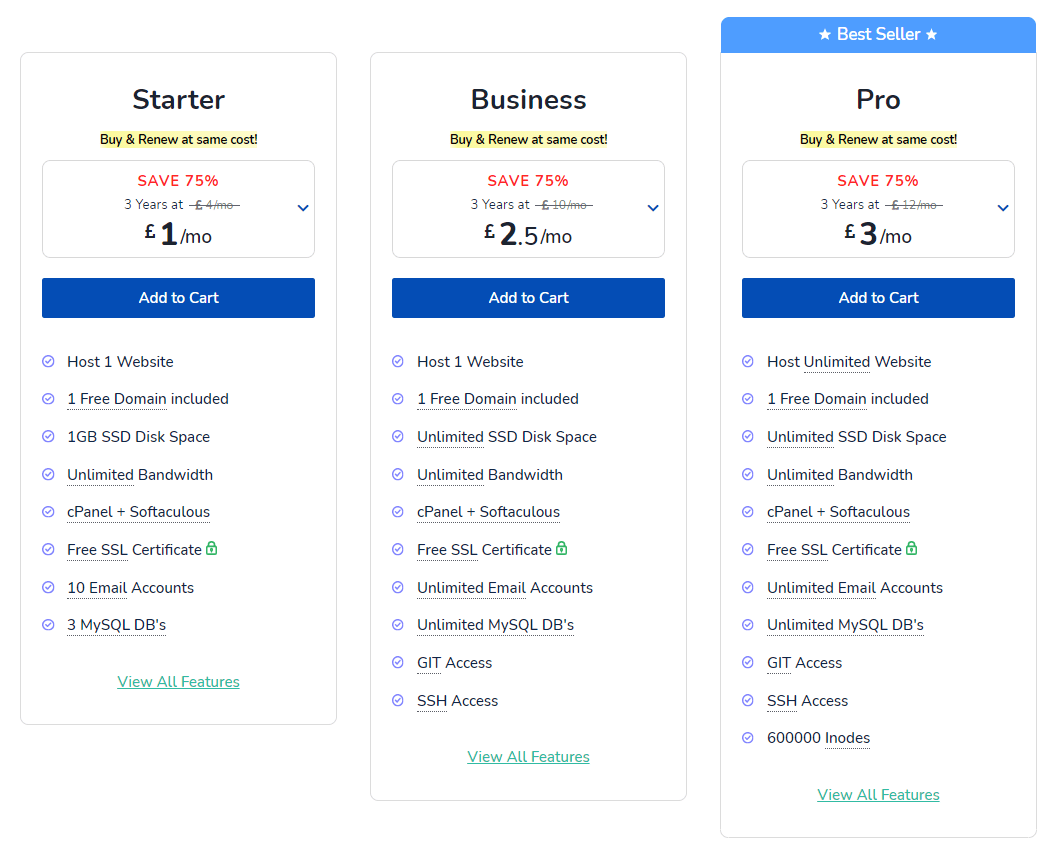 They have managed to maintain a good quality standard to their services considering how low cost they are. Unfortunately, it has led to misconceptions among some that cheap hosting services like MilesWeb cut corners regarding overall service experience and quality. Let me explain why that is not the case.
Why do Prices not Determine Quality?
It is a common understanding that the more you pay for the hosting, the better performance and service experience you can expect. Although the statement itself is not completely wrong, it is not the whole truth either. Let me clear the air for you. Of course, if you pay more for a WordPress hosting service, you will definitely witness a better-performing website. However, the fact is that you will be paying for the server resources like RAM, processing cores, memory storage, etc. Though it may guarantee results, it is not a smart choice to simply overpay your provider just because of overpowered technical assets.
You can confirm the RAM's specific amount of processing power, type of disk storage, and other technical requirements for your website. After all, they are just a means to an end. What comes next is how skillfully you can utilize these resources to the best of their limits.
When it comes to MilesWeb, the cost of WordPress hosting is the same as its regular web hosting. The WordPress hosting is managed at their end by experienced professionals.
They configure and maintain it in a way to optimize your site's performance. Therefore, even if the resources are low, it does not affect your website that much.
Of course, the plans will need upgrades as your site grows, but that is the case with all providers. In this case, the support team at MilesWeb will notify you well in advance to upgrade your hosting plans to increase the threshold of resources.
In this way, MilesWeb does not compromise quality over cost, and you are assured the best performance and service experience.
Who Should Consider MilesWeb as the Perfect WordPress Hosting Provider?
MilesWeb is a company that specializes in providing hosting solutions at low prices. In addition, the service quality and performance are assured with their 30-Day money-back guarantee. Thirty days is the most common service evaluation period practiced by the best providers in the industry.
MilesWeb offers the best uptime and page loading speeds in its WordPress hosting for its price range. You can even opt for its managed hosting services and choose a global location for your server at no extra charge. It is a perfect fit for startups or business websites that are at their juvenile stages.
Other than that, bloggers who have an international audience can also find it suitable for their WordPress site if they intend to target a specific region. Again, you get a perfect mix of high-end features and service experience with their award-winning customer support, all at competitive prices.
It does make MilesWeb an ideal web host for business as well as personal WordPress sites.