If you are not sure why it is so important to have a superb resume, the answer is that in the resume, you are listing your qualities and selling your skills and experience. If looking from an employer's perspective, a resume is a place to get information about applicant skills, experience, and education.
So when writing the resume, the key points in it should be your achievements, education, experience, and other skills that define you as the right candidate for a job.
The right reaction leads to acquiring the first interview, second interview, and getting employed. With all this explained, to land a job in 2022, you need an excellent resume, and the best way to have it is by using tools, meaning using resume builders.
Resume builders have top features and means. If you use them, your resume will have all relevant pieces of information, will be written correctly, and will pass ATS systems. We will mention four resume builders you need in 2022 and their key features.
ResumeGiants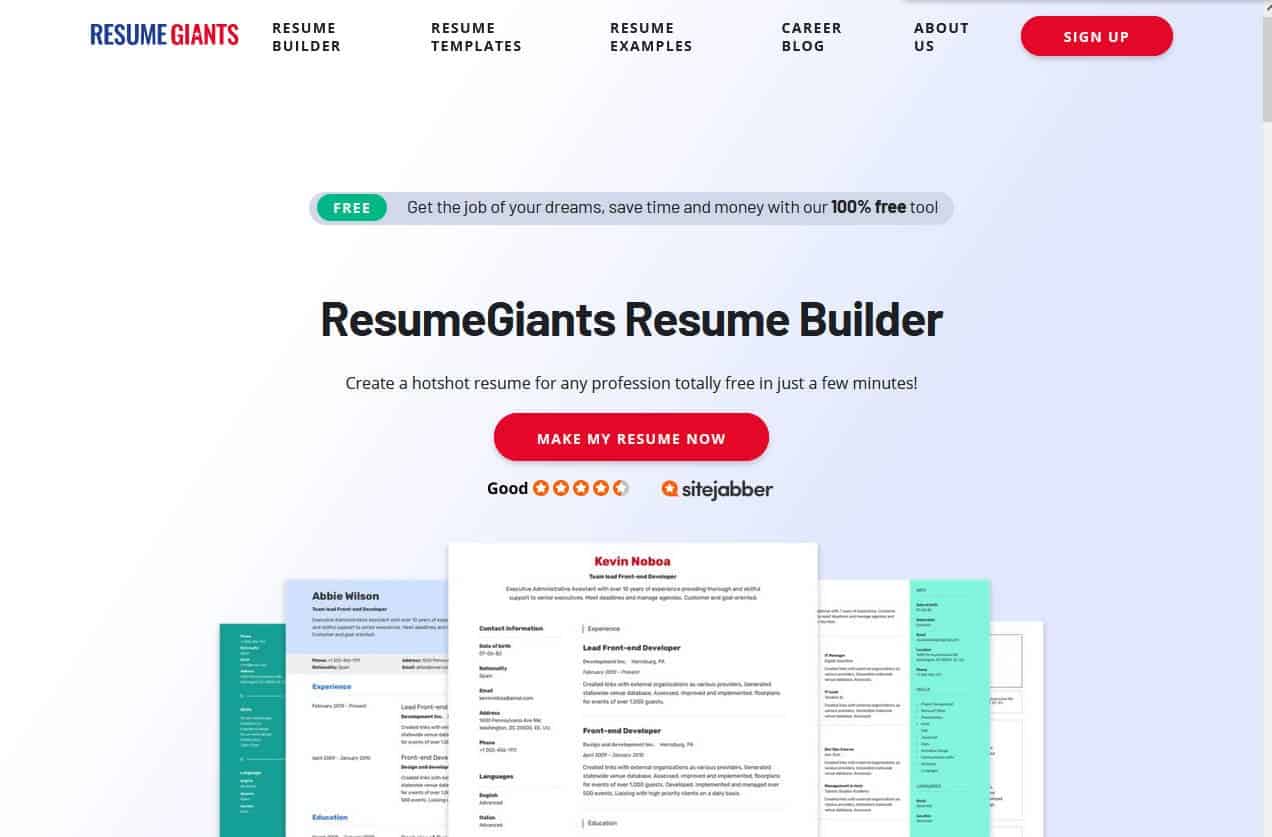 With ResumeGiants, you can create a professional resume in minutes. It's a free resume builder with a slew of useful resources, including resume templates and writing tutorials, as well as sample resumes for a wide range of occupations. Use the brand's free online resume builder on a desktop, laptop, or mobile device. It makes the process of making your first resume much more streamlined and straightforward. Automated resume building via the Resume Builder saves you time and teaches you how to make your resume stand out from the crowd. Examples of resume templates for high school students and professionals alike can be found online. In addition, Google Docs and Microsoft Word templates are available from the company.
In a professional template, you want to make a good first impression by focusing on your professional accomplishments and highlighting them. A contemporary, machine-readable layout that emphasizes the most crucial items recruiters are searching for is an alternative to the traditional approach.
ResumeGiants biggest advantage is a wide selection of templates. There are other high school-specific templates available. They are a way to showcase your potential and incorporate any relevant work or volunteer experience you've had while in school. The site Resumegiants.com also has downloadable resume templates for Google Docs and Microsoft Word that you may print.
Enhancv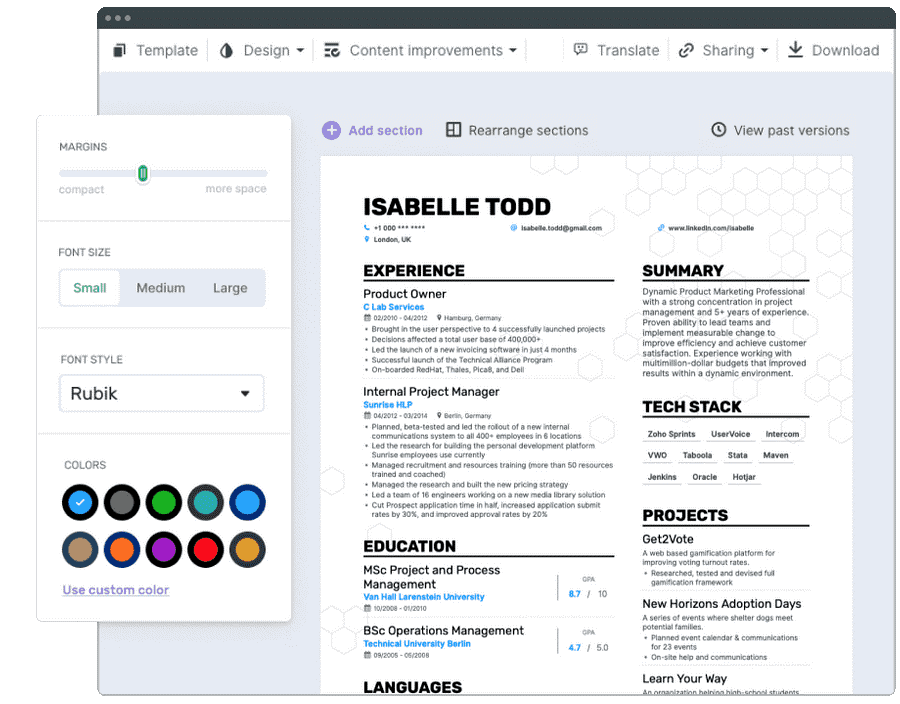 Enhancv is a professional resume online builder with great features. With the Enhancv, you can choose to start by uploading your old resume, LinkedIn profile, or you can select a resume sample that matches different industries (around 500+ samples). You can even start with the blank page and build a unique resume with Enhancv.
It has a drag and drops feature, so you can easily change a layout and create one you like. Enhancv can be cloud-synced to access from anywhere, and you can download your resume any time you need.
Enhancv Content Analyzer gives you bullet suggestions and content improvement. There are also tips on how to improve your text. All this will help you create a resume that is just right for the job you apply for. Enhancv lets you customize the design with thousands of color combinations, backgrounds, sections, and icons.
With this tool, you can build a cover letter with the same design and formatting as a resume, so all application docs you send will have the same layout.
You can download your resume in PDF or TXT (.txt format has no design elements when downloaded). Its PDF format is readable by an ATS system.
Enhancv lets you create and download one resume for free, but free PDF has Enhancv branding. Starting price is $24,80/monthly, and the Enhancv Resume translation service costs $20/per language.
ResumeBuild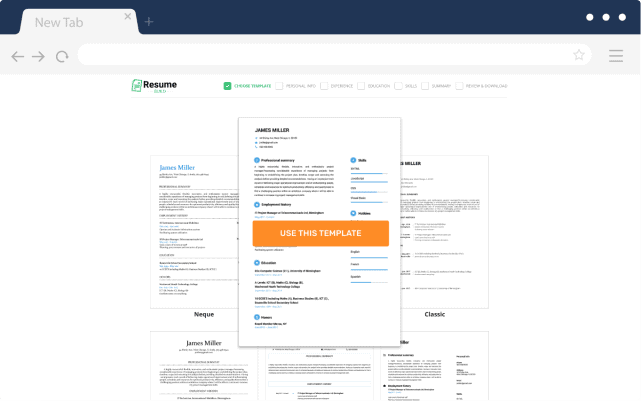 ResumeBuild is a simple resume builder. It has customizable, ready-to-use resume templates. With the ResumeBuild tool, you will get industry-specific, pre-written examples and add them with a click. ResumeBuild comes with six Professional resume templates, from simple to creative. All resume templates are ATS-Friendly and HR-Approved.
ResumeBuild has step-by-step instructions, tips, and bullet points to an industry-specific job description. This time-saving design will create your resume in ten minutes.
This resume builder supports you in customizing your resume, so you can change font, text size, header size, and add/delete parts. Once created, you can download it in MS Word and PDF.
ResumeBuild is a resume builder you can try for free. You need to sign up if you like to create a resume. You will get much free stuff like resume templates, job description bullet points, and resume tips with your account.
Zety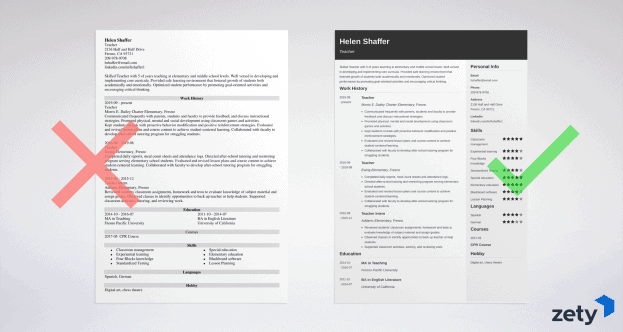 With Zety resume builder, you can quickly create a resume online. Key features of this builder are 20+ great resume templates. Resume Check will give you tips on how to improve your resume, it is easy to use and fast, and you will be able to use its flexible text editor.
You can choose from 18 templates: professional, elegant, creative, or modern resume templates. You can adapt the layout to functional, reverse-chronological, or combination.
Zety resume builder will also enable you to create a cover letter using the same templates as your resume with its Cover Letter Builder. You can edit your resume by choosing font types and sizes, bold and italic letters, and underlining parts of your text; Zety will cover formatting for you.
Zety will help you write your resume in 6 different languages. Pricing is 14-day full access for $2,70 or monthly access for $5,95.
Novoresume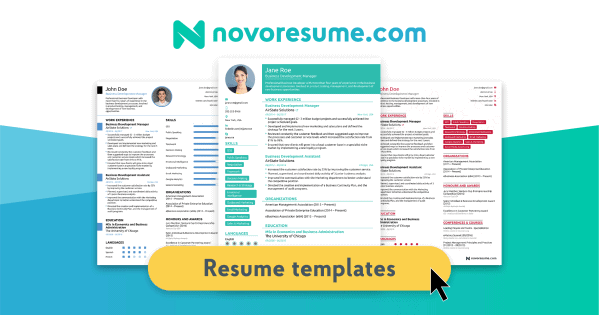 Novoresume is one of the most advanced resume builders, and you will be able to customize eight offered templates and create your resume in five minutes. All these resume templates are ATS-friendly, and they are custom-made.
The Key features of Novoresume builder are live preview, "Content Optimizer" feature, live feedback, changeable theme color for every template; you can add a background of your choice to the resume templates.
With a free account, you can test premium features, get tips, and you can download your resume in PDF format. You need to sign-up for a free account before building a resume, and free features with this account are a one-page resume, predefined layouts, and you can create one free resume. For paid plans, pricing starts at $16 per month.
Conclusion
A resume builder is software that enables you to create your resume online. Resume builders will shape all information and data you entered in the builder. You just need to carefully prepare all materials and data and enter them into the resume builder. And in a couple of minutes, you will have a professionally written resume that you can download and send.