If you're looking for the perfect LMS plugin for your existing (or future) WP site or business (see how to start llc in texas), you've come to the right place. Every LMS (Learning Management System) plugin should have features like different pricing options, managing and creating courses and lessons, managing subscriptions, and communication with your students.
We'll take a look at their most essential features, as well as their prices, so you can decide which one is going to work for you better. Without further ado, let's get started.
WP Courseware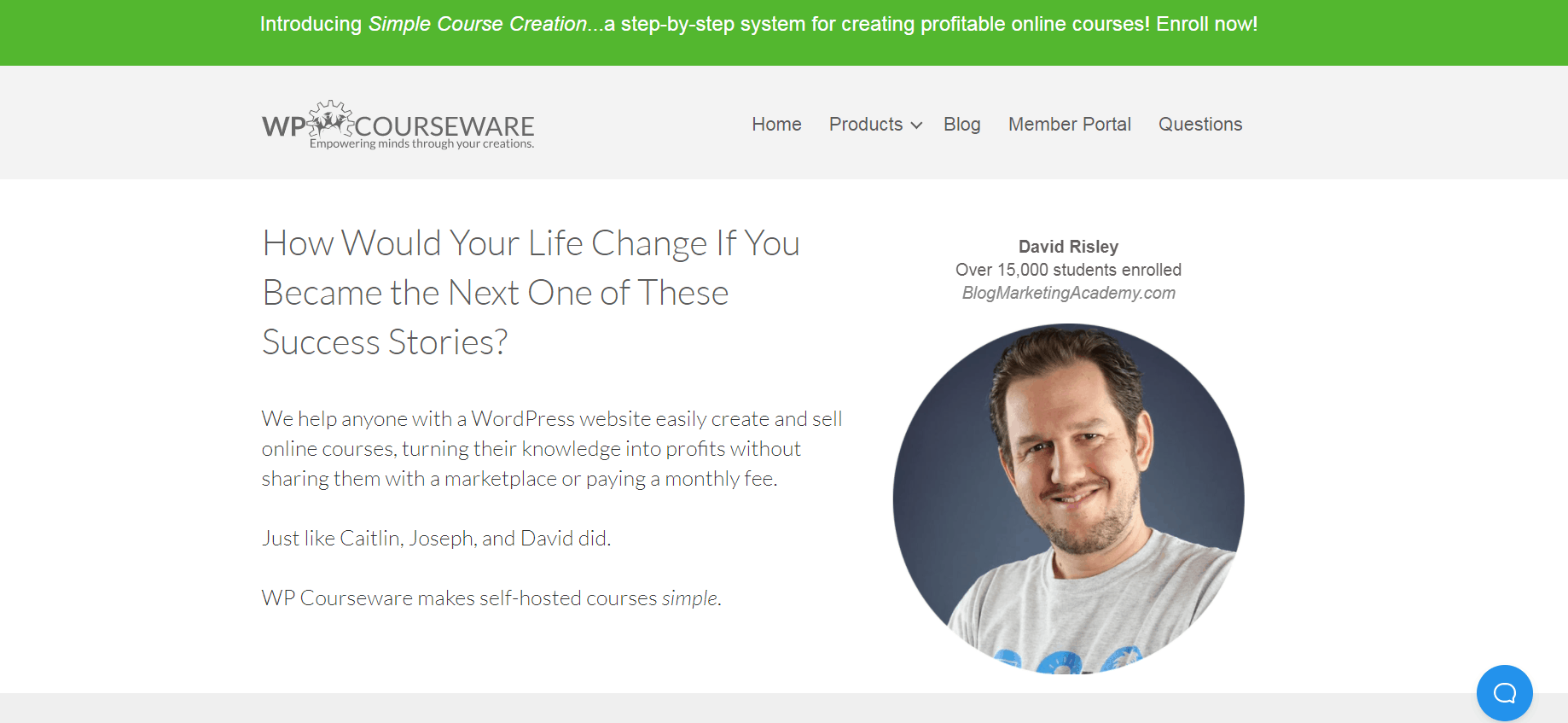 WP Courseware is one of the best tools out there that can help turn knowledge into profit. One of its most significant advantages is that it makes the whole process fast and straightforward, and you don't have to be a developer in order to use it properly. Plus, there's no revenue sharing with WP Courseware. You get to keep every penny you make, which is a somewhat rare feature when it comes to LMS plugins.
Most notable features:
Multiple pricing options – one-time payments, subscriptions, installments
Convert entire posts or pages into course units
Create lessons via a visual editor
Plenty of embedding options – files, HTML, text, interactive content, etc.
Completely customizable quizzes
Completion certificates for students
Integration with membership and e-commerce plugins
If this plugin piqued your interest, you'd be glad to know that it's currently on sale. Three different options are available; Tier 1 for $39 and a license for 10 WP sites, Tier 2 for $70 and a license for 25 WP sites, and Tier 3 for $109 and an unlimited number of licenses.
LifterLMS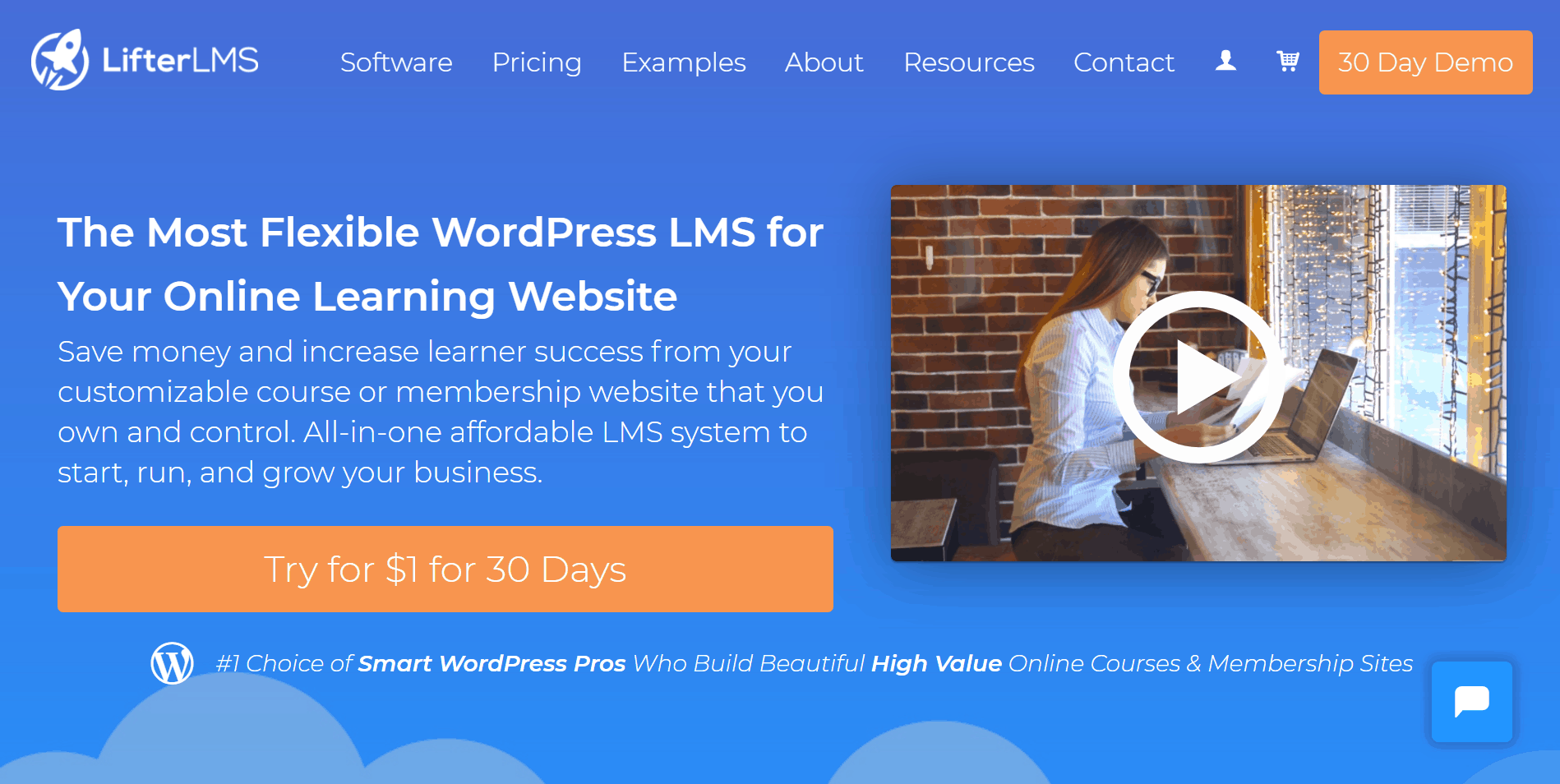 If you're looking for a way to create truly unique and engaging courses, you needn't look further than LifterLMS. It's super simple to use, and everything can be done with the drag-and-drop editor, so all of you non-designers can rest assured. In addition, there's an option to get many individuals add-ons to make sure you've got everything covered.
Important features:
Add multi-media lessons – videos, audio, text, images, etc
Automated emails
Bult-in content restriction – restrict any WP page so that only your students can access it
Content dripping
Course pre-requisites
Multiple payment options – one-time payment, course bundles, coupons, etc
LifterLMS also integrates with PayPal and Stripe so that you can accept payments more easily and, more important than anything else, securely.
A neat thing about this plugin is that you can choose how much you'll be paying by opting for the Individual Add-ons plan, where each add-on you choose costs $120 per year. Be careful if you decide on this, as the cost can mount up rather quickly. There are more plans on offer, and we'd recommend the Universe Plan for $360 per year.
LearnDash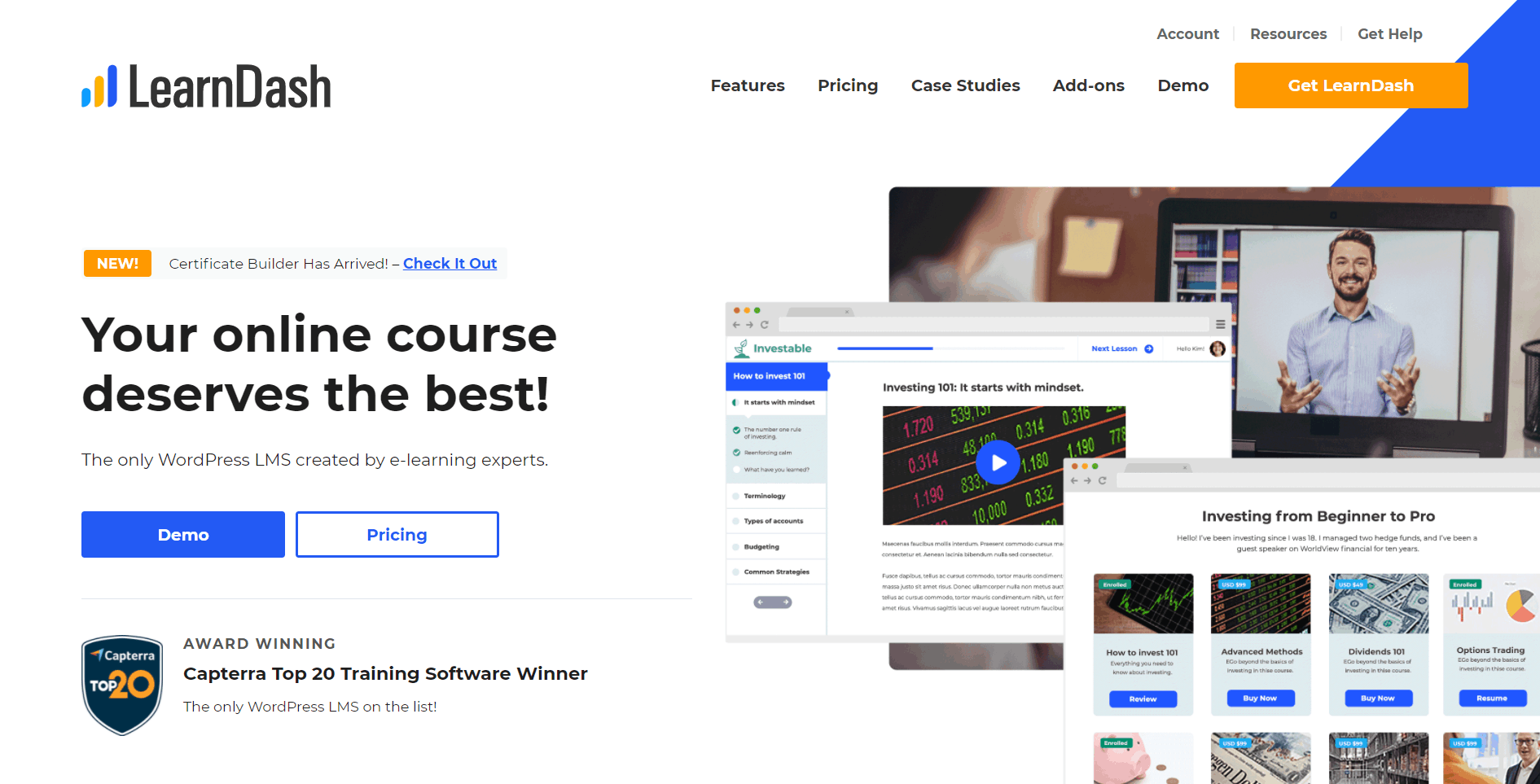 LearnDash is a top-rated, flexible WP LMS plugin loved by many. It comes with a comprehensive set of features, a user-friendly interface, and great versatility. Plus, it integrates with plenty of third-party tools, so you can have as much freedom and control when managing your courses by simply adding the extras needed.
A unique feature LearnDash offers is a dynamic forum specifically designed to provide a communal place for students where they can interact and help each other.
Other notable features:
Create different types of courses – quizzes, multi-layer courses with built-in lessons, etc
Drip feed – schedule individual lessons or set up a plan for the entire course
Give out assignments and then grade or comment on them
Plenty of monetization options – one-time payment, subscriptions, etc
As well as our previous two entries, LearnDash integrates with both Zapier and PayPal.
When it comes to pricing, it's a bit on the higher end. A basic plan that includes a license for a single site comes around $159 per year, and it's currently on discount. If you want to acquire licenses for more than one website, you'll be looking at a price tag of either $189 or $329.
Sensei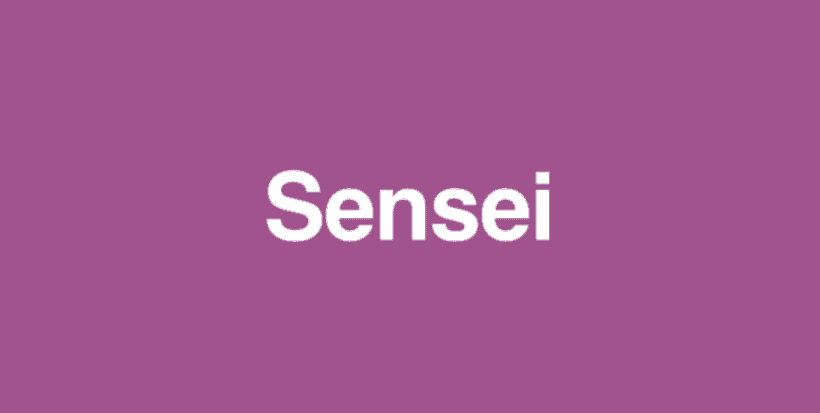 This one is for those of you already using WooCommerce. Why, you ask? Because it was made by the same team and requires the basic WooCommerce plugin to function. Hence, Sensei is a good choice for those already familiar with the inner workings of WooCommerce. However, we wouldn't recommend it to those who have no experience with it, as working with it can be tricky if you don't know your way around it.
Important features:
Create quizzes or lesson via a drag-and-drop builder
Assign and grade assignments – either automatically or manually
Offer badges or certificates upon completion
Accepting payment through WooCommerce
Can be integrated with a WordPress membership plugin
The price for this plugin is $129 for a single site per year. The price is middle-ground, and in all honesty, so are its features. So, if you're looking for something that fits in seamlessly with WooCommerce, then it's for you. If your primary concerns lay elsewhere, check out some of the other ones.
LearnPress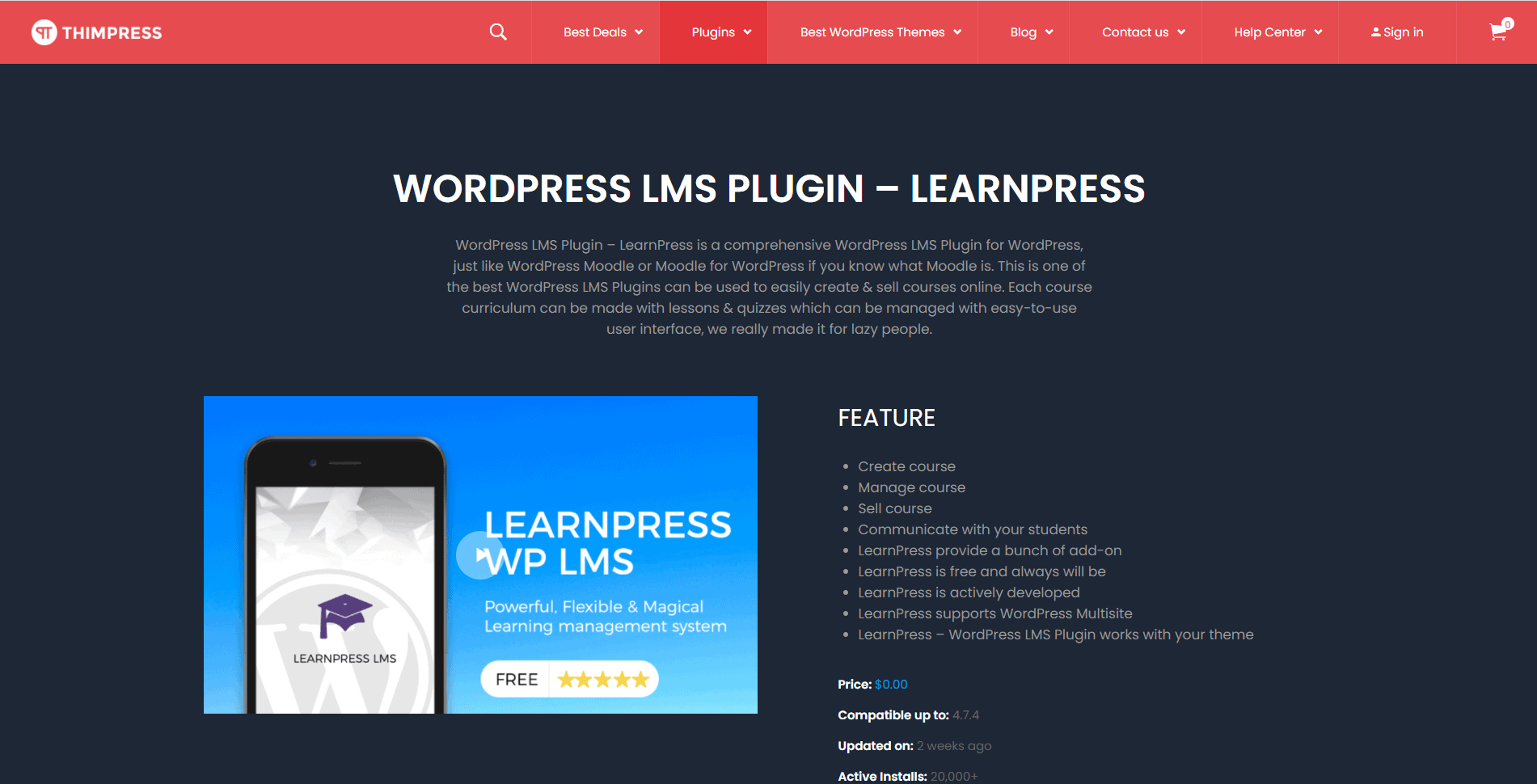 Before we wrap this up, we wanted to give you at least one free option. LearnPress is, in our opinion, your best choice if you're looking for something completely free of charge. It has some pretty helpful features, and you can create a complete course with payment options using only this. However, as one might expect from a free plugin, it's not as feature-rich or as sleek as the other entries on our list.
Notable features:
Create lessons, quizzes, and questions
Export content – use materials from one site on another
Supports PayPal
Works with any theme
To upgrade upon the basic versions, there's also a plethora of free and premium add-ons you can choose from to make sure you have everything you need. Some of the most commonly purchased add-ons include other payment gateways, as it only supports PayPal by default.
It's Time to Start Your Course
Now that you've read about the best LMS plugins out there, the only thing left to do is start your course and make a profit doing something you're passionate about. If you're still indecisive and unsure which plugin to choose, our recommendation would be WP Courseware. The pricing is affordable, it comes with some great features, and you'll never have to split your profit. What more could one need?