When working as a solo WordPress developer, you are always in a time crunch. You are delivering the best outputs one after one. But have you ever thought about the WordPress site and its owners to whom you have delivered your projects and what happened with the sites & their owners once you have made the sites live?
Let me tell the truth. They are struggling with the content management system. Over time, the database becomes hefty to keep loading speed intact so that you set it the best. Frequent updates of the platform, theme, and numerous plugins mystifying the site owners or managing the WordPress back-end. They always find themselves in a dilemma before pushing the update button. It is because of compatibility conflicts and many security issues popping up now & then.
Of course, your patrons had knocked on your door to accept responsibility for maintenance and support after finishing your promised period. Unfortunately, you are helpless to extend helping hands at all. However, suggesting your WordPress site owners any agency that solely bears the responsibility of support and maintenance on behalf of you or independently to your clientele is a nice thought to let run in the mind.
This is where I can help WordPress developers like you and WordPress website owners like your clients (& of course, me!).
What to Look into WordPress Maintenance Agency or WordPress Support Agency?
Before jumping on such valuable recommendations, I'd like to clarify what criteria or parameters I have considered to pick the best WordPress maintenance services or the best WordPress support services for you.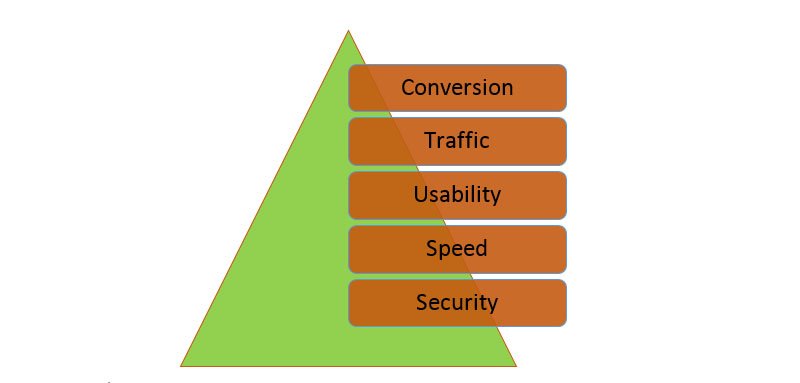 Updates
WordPress shares more than 40% of all websites on the web. It means it could be the first target of maliciously intended elements on the web.
Core Code Updates
Perhaps, security is the first reason that the WordPress platform offers regular and frequent updates of its core code.
Themes & Plugins Updates
For the sake of compatibility, theme, and plugin, developers have to follow every major to minor update by updating their products.
Performance
Website speed and user experience (UX) matters more in ranking and getting conversions.
WordPress maintenance company or WP care agency has to go through various tasks like cache clearing, database optimization, etc., to boost the overall performance.
Similarly, your dedicated WordPress support is to take care of site crashes due to traffic or unknown reasons by restoring the site as soon as possible to save you from possible damages.
Availability
As a developer, we know how easy it is to promise 24/7 WordPress Support, but how difficult it is to keep it. However, most of the companies listed here are keeping their words well through email to phone and live chats for real-time support.
Top Ten WordPress Maintenance & Support Services
I also run a WordPress website for my business and know the pain points as a site owner. So, I hope my recommendation may make sense to you.
Let's begin with the topmost one.

Here, you'll meet an outstanding team dedicated to keeping your website running and with growing businesses meticulously using its offerings.
WP Agents offer unique yet affordable pricing plans in terms of monthly subscription that starts from $39/month (Basic) to $99 (Standard) and $199 (Pro) to cover different tiers of websites.
Its unique features or benefits include daily backups,
Regular updates of source code, themes, & plugins,
Speed optimization for ranking,
Performance optimization,
Round-the-clock security & uptime monitoring,
Monthly reporting,
Free website edits,
And free SEO optimization in bonus!
WP Buffs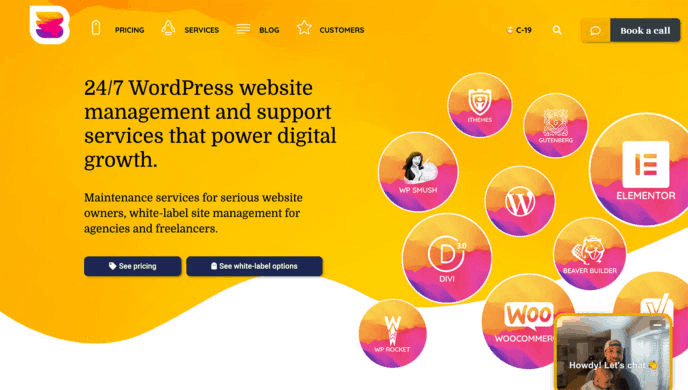 The team is based in Washington DC, USA.
Their plans include:
Daily cloud website backup,
Weekly theme & plugin update,
24×7 website monitoring for uptime and security,
Weekly reports,
Emergency support,
And speed optimization.
Maintainn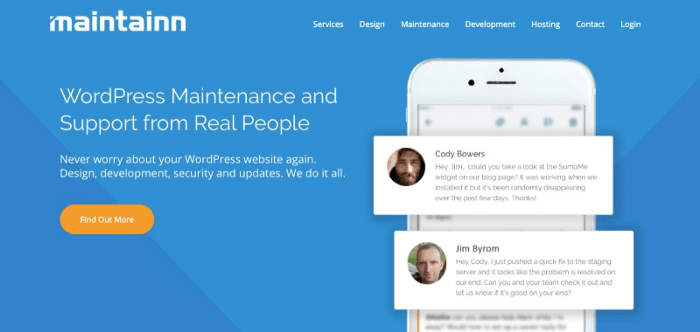 The team Maintainn has been around since 2012 in the industry. Their plans offer:
Uptime monitoring,
Trusted security
Weekly updates,
Offsite backups,
Multiple site (WP & Ecommerce) support,
And version control.
Valet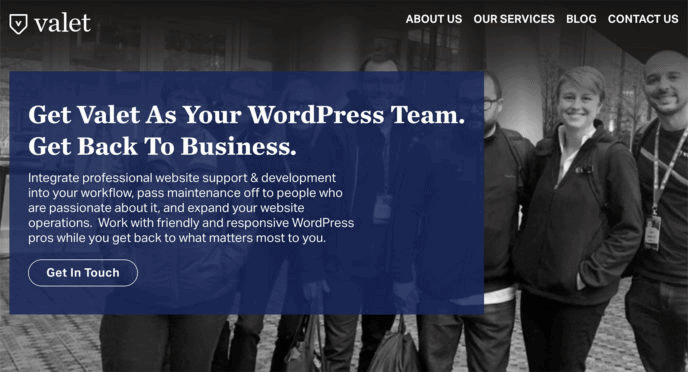 Valet established in 2011 and contributed to the WordPress maintenance and support industry through various services, such as:
Core WordPress maintenance
Ecommerce maintenance
Professional support and development
Audits and assessments
Accessibility
Newt Labs
If you are in Europe, Newt Labs is the best bet for you to obtain WP support & services at your local time. The team offers:
Reliable WordPress support
Unobtrusive WordPress maintenance
Multifaceted WordPress security
Performance optimization
Implementing the best practices with a developer-first mindset
Extra perks like premium plugins
WP Site Care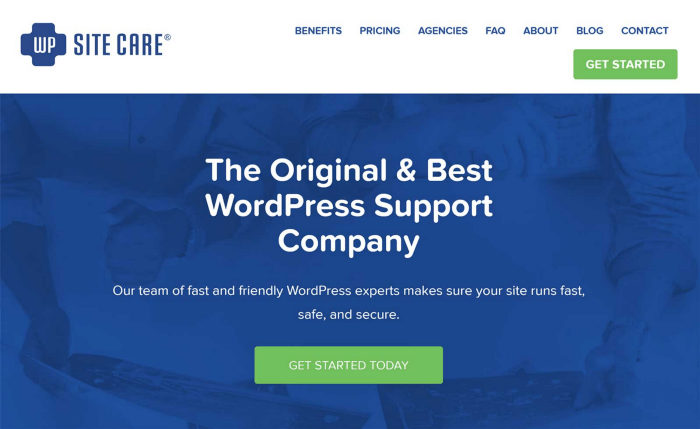 It is the best pick for the North America region, as the team offers support and service at their local time.
Daily automatic cloud backup
World-class customer support
High-end security with scanning, installation, and updates
Site speed and performance optimization
Global CND setup & hassle-free website migration are in a bonus
WP Tech Support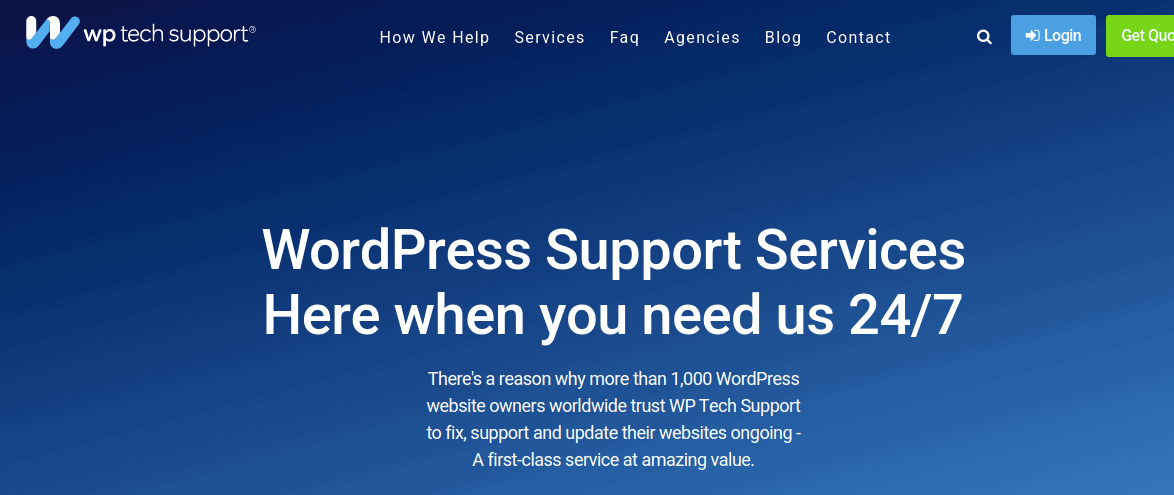 With comprehensive pricing plans, it is the choice of SMBs looking for essential support and maintenance services for WordPress.
Regular updates of core, theme, and plugin
24/7 monitoring
Unlimited fixes
Offsite backup with cloud servers
Performance tune-ups
Site improvements
GoWP

With multi-faceted services, GoWP enjoys a good place in WordPress website maintenance and WordPress website support services.
Their plans are packed with the following features:
Plugin updates with a visual validator
Security monitoring and malware cleanup
Reliable backups & quick restoration
Additional dashboard plugin to watch the GoWP's services
Good for B2B clients looking for white label services.
WP Maintainer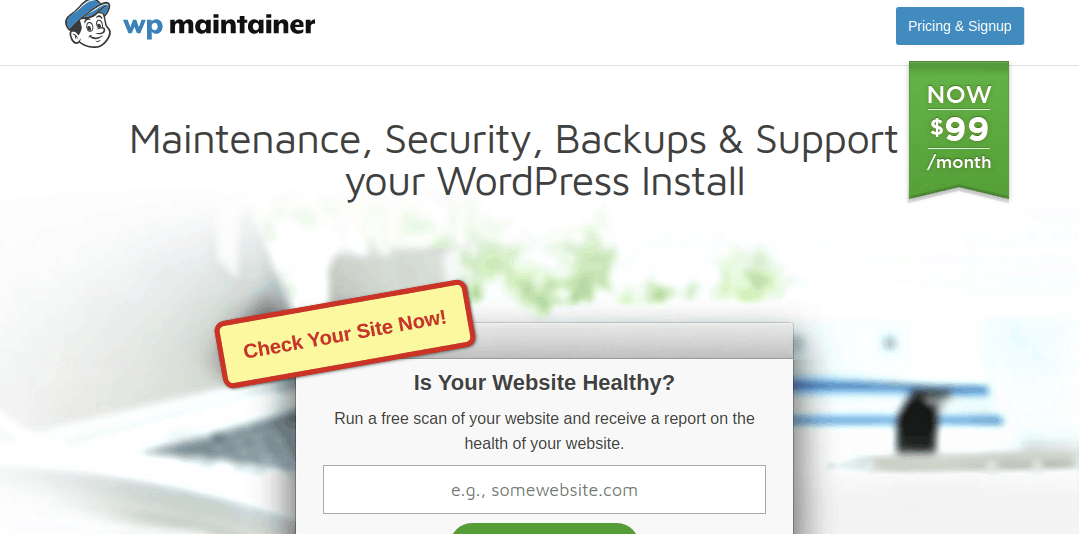 WP Maintainer is a premium service that offers customization and advanced development services besides regular WordPress maintenance and support.
It offers regular updates & upgrades of WordPress core, theme, and plugins mitigating compatibility issues.
Well-scheduled on-site and off-site backups and restoration guarantees.
Security scanning and cleanups by WordPress security professionals.
Monthly additional support for new installations of plugins, modifications of themes, and solving core WordPress compatibility issues.
The team is also ready for additional WordPress migration services if requested.
FixRunner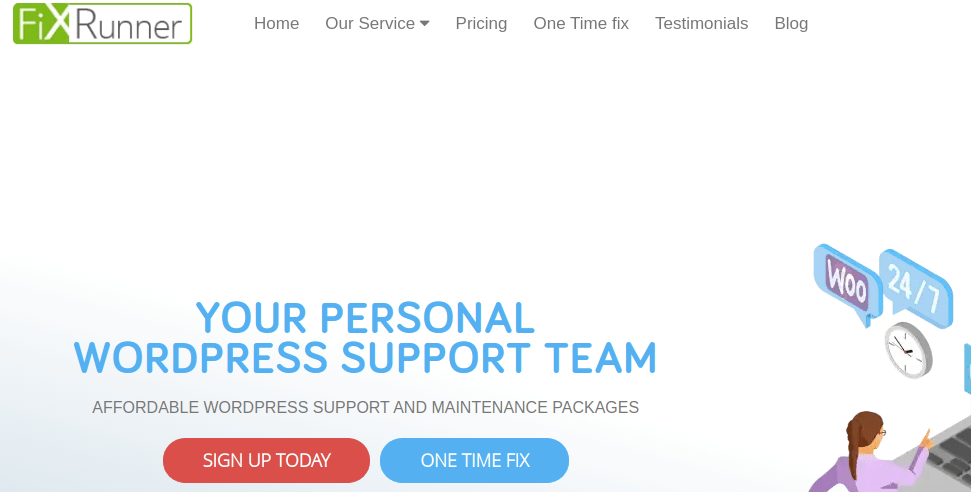 FixRunner is a team consisting of WordPress enthusiasts with prolonged exposure to support and maintenance services.
They offer WordPress support at a personal level by experts.
They keep your site updated with platform updates, themes, and plugins updates.
They optimize the website for speed & performance.
They offer round-the-clock security monitoring, uptime monitoring, and updates.
They offer cloud backups and restoration services.
Honorable Mention
My final recommendation is WP-Agents because it cares about something more than that standard market offers.
For instance, performance & SEO optimization for a range of parameters indeed gives a business a boost and owners comfort in today's stiffly competitive market.
Warning: Remember cheap WordPress support or cheap WordPress maintenance will deliver services based on your spending. So, look for a moderate and worthwhile plan to get stable and growth-boosting services. It is nothing but my personal experience as a WordPress site owner!