Before tackling the review of the WP Force SSL plugin for WordPress users, it is mandatory to mention the main benefits of having an SSL certificate installed on your website.
First, what is an SSL?
SSL or Secure Sockets Layer is a solid layer of security that ensures the connection between a client (PC) and a server (Machine) will never get interrupted or intercepted by an authorized user.
All the major, but even those little blogs or local websites need to ensure that visitors feel safe and not worry about those security issues.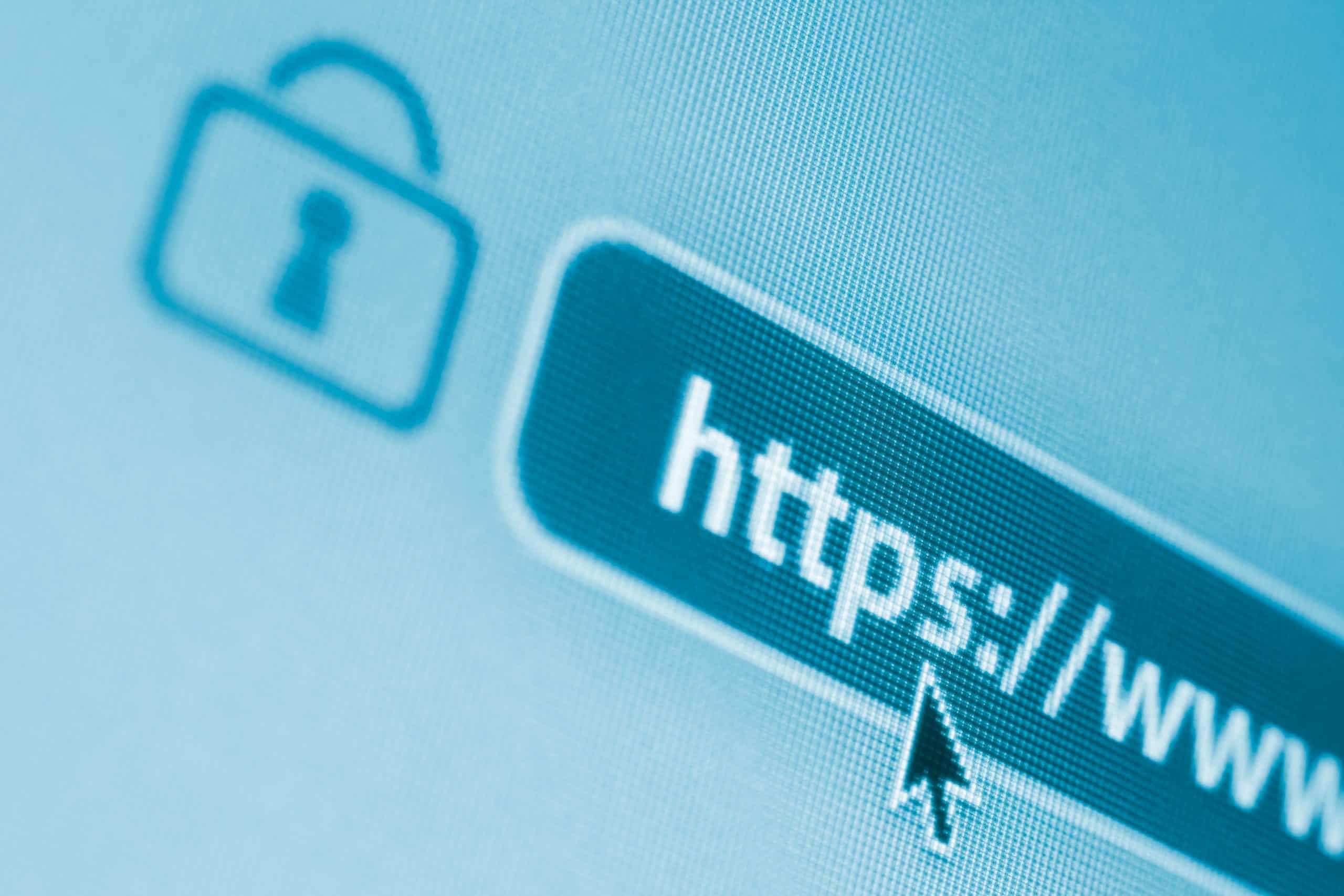 Now, you might wonder, "But, wait. If my website does not have an SSL certificate, it still doesn't mean it will be exposed to some malicious man-in-the-middle attacks". Well, you are right about that. However, if you would like to have and run any kind of online business or e-commerce store, having an SSL is a must. You probably have no idea how important these little things are and how much they can afflict your websites and reduce the conversion rate.
People want to feel free and safe to browse your website and potentially purchase something from your store. Therefore, if they notice that your website does not have this little padlock in the URL status bar, believe it or not, they immediately become skeptical and, in most cases, leave.
See how important it is to have an SSL installed on your online store? So, what's the solution?
Well, there are some free solutions that are okay for a small-sized business and personal use. However, it would be best to look for a paid option for long corporations and middle to big-sized businesses. Paid tools mostly give you more features that you certainly must have if you are serious about the business. After all, how do you expect people to come and buy something from your website if your website doesn't seem legit and trustworthy?
WP Force SSL
Let's assume you have a website or online store with an SSL certificate installed, and you want to ensure that all content on your website is accessed only through a secure (HTTPS) connection.
WP Force SSL is a WordPress plugin developed by the Webfactory team, which is used to ensure people will always access your website through a secure (HTTPS) protocol.
For example, a visitor finds your website or an online store interesting and wants to purchase goods or products. If the website gives him a non-secure (HTTP) version, potentially you will lose them, and they will never come back.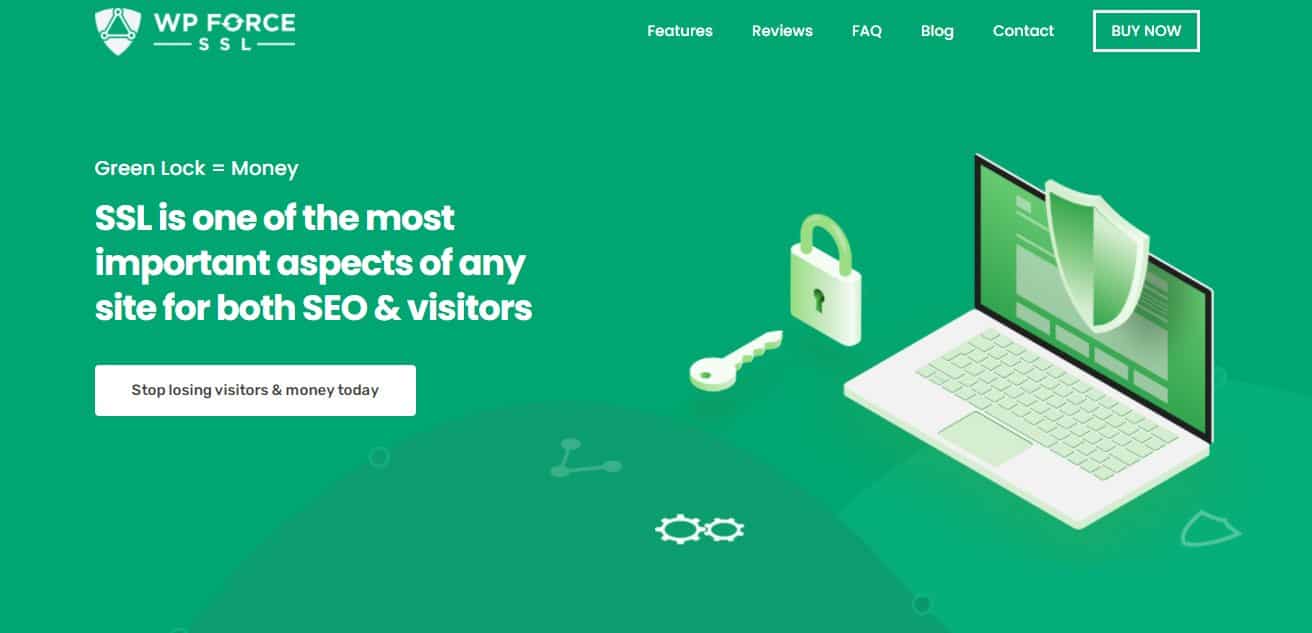 That's where the WP Force SSL plugin comes in handy. It detects those issues and redirects users from an insecure HTTP to the HTTPS protocol. But, most importantly, you can achieve all of that without writing a single line of code.
Another great thing is that WP Force SSL is a plugin that works with any SSL certificate. So, regardless of whether you choose a budget (free) Let's Encrypt or paid SSL certificate, WP Force SSL is a good fit.
Indeed, there are many similar tools, but what makes WP Force SSL stand out from the crowd?
SSL Monitoring
Checking for an SSL status on your website manually can be tiring. But, WP Force SSL can help you with that.

With real-time SSL monitoring, you can scan for SSL certificates and get notified in your email about the found errors. Therefore, you don't have to check on the dashboard much to see the reports because all the errors will be emailed to you.
SSL monitoring makes it impossible for you to forget to renew an SSL certificate, and it checks for around 50 potential errors that your website may run into.
Content Scanner
What is a content scanner used for?
The content scanner is a part of the WP Force SSL plugin that enables the user to check and fix mixed content issues on your website.

WP Force SSL has both, whether you need it to automatically scan and fix the errors or leave it for you to perform manually.
How much does it take for a content scanner to complete and return a report?
Depending on how many pages you have, the scanner might take a few seconds or a bit more to complete the scan. Each scan gives you a comprehensive list of data:
What type of errors are you facing
Short description of the error
The location where the error was found
More details about the error.
Use this feature if you want to avoid mixed content errors in the future.
How to install an SSL certificate using WP Force SSL
How can you install an SSL certificate if you already don't own one?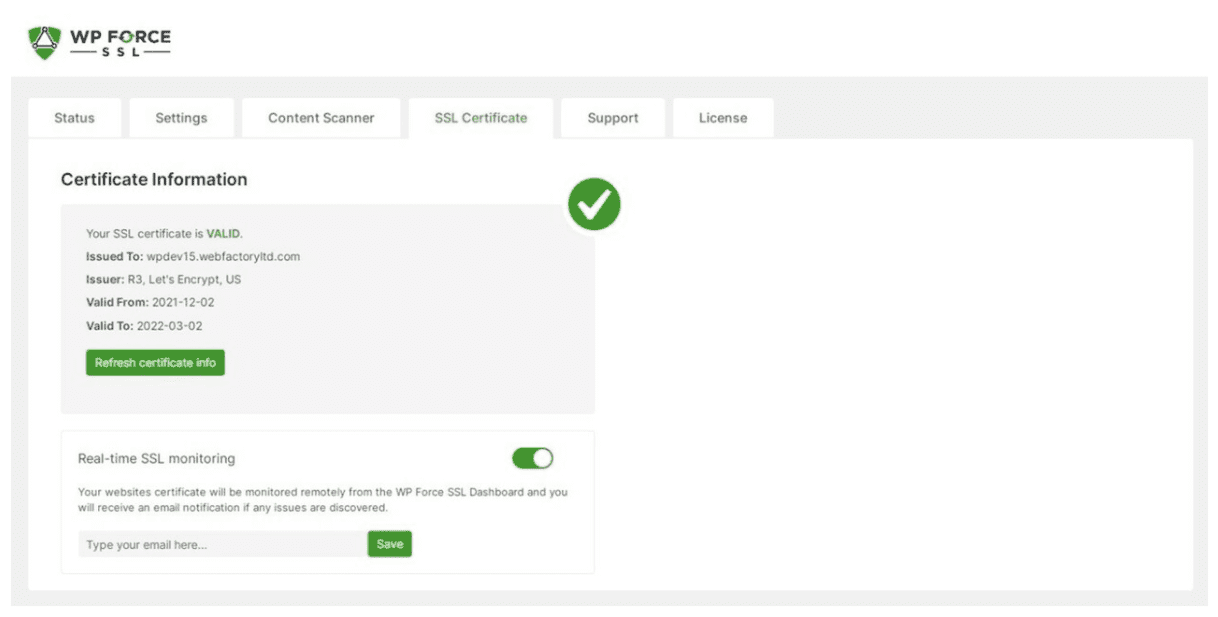 You can do it easily by clicking on the "Generate SSL certificate" by and entering your email address. Then, click to agree with Let's Encrypt Subscriber Agreements and you are pretty much done. This is especially helpful for newbies who would struggle a lot trying to set it up properly.
Centralized dashboard
Just by heading to the "dashboard" page, you have a nice overview and control over all of your purchases, licenses, sites & SSL monitors. Thus, you will save a ton of time.
Free vs. Pro version
WP Force SSL comes in two versions: Free (limited) and Pro. Choose the one that fits your needs best.
Check SSL certificate
Check SSL certificate expiry date
See if your website is running the latest version of the WP Force SSL plugin
Determine whether WordPress address URL is set for SSL
Determine whether WordPress home URL is set for SSL
Always redirect clients from HTTP to HTTPS
X-Frame Options
Show WP Force SSL menu in the admin bar
Show WP Force SSL widget in the admin dashboard
However, if you see you need more features that WP Force SSL offers in the PRO package, feel free to upgrade at any time.
Fix mixed-content
Force secure cookies
Cross-site scripting (XSS) protection
Check if SSL monitoring is enabled
Check if HTTPS redirection is working
See if HSTS is enabled
Solve mixed-content issue
Check if htaccess is available and writable
Check if 404 (Not found) redirection is enabled
Pricing
There are three available pricing plans that you can subscribe to:
Personal Lifetime: $59 / one-time payment (1 site license)
Team Lifetime: $89 / one-time payment (5 sites license + white-label mode)
Agency Lifetime: $119 / one-time payment (100 sites license + white-label mode + Rebranding)
Conclusion
Free or paid, an SSL certificate installed on your website is a must, especially in 2022. Whether you run an online store, blog, or any kind of online business, you should get one for yourself. But, getting an SSL certificate is not the only concern. When you want to get one, you should pay attention to how easy it is to set it up and monitor.
Therefore, if you are looking for a fairly cheap and affordable tool that will help you install an SSL certificate, fix mixed content issues, and monitor your website SSL status in real-time, we highly recommend you check out WP Force SSL.