Links are a website's most valuable component. They make it easy to move quickly between pages on the same website or elsewhere on the Internet and increase a website's popularity. The premium WordPress plugin, WP Links, is compatible with all templates and extensions. It aids in controlling the website's outbound links, both external and internal.
It can also help you link to other pages on the website (pointing to other websites). Its major function is to manage links' rel and target characteristics. It will make sure that none of them are broken or going to harmful websites.
With WP Links, you can easily verify that every outgoing link opens in a new window and that none of them is broken. You don't need to be concerned that this plugin will make your WordPress website take longer to load. Unless the Exit Confirmation option is active, the plugin does not load any additional CSS or JS scripts into the interface.
How to install the WP Links plugin?
You will get two emails following a completed purchase. The first one will store your documentation and notify you when the payment has been processed. The details required to access the dashboard will be included in the second email. You may use this panel to generate your license key, install the plugin, and do much more.
You must first open the email you got to create a dashboard account. Open the email and select the "Password: set one up" link. The dashboard will show up in the new tab; click the "Get new password" option. Recheck your email, then click the link you were sent. Type in the updated password. Keep in mind that it is powerful and distinctive.
Now all you need to do is activate and install the plugin. Open your dashboard and log in. Click the "Download" link in the welcome popup window. Install the ZIP archive on your computer. On your WordPress website, install & activate it (WP Admin-Plugins-Add New-Upload Plugin), then open WP Admin-Settings-WP Links. Use the license key that is displayed on the screen to activate the plugin.
How to control links?
When you hear the word "link building" in the SEO industry, you probably think of external connections or backlinks. The main factor influencing organic search rankings is backlinks from other websites, which are a powerful signal to search engines. Internal linking, often known as interlinking, is another form of link construction that is as significant. These are links that you create on your website that direct visitors to other pertinent pages. When it comes to SEO, internal links' capacity to disperse link authority throughout your site is their most significant advantage. External links provide your website, particularly the page they point to, strength and authority.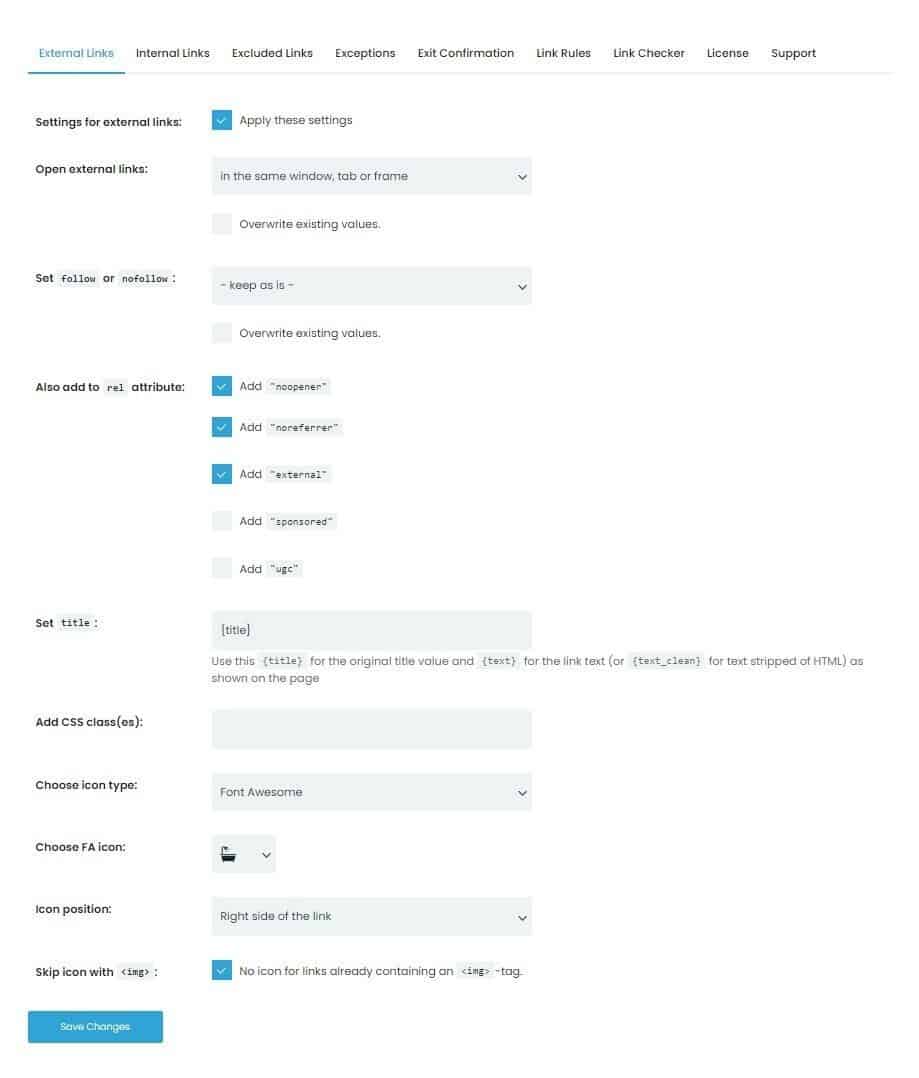 Interlinks can be a means to boost the authority and credibility of pages with less content flow and fewer links, even though the SEO value reduces slightly when you leave a page that is linked via an external link. Usually, it is challenging to offer links to profitable sites. These pages often serve a smaller segment of clients and are of little value. However, by using internal connections from sites that are worthwhile referring to, you can overcome this difficulty and enhance the natural prominence of these pages.
The best part of this method is that it only requires you to create one internal link, and your conversion page will get value from each new backlink you add to your link portfolio over time. Note: Internal links must also be pertinent. The internal link you use must make sense on the page it is on. Additionally, internal links are a fantastic way to support new websites. Review your website and hunt for other pertinent websites before beginning an external link campaign for a new website. Create internal links to assist with the launch of your new website. WP Links can help you get total control over your links.
Of course, certain backlinks are more valuable than others, and this is dependent on several criteria. Backlinks from sites with material that is closely related to that of your website are viewed as more relevant than links from sites with content that is not closely related to the subject matter of your website. The links with the greatest quality come from websites with the.edu or.gov extension. The authority and ranking of the page itself might be negatively impacted by low-quality links, most of which come from shady websites and pages with low authority themselves (pages with spam and duplicate content). Using the WP Links tool, you may estimate the value of backlinks coming from a given website.
Exceptions
Everything that is selected in the mentioned settings is open to exception. You can designate a page/post ID, for instance, to which these guidelines won't apply. Additionally, if the link contains a specific CSS class, the prior restrictions will no longer be valid.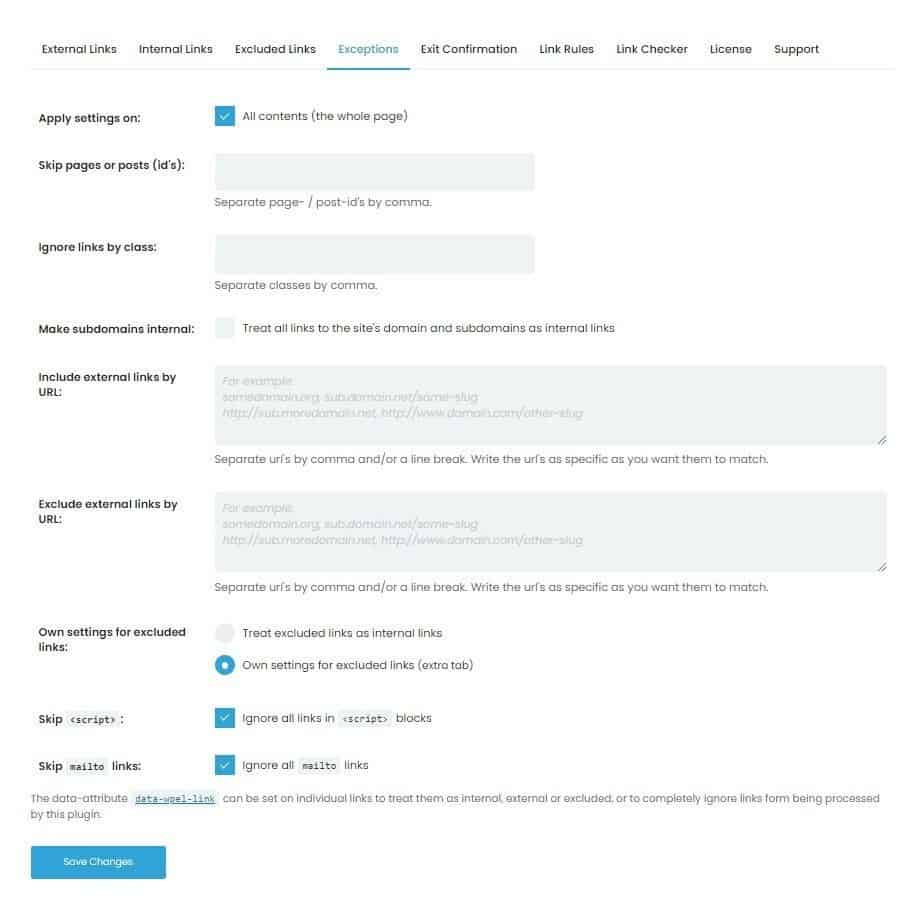 This plugin lets you add extensive lists of URLs that won't be subject to those restrictions. The exceptions feature can help you customize which links you would like to exclude from different features that this plugin offers.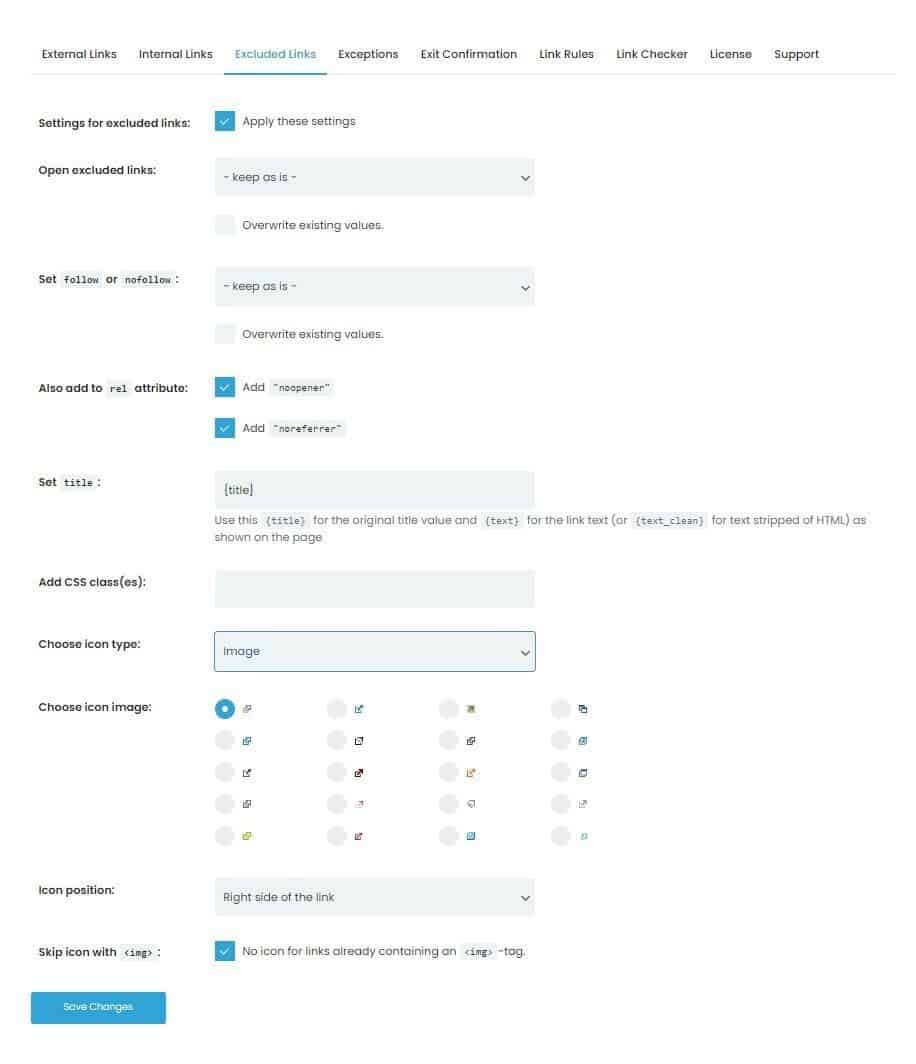 Exit Confirmation
The WP Links plugin enables you to protect the users who visit your website. They offer a feature that shows a completely customized exit confirmation dialog. It is made to alert visitors when they are about to leave your website after clicking an external link.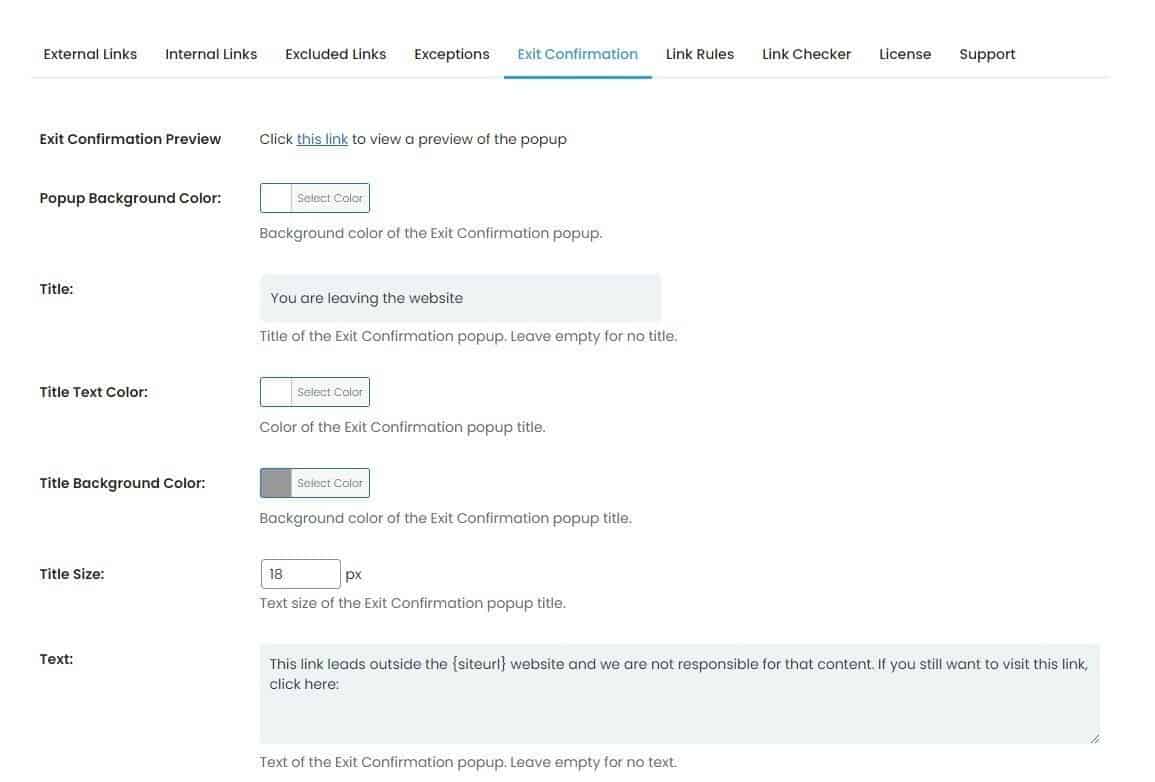 Every user who clicks on the incoming or external link receives a popup that can be customized when this option is enabled. You can edit and add text and choose which links you want to enable this option. The user is informed that he is leaving the website as a result of clicking on a third-party link in this manner.
Link Rules
Every link that contains a specific keyword can be recognized by this feature. This is a great option as then rules can be set based on that. You can choose if they are going to be dofollow or nofollow, whether they will have an icon, etc.
The =" nofollow" attribute is an element in the <a> tag that tells Google's crawler not to follow the link, i.e., not to give any importance to them through the so-called link juice, which should flow smoothly on the page. For example, if the URL contains the words "shoes," it will be recognized, so every link can automatically receive an icon next to the address (e.g., www.bestshoes.com) set by the user.
Internal links are "dofollow" and increase your SEO ranking. Even though your sites have quality content, excessive use of the nofollow tag may prevent search engines from crawling them. Therefore, let internal links be followed and only utilize such an attribute periodically when linking to other websites outside of your domain.
Link Checker
By pressing the button, the entire website and all of its links are checked. This is a great feature if you don't have time to check all of the links on your website manually. Following the creation of a list of all broken links, the plugin displays those that are incorrect (404 error), redirected, or lead to harmful websites, among other things. The link is displayed on the page/post right away by the scanner, making it simple to modify.
Links that point to a page that is inaccessible at all times are known as "dead links." Dead links refer to any links on your website, links that point to your website, or links that go from your website to a third-party website whose website no longer exists in the context of website maintenance. Such connections don't offer a positive user experience, which prompts visitors to your website to leave it soon.
Free and Pro version
You can install and use the WP Links plugin for free. However, a paid version also allows you to use more innovative features. There are three packages you can purchase to get the advanced features that this WordPress plugin offers.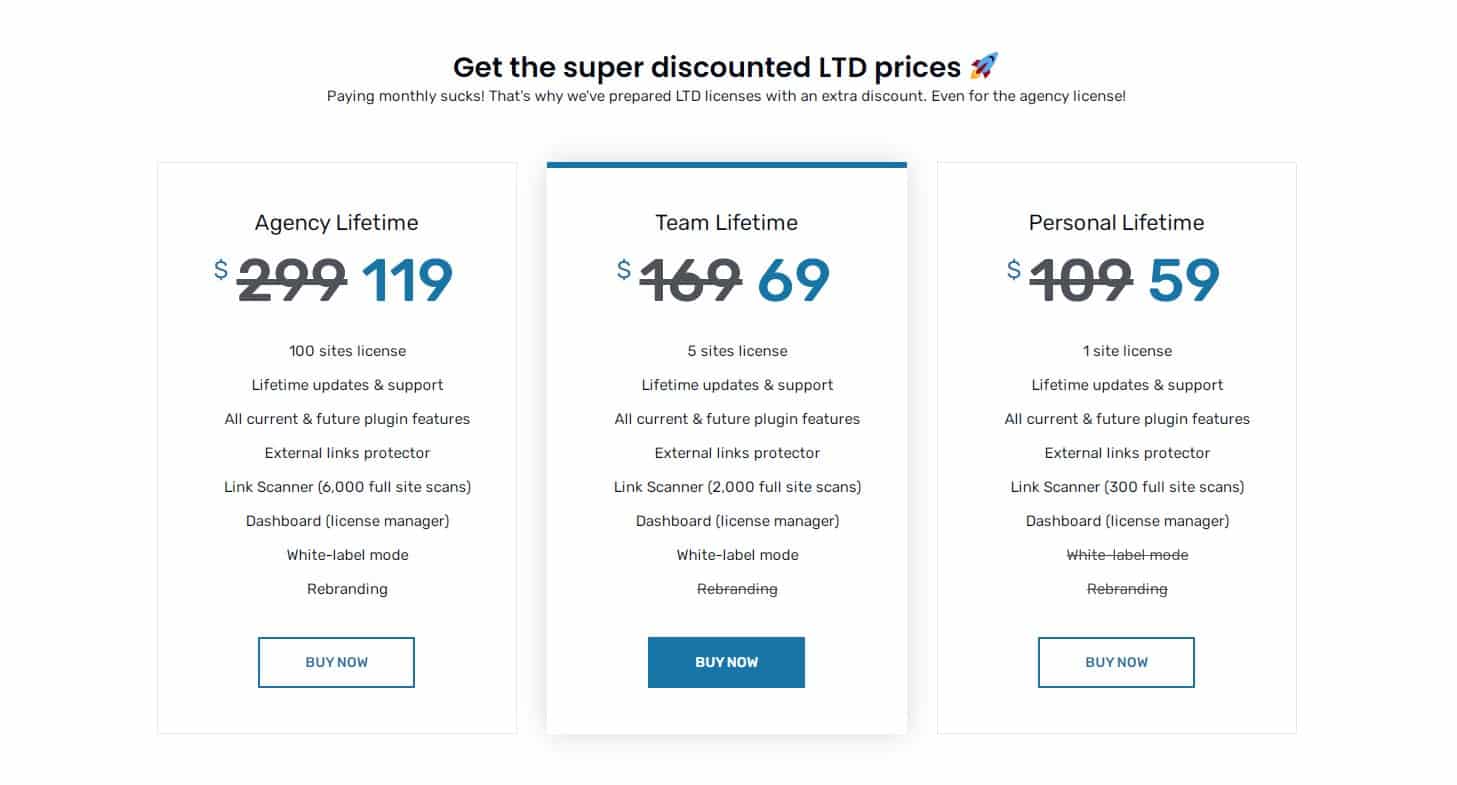 The first package is Agency Lifetime, and you can usually get it for $299, but now it is discounted to $119. This package offers 100 sites license and lifetime updates & support. You will also get all current & future plugin features. In addition to those features, it will ensure external links protector. You will be able to do 6,000 full-site scans.
The second package is Team Lifetime which you can get right now for $69. With this package, you will be able to use five sites license as well as have lifetime updates & support. In contrast to the first plan, this one offers 2,000 full-size scans.
The WP Links plugin's last package is the Personal Lifetime package. The regular price is $109, but if you buy it now, you will get it for $59. This package is perfect if you only need the basic features. It includes one site license, lifetime updates & support, all current & future plugin features, external links protector, and Link Scanner for 300 full site scans.
You must not overlook the technical aspects of optimization, even though the majority of those interested in SEO, or the optimization of websites and their content, concentrate on content writing. WP Links is one WordPress plugin that can help you. Internal links are another crucial element for achieving good positioning in Google's search results. To begin with, your website needs to be properly optimized to build trustworthy links with other websites. You need to have not just optimized material but also high-quality and relevant content to receive proper and high-quality connections from other websites with high authority. The language of the link, or the text on which the URL to your content is placed, is crucial because search engines identify your page as relevant based on the keywords used in that text. Install WP Links and make sure that all of your website's links are in check.