You put out much effort to write the greatest possible emails for your customers and clients.
Look for an email delivery test that also provides feedback on your email campaign's overall tone. These tools will show you how it generates email results, from chat to spam. Then take the email delivery test's suggestion carefully. Consider what modifications you could make and test different techniques based on your findings.
1. SendInBlue

Sendinblue offers a variety of ways for users to link to websites and online stores and track the activity of contacts on their mailing lists, whether they are visiting the website or purchasing things. You may analyze the effectiveness and return on investment (ROI) of email campaigns as well as the behavior of contacts from the email list on the website by adding the Sendinblue monitoring script and integrating events on the website.
On the Sendinblue website, you may track the number of fascinating parameters about your contacts. This data helps us analyze the profitability of our email marketing investments and allows us to track the worth of each contact. On the webshop, Sendinblue also allows for the so-called identification of contacts.
If this information is accessible, it is possible to collect every website visitor's email address automatically. It is possible to "pick up" the registered user's email address and add it to a separate email list of identified contacts, then automatically monitor the email address's behavior and value without having to add it to the newsletter list or have the visitor subscribe to the newsletter at the box office.
2. HubSpot

With HubSpot Email, creating, sending, and analyzing email newsletters has never been easier. HubSpot has a drag-and-drop email editor that allows you to quickly build a professional-looking email newsletter that you can modify to match your brand's style without the help of a designer or IT specialist.
With HubSpot, you can have insight into content policies, personalization, and A/B testing. Advanced reporting may be used to ensure that your email newsletters are optimized for your business. It allows you to see who is in charge of which newsletter and when and what device they use.
HubSpot enables you to see the most popular links and documents, and more. You can use this information to make tests that can boost your conversion rate to a new level.
3. GetResponse

GetResponse is the most popular email marketing software on the market today, and it comes highly recommended. This well-known software company provides a wide range of marketing services, from email and webinar marketing to digital marketing automation and robust analytics.
The email marketing tools available are quite powerful and must be seen to be believed. Among the advantages are a set of tools that include stunning email templates, testing, a superb drag-and-drop builder, auto-reply capabilities, simple list management operations, and much more.
It provides several inbound marketing automation solutions that can be utilized to create efficient workflow automation that saves time and money for you and your company. The Drag and Drop Workflow Creator is a fun tool for improving your email marketing campaigns.
4. MailChimp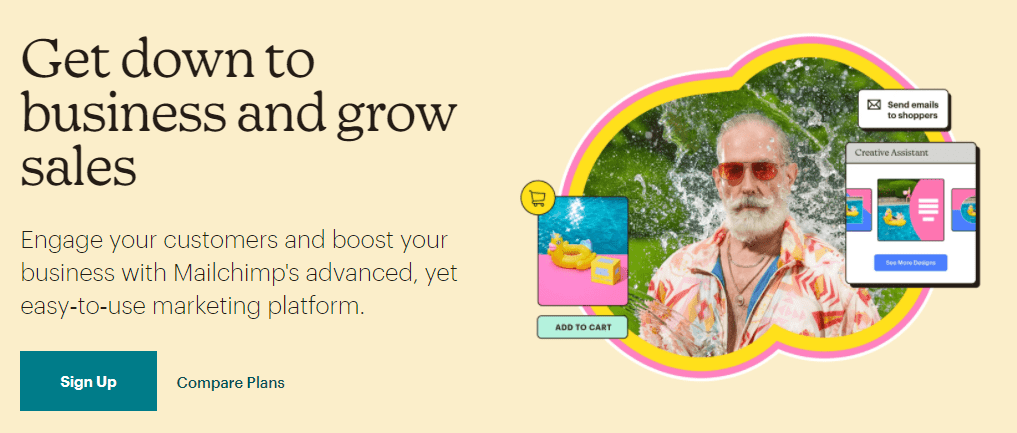 MailChimp is an email marketing platform that will help you with your emails. This platform allows you to create email lists, test them, and create beautifully designed emails. You can do that quickly and effortlessly.
It also allows you to keep track of how many individuals opened those emails, how many clicked on the email's link, and much more. Simply create an account to gain access to this tool, and your email journey can begin. MailChimp allows you to send free newsletters to 2,000 contacts every month, in addition to being exceedingly simple to use. The premium version is required to send the newsletter to many contacts.
5. Constant Contact

For small and large enterprises, Constant Contact offers a dependable email newsletter service. Constant Contact provides valuable boarding for anyone looking to get started quickly and with simple features. If you're having issues with an email marketing tool, you'll be relieved to learn that Constant Contact's multi-channel support system can assist you with almost any issue.
You may use the email tool to generate newsletters that fit your brand, test emails choose from a choice of templates and edit them to make them seem precisely how you want them to. Furthermore, if you require complex automation features and processes, I recommend that you avoid frequent touch unless you have a robust automation system.
Wrapping up
Increase email delivery rates using an email delivery test. However, this can help you to know what you need to do to make your emails even better.
Regularly clean the list, deleting duplicates and uninteresting contacts. It's also critical to make sure that your emails add value, are read in a conversational tone, and are free of offensive language.