Do you have a full-email list, but your click-through rates are not so stellar? One of the primary reasons why that could be the case is that some of those emails are invalid, no longer in use, etc.
These tools verify emails and your list and check their validity. This has pretty much become standard in the last few years and a must-do task for your marketing strategy. Emails sent to invalid addresses only bloat your bounce rate and reduce deliverability, both of which are vital metrics you need to keep an eye on.
To get a positive ROI, your bounce rate should be as low as possible, and to minimize it, you can use an email validation tool. Today we've prepared a shortlist of the best ones, so you can read on and simply pick a favorite.
Abstract's Email Verification API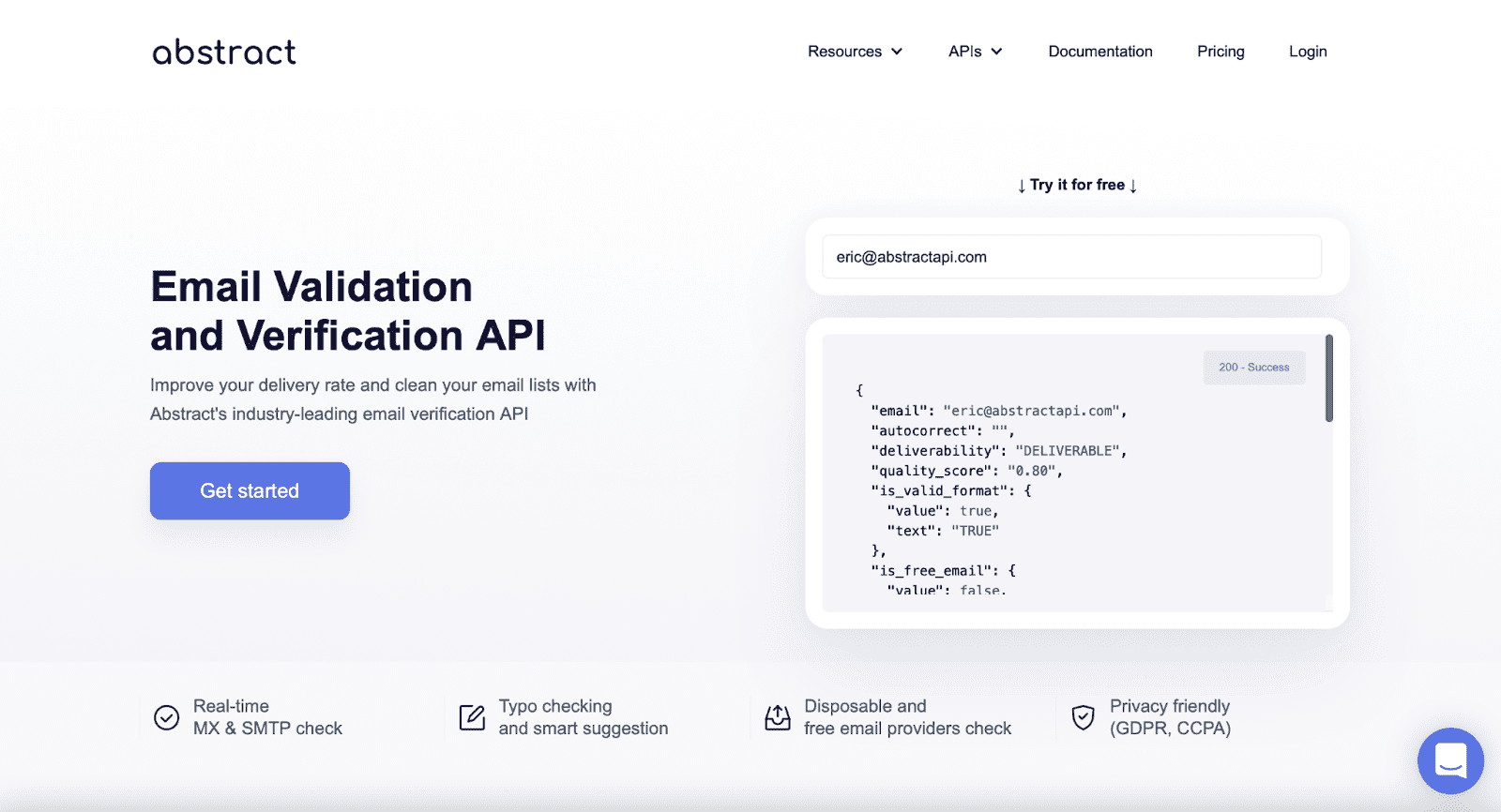 The email verification API from Abstract is a great tool to instantly validate emails and filter your lists. Abstract provides a REST API capable of up to 500 requests per second with the premium plans. You can use any programming language to set it up, just check out their in-app detailed documentation.
The services comes with a free plan, which includes plenty of request to test the reliability of the service. Upgrade to a plan of your choice to benefit from the scalability of Abstract's email validation API.
The bulk CSV upload features comes in very handy whenever multiple email addresses have to be validated at once. Check out Abstract's email validation API for free, or try one of their many other APIs such as IP geolocation or phone number validation.
Email List Validation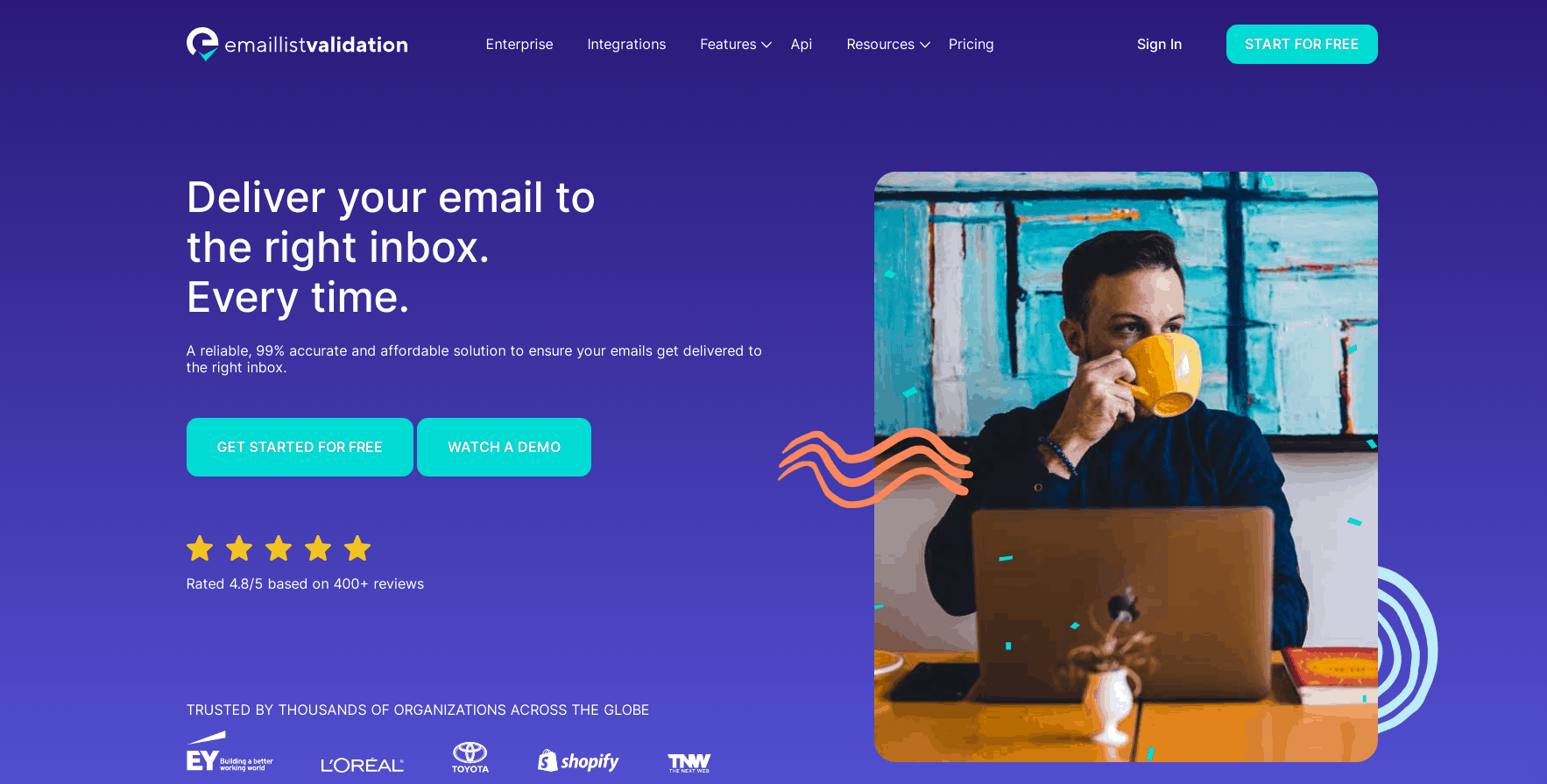 Email List Validation cleans up your lists in the blink of an eye and thus ensures you're only sending to the addresses that are highly likely to open them and engage further. The system itself is multi-layered to provide the best possible quality and remove the fear of getting penalized for sending to invalid addresses. In addition to its excellent verification system, it's also GDPR compliant and uses encryption to protected valuable data.
By using this tool, you'll never again have to copy addresses to a validator one by one, as Email List Validation gives you the option to do it in bulk. This can be done in one of two ways, either upload a list to the platform or use CRM integration and import your lists from there. This tool also comes with a generous handful of useful integrations as well as detailed reports that show the percentage of emails that are getting through.
An added bonus to great features is a great price tag. At its current discounted price on AppSumo, this tool offers 1 million credits for only 59$, and 2 million credits 118$. It is, however, a time-limited offer if you want to check it out; the time is now.
ZeroBounce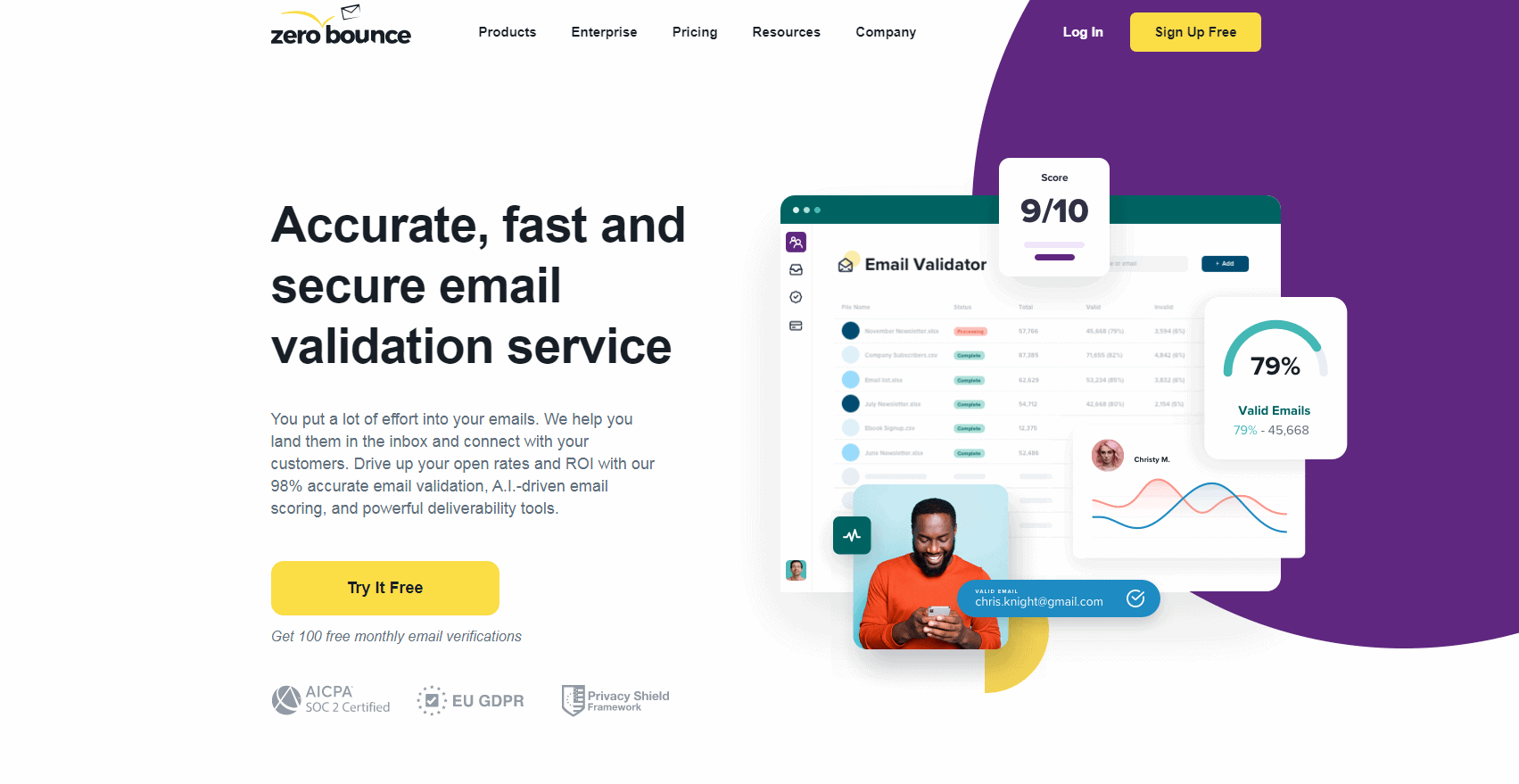 As any other tool on this list, ZeroBounce provides the user with the option to validate their email list through a bulk email verifier that eliminates poor-quality contacts and boosts metrics. It's also super fast as it can go through a list of one hundred thousand contacts in as little as 45 minutes. This tool also comes with the option to score your contacts and uses an in-depth A.I analyzer that predicts how specific contacts will engage with what you're sending them.
You can also use it to test your emails before sending them out to pinpoint what you're doing wrong as well as for blacklist monitoring that could save you from a potentially bad situation. If you're found on a list, ZeroBouce will notify you so you can right that wrong ASAP. Another great thing about this tool is that if you're just starting out and have a small contact list, you'll be able to validate lists under 100 for free. The other prices vary depending on the number of contacts.
NeverBounce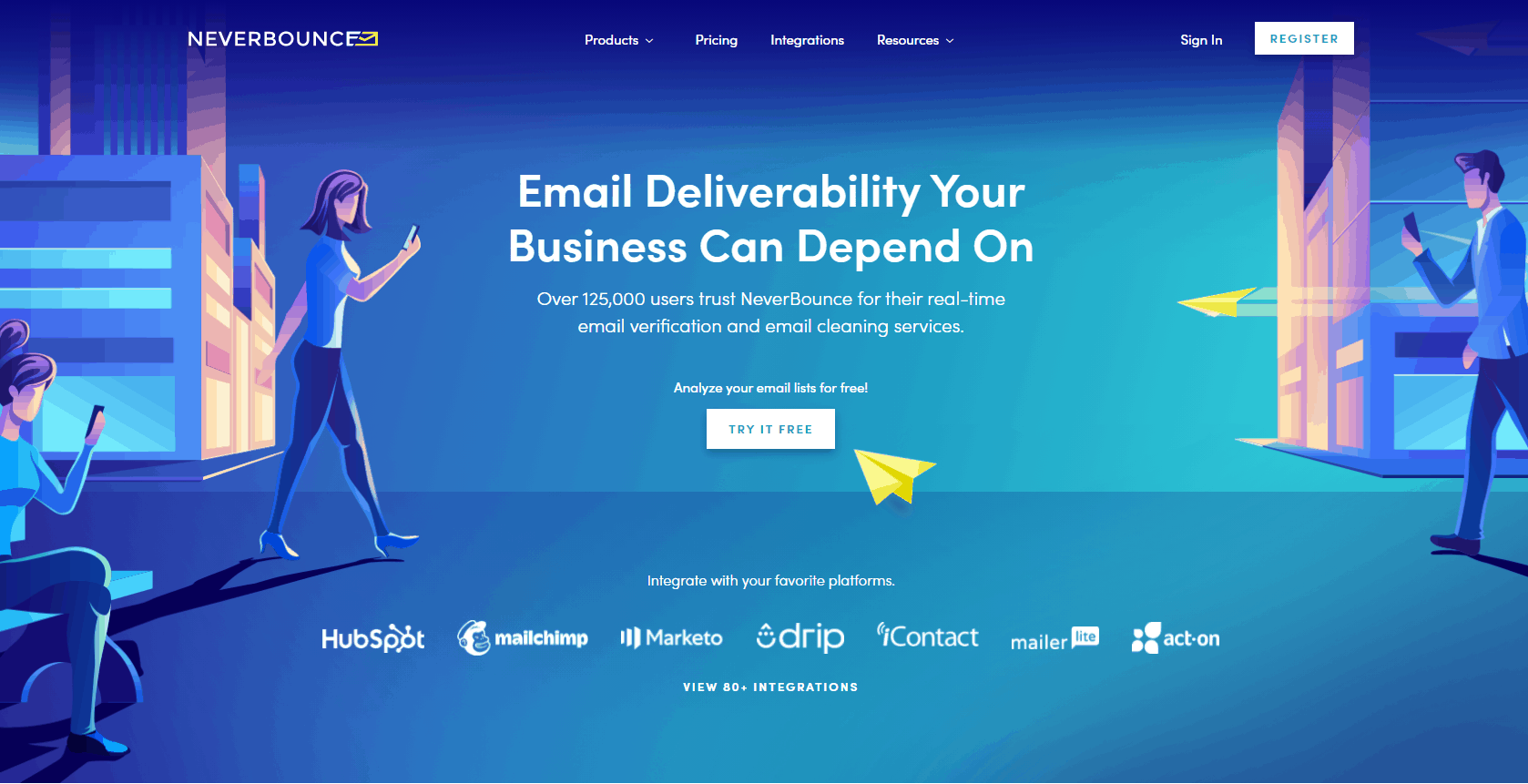 This one is really straightforward, fast, and effective. The first thing you'll do is clean out your email list by uploading it to the platform via one of the 85 possible integrations. Then you'll download your new clean list and begin the next step. After that's done, with NeverBounce, you'll be able to quickly add the now squeaky-clean list to whatever your emails are connected to, whether that be registration forms, lead pages, or newsletters.
Plus, this tool comes with a handy sync tool that allows for automated cleaning straight from your email provider. Like other noteworthy tools of this kind NeverBounce offers great support and provides data security for all of its users. If you like to try before you buy, this one might be worth considering as it comes with free credits upon registration, so you can easily check out the goods before making the final call.
Clearout
In order to keep your sender reputation, Clearout guarantees a 98%+ accuracy rate, meaning there's little that could slip through its skillful analyzer. Among all the other entries, this tool comes with the highest number of validation checks, over twenty to be more precise. So, to illustrate its power better, let's quickly go through the most important ones.
Key features:
Blacklist verification – Checks against well-known DNSBLs and URI DNSBLs to make sure you're always on the safe side.
Disposable Email Verification – Makes sure that the emails are not from a disposal email provider or burners.
Auto Suggestion – Removes any typos or mistakes in the list through auto-suggestions.
Deliverability Score – Shows how many of your emails got delivered.
Duplicate Removing – Removes any duplicate emails.
Like many other platforms, Clearout.io offers you to buy credits and then spend them on the actions you need to be done. It comes with 100 free credits upon registration and offers great support should you ever encounter a problem.
Proofy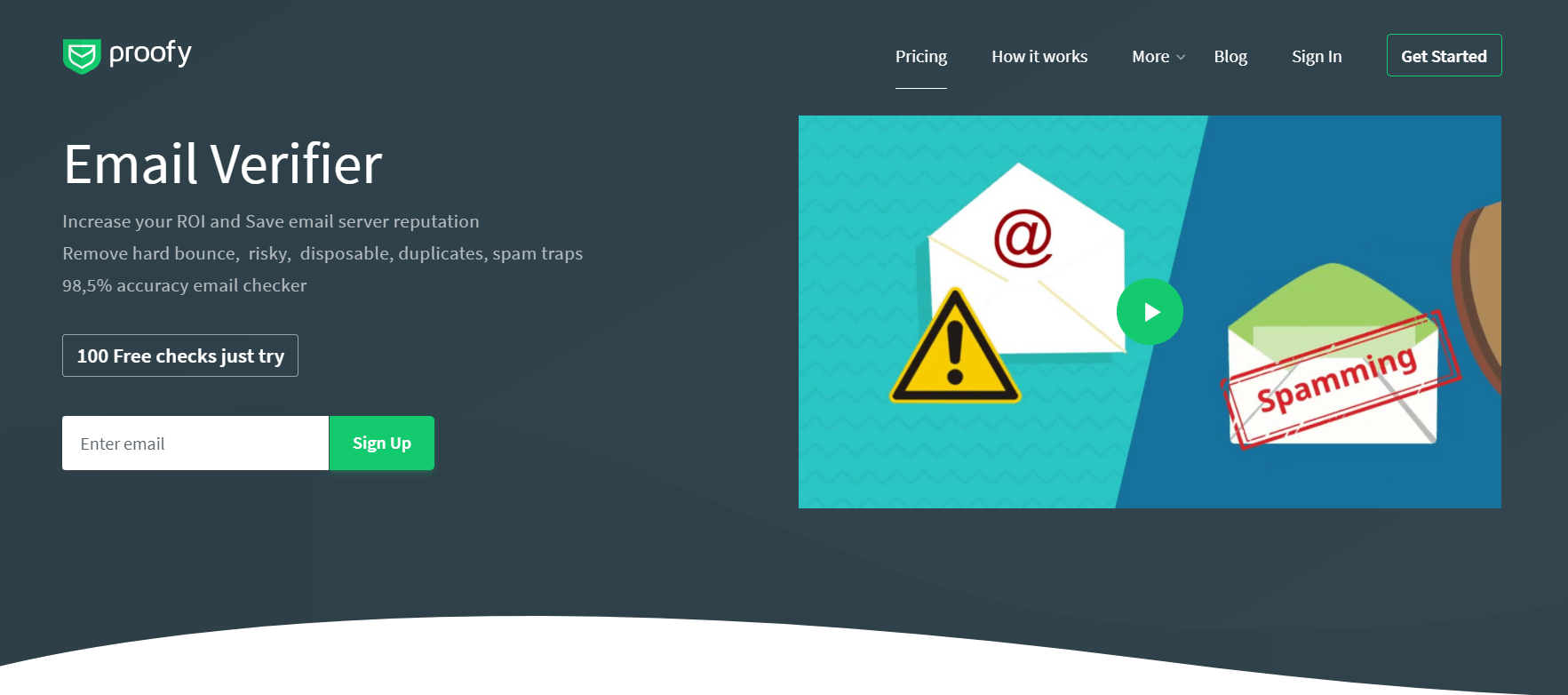 Proofy is super simple to use. All you have to do is drag-and-drop your list into the verifier and get it checked; it doesn't get much easier than that. If you're one to do things on the go, then this tool might be just what you're looking for as it comes with the ability to do everything on your phone. It's both handy and provides results; what more could one ask for.
Key features:
Risk Validator – Removes all emails with high-risk keywords or suspicious TLD.
Role Email Detection – Detects role-based emails such as admin that are not for personal use and thereby hurt your deliverability.
Single and Bulk Validation – Check a single email if it's new, or upload a whole list and wait a few minutes.
Selectable Download Option – Download only the result you want and need by using highly customizable download options.
Syntax Validation – Cleans your list from emails with errors; you'll never have to do it again.
Proofy.io comes with 500 free credits upon registration, and you can get more through various programs they offer, but even their regular prices are relatively affordable when compared to some other tools you can find out there.
Final Thoughts
Having a clean email list is an integral part of a successful campaign, so don't leave it on the sidelines. No matter which of the tools we listed you end up choosing, you won't be left wanting. Hopefully, this article has helped you find what you're looking for, and all that's left now is to pick a favorite and get that good ROI ASAP.