Collecting contacts became almost an everyday activity for freelancers and agencies, and sometimes safe management of all that we gathered can be frustrating. Speaking of that, Google contacts became equally if not more important for many users than contacts held on other platforms. Especially contacts gotten through Google Maps. Easy export and import of contacts in one unique file were quite desired in the industry, and voila – we present you the Google Maps Scraper. The exclusive offer brings features that many marketers, sales managers, and agencies anticipated. Taking care of business contacts turned out to be one of the primary aspects of success in the digital sphere. 
What stands out at first glance is the Outscraper. Knowing that contact export used to itch many customers, here is the solution. Export of local business contacts obtained from Google Maps into a single file is easy via the Outscraper platform. This one allows the export of local business contacts that are held on Google Maps in the format of your choice.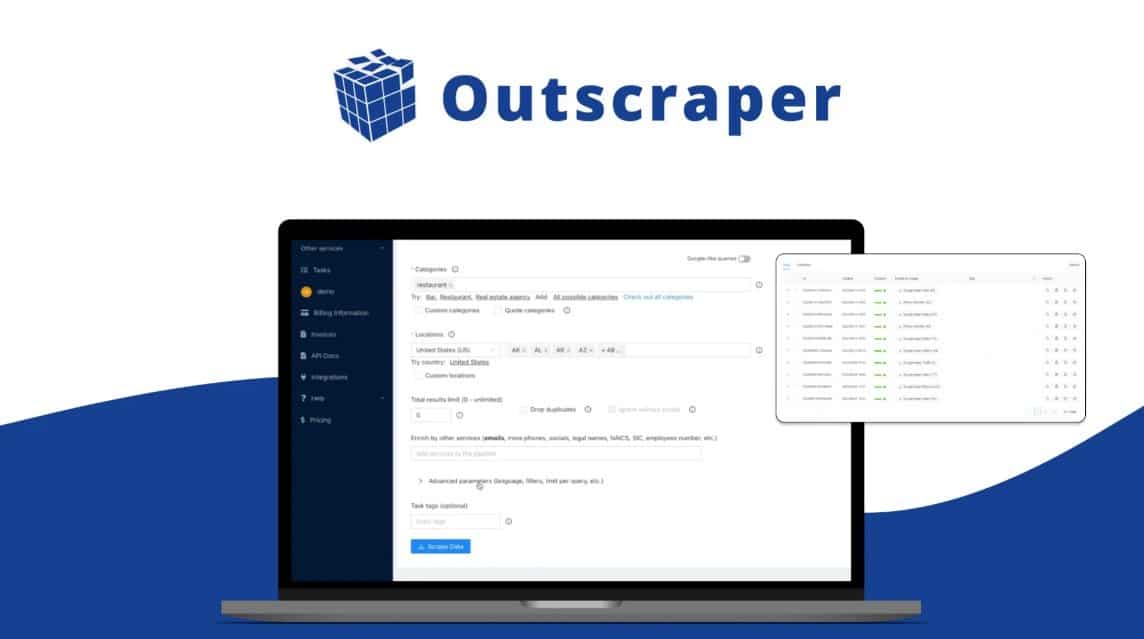 So far, the platform will support CSV, XLSX, JSON, or Parquet as the output, which the users reach in a few simple steps. Enrich the data you extract with Outsrapper. Maps are easily found by the Email & Contacts Scraper, regardless of where they are. They can be in social links, emails, phones, etc. 
Moreover, the scraper searches for contacts in different sources, including web addresses, public databases, Facebook Groups, Google, or other websites. Outscrapper is a very solid product that comes with an affordable one-time payment, where you have to redeem your code within two months of purchase. 
The capacities are fascinating. Along with the ability to remove duplicates from the task, there are numerous filters that you can use to view the results.
Simply select the desired fields that are in the best interest of marketing, such as status, rating, websites, emails, or others. Such a feature is very suitable for small businesses or agencies that are just entering the world of scraping.  
It will generously support up to 5000 businesses from Google Maps and 5000 emails or social profiles per month. Additionally, you no longer need to create search queries on your own. Easily select preferred categories and locations and get the results quickly. One more thing – do not worry about spending all the credits thanks to a great feature called "Total results limit". That feature will allow users to set a limit by entering the number of results they want to achieve. 
High rates overall go hand in hand with this tool. Task scheduling and easy API access come in handy for the developers. 
An extra layer of good news is that all the clients get instant access to all future updates that might appear.
If you are looking for an alternative to WebSummit that brings no bluff, just necessary features – there is no doubt you found it. Its high performance classifies it as an excellent Google Maps scraping tool. The business community is highly appreciative of customer support and the possibility of doing multiple tasks at once. Practically, Outscrapper allows running the same script on different geo-locations. 
Broadly speaking, many have been looking for a good and stable product for Google map scraping. Automation tools are fine but do require a certain level of knowledge and skills on how to use them. Unlike that, Outscraper is a great tool generally easy to use and user-friendly. Whoever spent just several minutes on figuring it out can stand behind that statement because that is all it takes for amazing results. 
Conclusion
Exporting contacts is an important aspect of any business's everyday workflow. From the plenty of scraping tools and utilities available on the internet, some show diligence in bringing the best solutions to customers at the minimum cost. Google Maps Scraper, with its central functionalities and exclusive features, is getting so much attention lately for a real reason. 
Data enrichment as a feature that serves as an advantage and a step ahead of the competition will let clients extract data from various locations quickly and easily. Whatever you previously used, note that this tool will enhance the scraping processes your business needs. Multi-tasking and scraping from different geographic certainly make this maps scraping tool a leader in the industry.