When browsing through the internet, simply looking at websites and what they offer seems to be quite a bland view. Alongside making any purchase, inquiry, or question impersonal, having a simple FAQ may not fulfill the needs of your clients. Here is where Live Chat comes into play.
We can argue the benefits and downsides of it, but it's fairly simple.
It serves the purpose of being there when your clients need it, making their overall experience better.
It can also boost their loyalty and increase the possibility of them making a purchase since a happy customer is usually a generous spender. But they're not all that, as we know, certain situations cannot be resolved with a simple chat. Customers may feel angry waiting for an agent to reply, feel frustrated to repeat themselves if they accidentally clicked off the chat, or just be annoyed with the scripted replies.
Don't let this discourage you, as presenting a live chat option on your website could be a good stepping stone to what you're after. Imagine the websites you generally use the most. Most of them offer a contact form or specific information for you to reach out to them. Using the contact form or contacting them via email may be tedious, as you would keep going back and forth emailing and submitting support requests in order to get something simple done.
Not only that, being able to reply in real-time assures the customer that there is a human on the other side dealing with their problem, instead of simply getting the automatic email confirmation being sent to their email. This increases the retention of customers, eventually increasing the revenue for the business.
With more and more people straying away from phone calls, making sure they can easily get in touch with you is a priority. As long as your agents and support center are being properly trained and educated on supporting and resolving issues for the customers, live chat can absolutely replace some form of calls and emails.
As effortless using live chat may sound, getting around to code it and set it up is an absolute nightmare. Luckily, a plugin for your WordPress website is perfect, since you're not bound to scripting and fine-tuning every single line of code. They're easy to use on both ends, which will make educating your team and using them be a piece of cake.
To help you out, we've picked out a few plugins that will make your interactions with your customers a whole lot easier.
LiveChat by LiveChat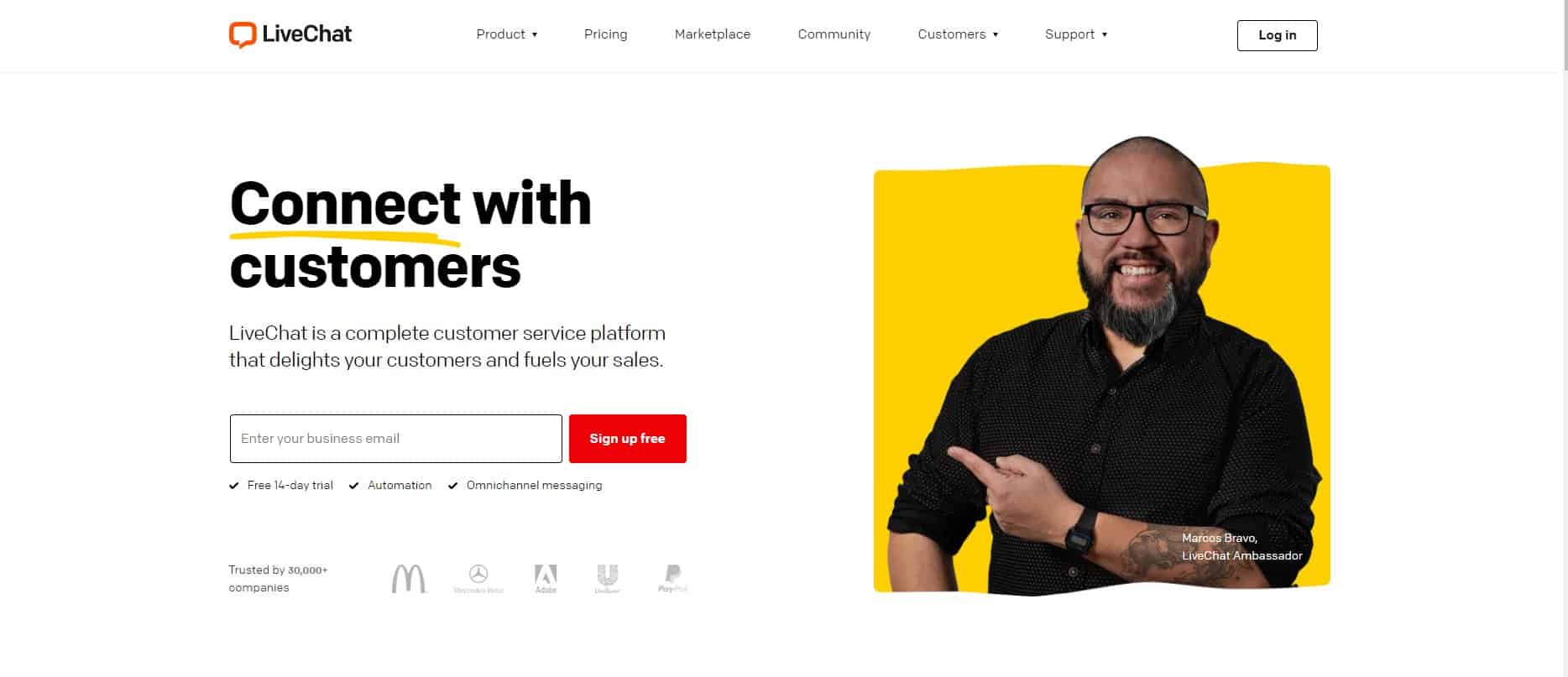 Its name and functions are pretty straightforward. LiveChat is a fully customizable plugin that offers a sleek and functional interface. Getting around with it doesn't take a lot of time or energy, so you or your agents will be able to interact with your clients without a problem. On the client side, they're greeted by LiveChat's box at the bottom of the page, where it stays and remains open to access at all times. Your customers will be able to rate the interactions and the agent they were interacting with, making it easy for you to get feedback. However, this plugin only comes in a premium version, with a 14-day free trial. Here are some useful features that come with the plugin:
Canned responses to improve efficiency and help customers quicker
File upload support
Social media integration
Chat widget customization
Chat surveys and ticket forms
 Chat logs and data exports
Mobile phone compatible
Tidio Live Chat by Tidio Ltd.

This one is a favorite since it's an out-of-the-box type of solution to your live chat needs. It's free to use for an unlimited amount of time, so it may be your best option in case you're just starting with live chats on your website, but there is a premium option you can opt for in case you think the features offered are key.
The chatbox can be easily accessed on your WordPress dashboard, and you can manage chats from an app fitting to your phone. It provides email support as well, in the case when you can't chat for whatever reason, they will be sent to the email associated so you can continue the chat there. If you're working solo, there are chatbots implemented for your customers to interact with, so you won't be losing any business by being overwhelmed.
Other great features of this plugin are:
Integration with other plugins (Zendesk, MailChimp, SalesForce, etc.)
Supported language pack containing 21 pre-translated options
Customizable to match your brand
Visitor tracking
Unlimited chats and contacts
Canned responses
Facebook Messenger integration
Tawk.To Live chat by Tawkto

Tawk.to has gained quite a reputation in the community for one key element – every single feature is completely free. It may not have a lot to offer as the reason behind it being free is that the original purpose of this plugin is to simplify the live chat option. It doesn't come with any CRM or marketing automation features, and it doesn't contain the option to use chatbots, but if you're only looking to make it easy, this is the plugin for you. The number of chats and contacts is unlimited, but if you find yourself swamped with a lot of customers inquires, you may consider hiring a chat agent from them for the price of $1 per hour per agent.
While it may be the most basic one mentioned, here are some other features worth mentioning:
Chat agents reassignment
Desktop and mobile app supported
Live visitor list
Visitor info
Widget customization
Canned responses
Email notifications
Live Chat by Acquire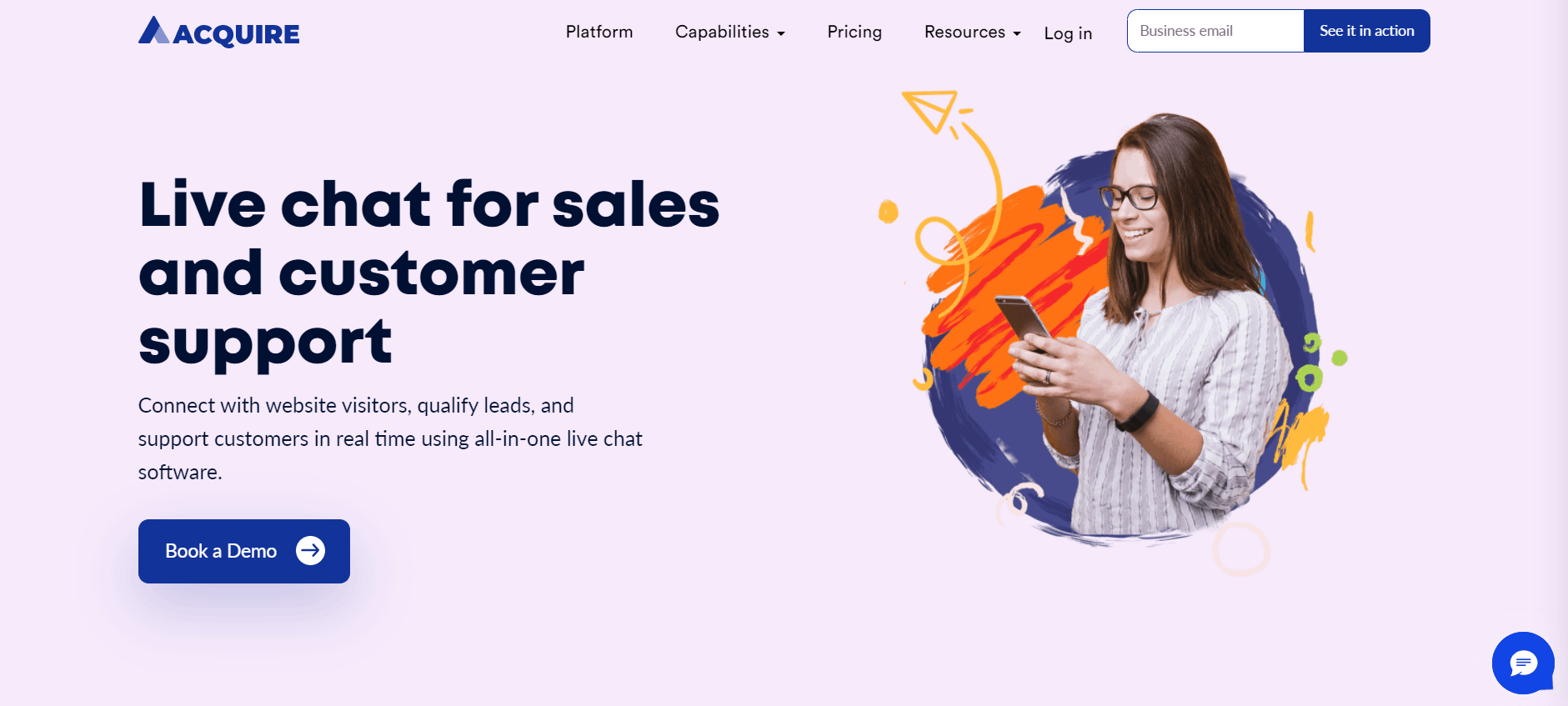 Acquire.io's Live Chat Software is leading with a mission. It aims at bringing humanness in the day-to-day digital interactions. With one-click sales and support, staff can connect with prospects for customers with high definition video calls. This software has a modern, super easy-to-use UI, and is also highly customizable. You can get started with it in no time with its plug-and-play simplicity. It has cross-device compatibility and therefore works well on all devices, all the time.
Quickly integrate Acquire's live chat software with your knowledge base library to automatically answer FAQs and reduce query resolution time. You can also auto-translate your conversations to 100 different languages and leave no one unattended. This live chat software also offers detailed reports on key metrics like inbound chat volume, missed, and answered chats along with their average wait times, amongst many others to optimize your customer support strategy.
Brosix Live Chat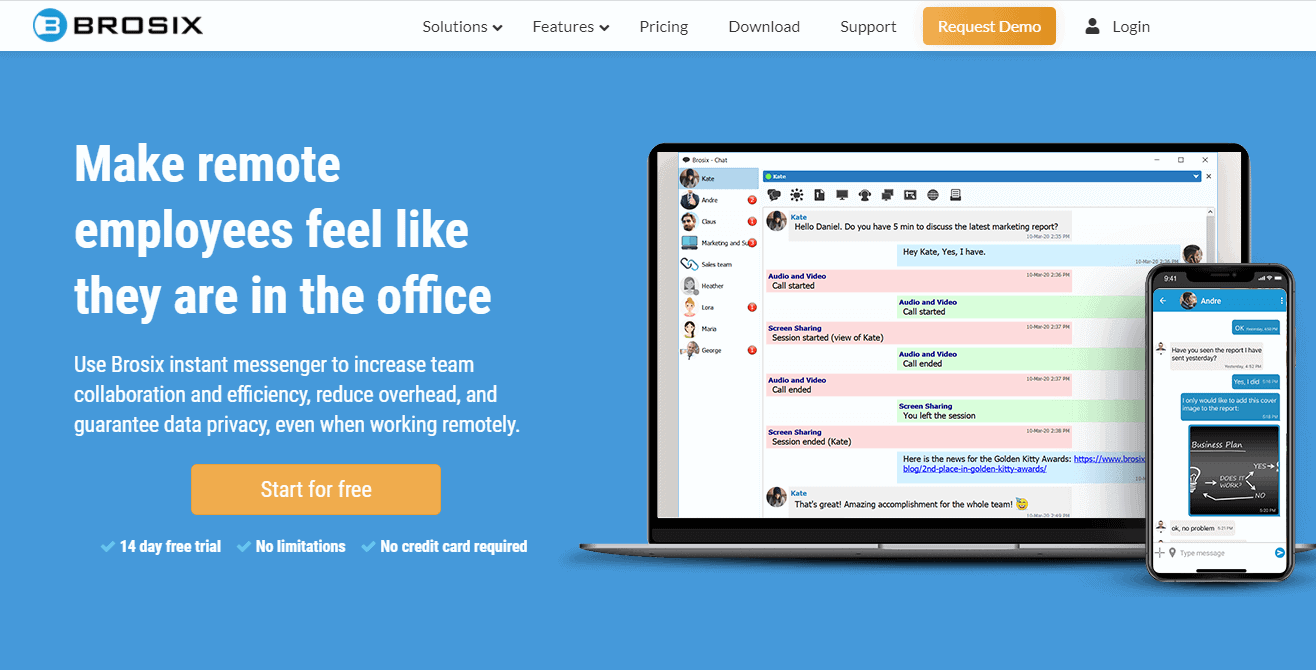 Brosix is another great choice for integrating a live chat on your website in only a few short, simple steps. It's easily accessible through desktops, mobiles, or tablets, so regardless of your device of choice, you'll be able to engage with customers efficiently. Furthermore, there are multiple communication channels available (10 of them), so you can easily chat with multiple customers. There's also a free plan available, but by purchasing the premium version, you get access to multiple sweet features so you can test things out with the free one, and if you like what you see, upgrade to a premium account. Some of the features include:
Simple integration and monitoring
Encrypted chats
Customized groups for agents
Various design preferences
Custom placement on site
Dedicated chat rooms for agents
These are just a few out of the many live chat plugins out there, but they're worth checking out and maybe even using one of them. Depending on the volume of your work and your own capacity, any of these can easily suit the biggest or smallest of needs and concerns. We suggest checking them out and seeing which one you like best!