If you're looking to give the visitors of your site great user experience, one of the first things you'll have to enhance will be your login page. The login page is the first part of your site your visitors will come in contact with, so you should try your best for it to leave a good first impression. While the login page does come with the default WordPress design, making no adjustments to that design can be seen as a lack of effort on your part and won't in any way help your page stand out.
Besides good design and a dash of your branding and personality, a login page should have at least one or even multiple security methods that will protect the site from being accessed by people without the proper credentials and the occasional bot.
A custom design, different security methods, and a range of other elements can be added to your login page easily with the help of tools commonly known as login page customization plugins.
Since these plugins are a widely used and popular type of plugin, there is definitely an abundance of them on the market. To help you pick the best one for your needs, we have compiled a list of the best ones you can use to customize your login page. Let's see which ones made the cut.
Custom Login Page Customizer

The Custom Login Page Customizer is one of the most popular plugins in this category and boasts about 70.000 active installations. This plugin allows you to do all your work right from the standard WordPress customizer, meaning you will be customizing and creating login pages in an already familiar environment.
Some of the customization options this plugin offers are styling of the page and/or form background, inserting logos, customizing buttons and fields, inserting custom CSS, and a lot of other ones as well. One really convenient thing about this plugin is the fact that it comes with a security add-on already included, which you can use to add captcha and other popular security methods to your login page without any hassle. There is even a live preview feature that will enable you to see all the customizations you make in real-time.
The plugin is very easy to use and will make the whole customization process a piece of cake. The plugin is available in a free version and a premium one as well, which comes with extended features.
Custom Login

Unlike the first plugin we talked about, the Custom Login plugin doesn't use the WordPress customizer. Instead, it has its own page for making customizations. This plugin is definitely an advanced one that will provide you with detailed customization options like custom CSS, HTML, and jQuery. When we say it offers the possibility to do very detailed customizations, we're not over exaggerating. The Custom Login plugin will allow you to customize each element of your login page individually, and for most of the elements, there will even be a dedicated section in the customizer.
What this plugin has that a lot of other ones don't is SSL and Google Analytics support. The SSL will allow you to take your security to another level and the Google Analytics to track the behavior of your visitors while they are on your login page. Other notable features of this plugin are the custom post-login redirects and the option of displaying/hiding different links. The Custom Login plugin is free but has a premium version too. With over 80.000 active installations, this plugin is one of the most popular ones on the market.
Erident Custom Login and Dashboard

The Erident Custom Login and Dashboard plugin is a plugin great for those of you who love making loads of customizations on your login page and WordPress dashboard. Its features include changing the opacity, shadows, and colors, adding logos, hiding/displaying specific links, switching up backgrounds and styles, and many other features as well. Some of its more unique features are the possibility to change the footer text in the admin dashboard and the option to choose colors using a special jQuery color picker. The Erident Custom Login and Dashboard plugin comes in only one version and is completely free to use.
White Label Branding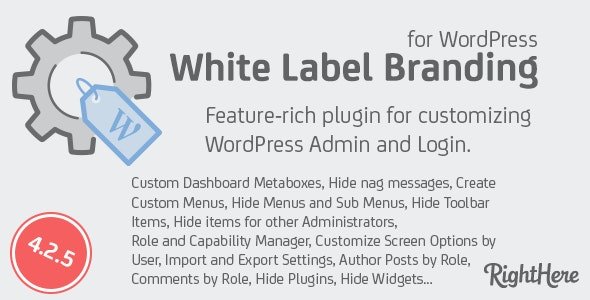 Despite not being free, the White Label Branding plugin is a very popular and well-rated plugin with around 4700 downloads coming at the price of $25 each. This plugin is very easy to use but also very powerful, too, enabling you to customize both login and admin pages. The plugin comes with ready-to-use templates and special skins that can help you create or customize a login page in just minutes.
What sets this plugin apart from other similar plugin is its Role and Capability Manager, which gives you the ability to assign roles and capabilities to your users in order to stop them from accessing specific features. Using this plugin, you can customize everything from menus to footer and header logos, add favicons, disable pointers in WordPress, include branding and advertisements, and do a range of other customizations as well.
Memphis Custom Login

Last but definitely not least comes the Memphis Custom Login plugin, which is another free plugin you can use to make customizations to your login page. Its features include the standard ones like adjusting backgrounds, text and link color, adding logos, changing form shadows and border-radius, using custom CSS, displaying/hiding links, and so on. This plugin will allow you to create custom redirects and incorporate Google Analytics into your login page and will also come with built-in SSL support and blog password protection. All in all, the Memphis Custom Login plugin is a fairly simple but very practical login page customization plugin that you can start using today for absolutely free.
Conclusion
And there you have it, our top 5 picks for the best login page customization plugins. The plugins we put on this list are all plugins with a large number of active installations and a lot of popularity within the WordPress community. Hopefully, at least one of them sparked your interest enough for you to start using it in your login page customization efforts. Whichever one of these five plugins you do go for, we're sure it will do a great job.