As the name suggests, infographics are graphic visual representations of images, charts, and minimal text for the sake of presenting tons of information as quickly and clearly as possible. Infographics are, undoubtedly, one of the most powerful online tools for presenting information in both simple and effective ways!
To understand it better, let's look at the background of an infographic's effect on the human brain. Believe it or not, an infographic has the power of capturing attention and increasing the eagerness to read and process information by up to 80%! (Yes, you read it right.)
Now, the question is, why is that so? How can a combination of simple images or charts have a better effect on the human psyche than, I daresay, even speech?
The secret is in the most complex organ in our body – the brain. Our brain has the power to absorb and process information multiple times faster when it comes to images, charts, and symbols contained in infographics.
Now comes the fun part (or for some semi-fun part). Even though an infographic looks really simple, creating it is not that simple. But (there is always a but), the first step to making it simple is picking the best online tools for free that will save you both – your time and some more time! Joking aside.
10 Best Online Tools for Creating an Infographic (for free)
Canva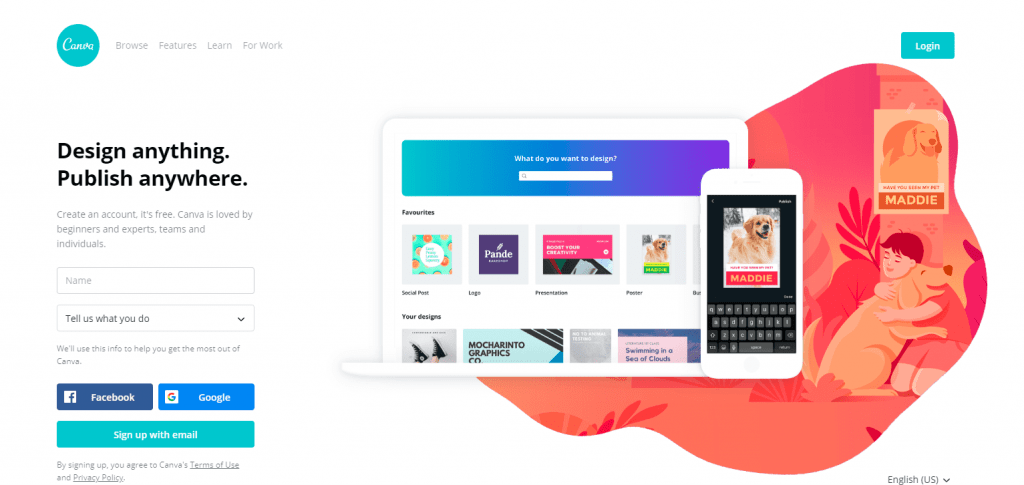 Canva is a perfect choice for anyone, but especially for those who don't have any background knowledge regarding design as it is stated right below the Search button: "With Canva, anyone can create professional-quality designs. It's easy, and it's free to use."
Indeed, it's really easy to use because everything is perfectly organized. For example, you can choose between templates like poster, presentation, birthday, resume, flyer, business card, brochure, invitation, and many others and all in accordance with your needs and preferences.
And, believe it or not, after you've chosen the desired template, you will get "sub-templates" like Christmas flyer, business flyer, restaurant flyer, etc. So, once you select the final template, you can adjust it with a variety of options like elements, photos, and backgrounds (or you can even upload your own).
Piktochart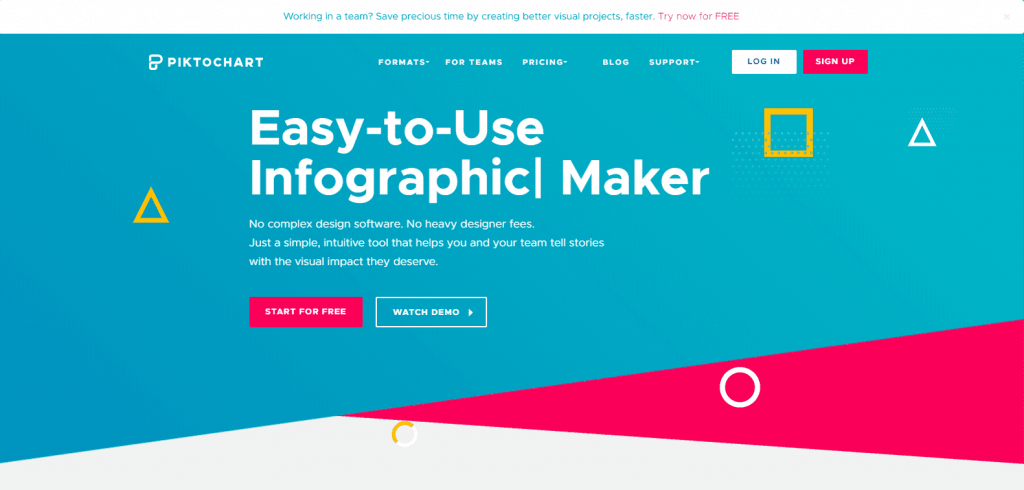 Piktochart offers two options: creating your own infographic or using one of their templates like with Canva. You have a choice to choose between formats like traditional infographic size, presentation size, poster, and report.
So, once you've selected the desired template and format, you can simply add some graphic elements or text to your canvas. Also, if you'd rather go with your own images, you can easily upload it and add it to the canvas as well.
Vizualize.me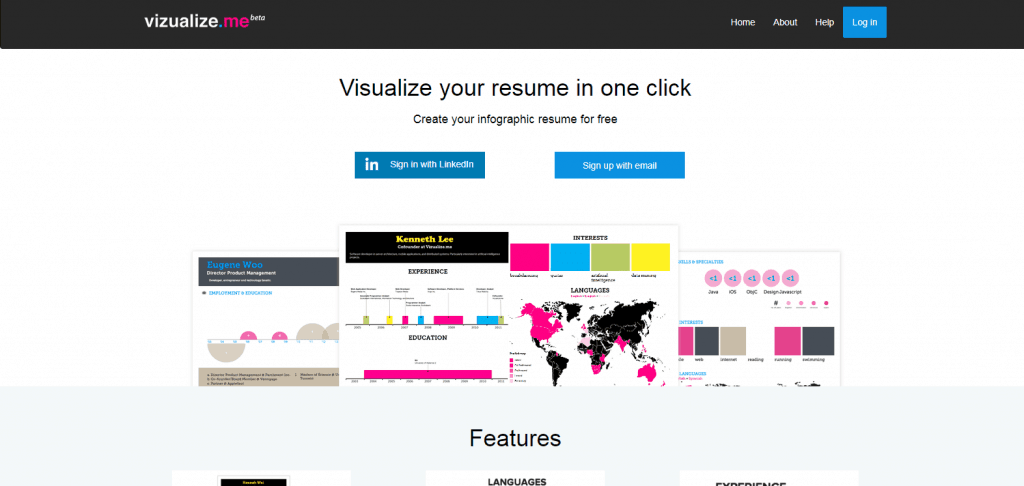 Vizualize.me is another brilliant online tool for making remarkable infographics, but not just any kind of infographics. It is a specifically designed tool for creating infographic resumes. To be more precise, it is the number one resume maker with over 1 million infographics created so far.
All you need to do is add your information on the left and pick the desired theme for your resume. The best thing of all is that you can also connect it to your LinkedIn profile in order to fill in some information automatically. Sounds perfect, right?
Snappa
Unlike other infographic tools, Snappa offers the majority of paid account features for free (yes, you heard it right), but with limited downloads per month (for free users only).
With eye-catching templates and unlimited possibilities, it's one of the best online tools out there, especially suited for the non-designers who look for perfect social media content.
Animaker
As the name suggests, Animaker basically revolves around making inspiring, animated infographics. It has a set of animated characters, scenes, icons, and images and a wide array of unique templates that serve as a basis for creating the desired infographic.
All you need to do is pick a template in the form of a video and customize it in a graphic editor according to your preferences. The process of editing might take more time than expected, but the more time you spend on this super creative online tool, the sooner you'll become a pro.
BeFunky
With free image libraries and advanced photo editing options, BeFunky is a super creative platform that you'll definitely enjoy using. What's specifically awesome about this infographic tool is that it also offers in-depth tutorials on how to create professional effects for each image!
Biteable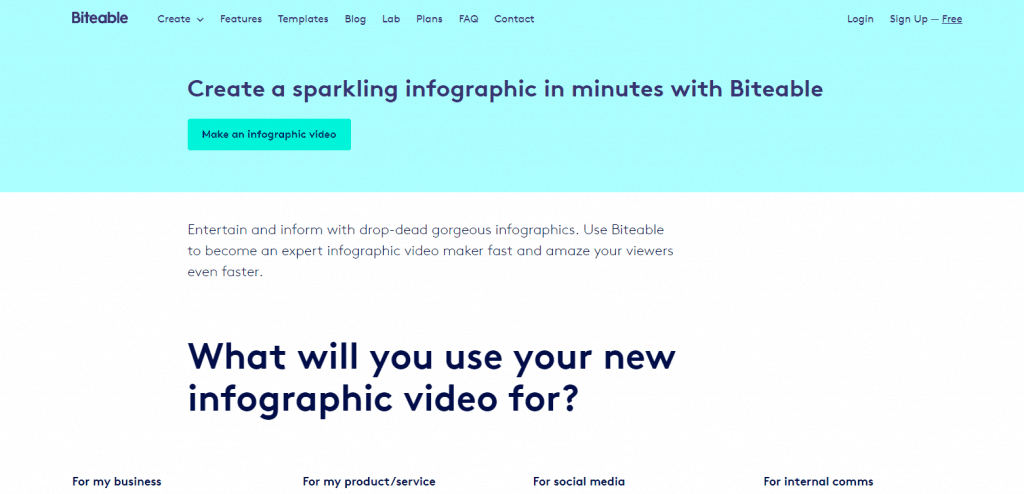 Biteable is another extra quick and simple infographic tool containing plenty of stock footage, icons, and fonts. To be more precise, it is an amazing HD quality video creator.
Similar to Animaker, Biteable offers tons of video templates that can be customized to your preferences, and free users have the option of publishing their videos directly to YouTube or Facebook. (Now I'm sorry to disappoint you, but if you want to download them, you will have to choose a paid option – Biteable Premium at $29 per month.)
Mind the Graph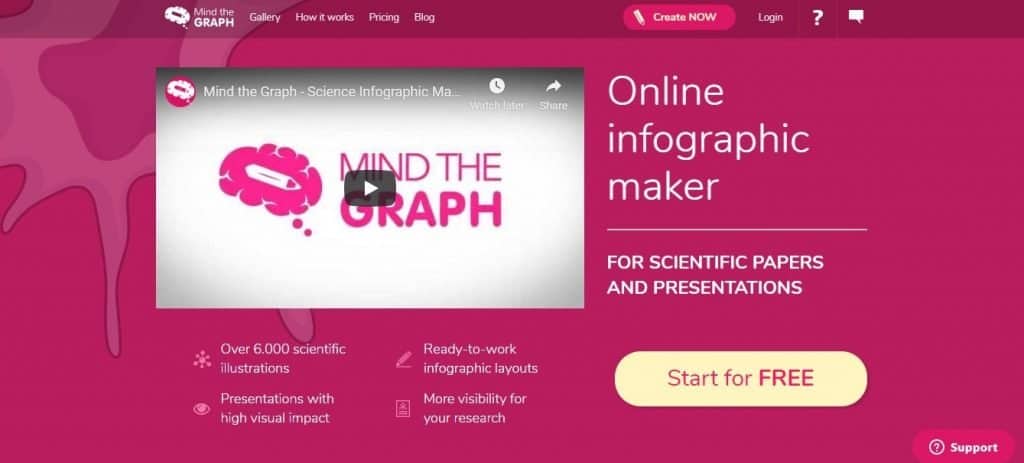 If you're looking for an online infographic maker related to creating inspiring scientific papers and presentations, look no more! Mind the Graph is a collection of over 6000 scientific illustrations and ready-to-work infographic layouts.
This compact online tool with exclusive science content will save tons of your time and make your papers, articles, or presentations visually outstanding!
easel.ly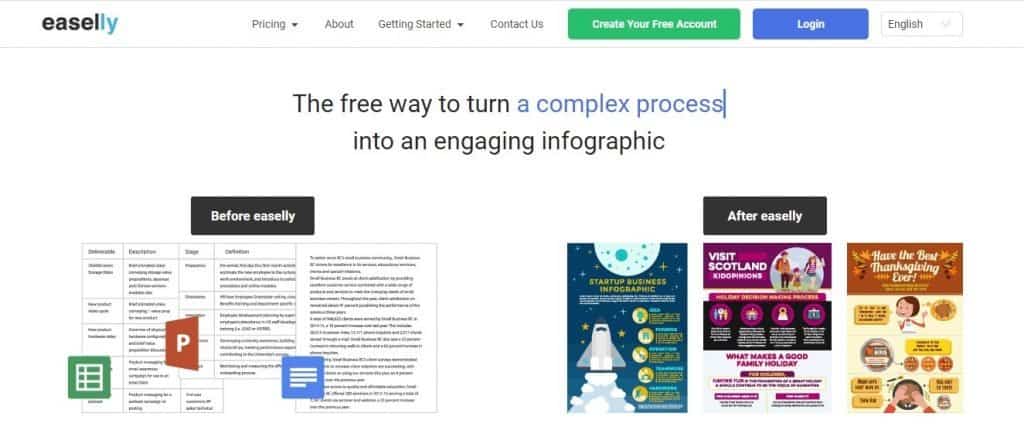 Like the majority of other tools, easel.ly lets you pick your template from categories like timelines, reports, processes, resumes, or comparisons. Once you pick the desired template, easel.ly lets you customize your infographic with different tools like backgrounds, shapes, texts, charts, and similar. It is organized, easy to use, and overall simple online tool for every user.
Infogram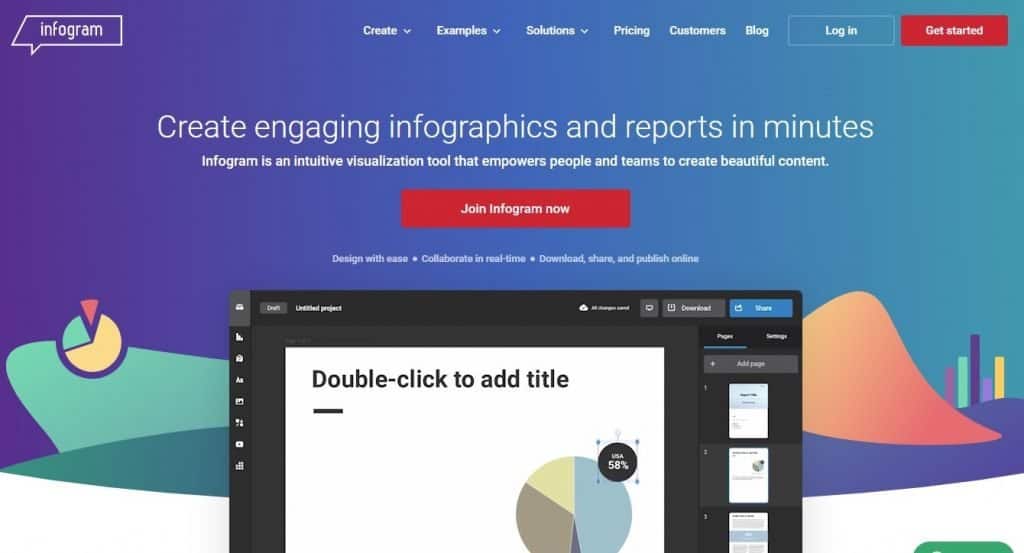 If you're looking for a perfect infographic tool for the sake of presenting statistics, numbers, and data, Infogram is all you'll ever need! It is a specifically designed online tool for representing complex data in a simple and eye-catching way.
Infogram basically offers you two choices: You can pick some of their ready-to-use templates, or you can choose a custom template including your brand, colors, fonts, and logo. If you're running a website or blog, this amazing infographic tool will definitely help you boost visitor engagement and interaction.
Resume-Example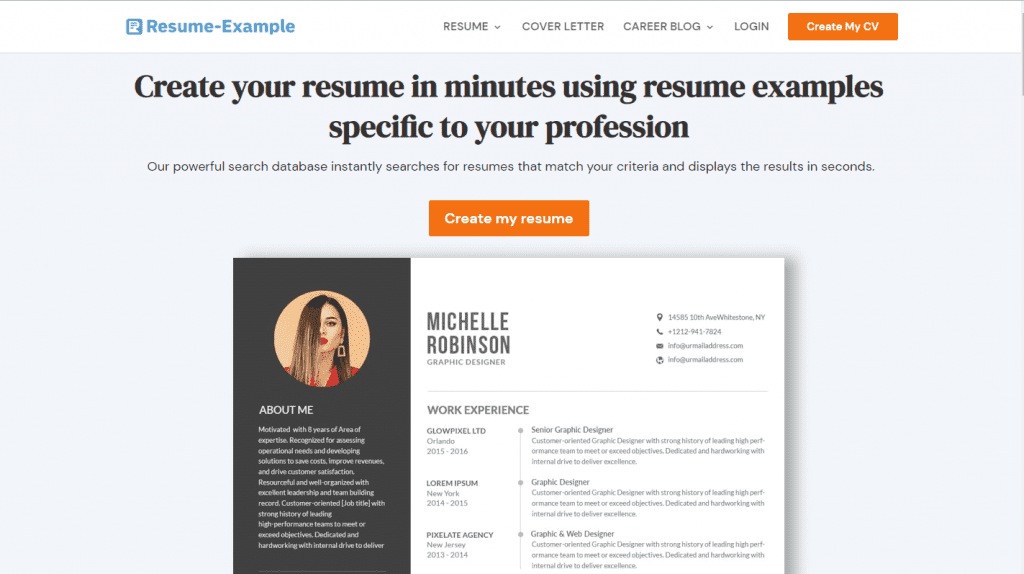 "Resume-Example" is a powerful search database that instantly searches for resumes that match your criteria and displays the results in seconds.
You will have numerous resume templates at your disposal. Modern, professional, and creative designs to help you multiply your chances of success.
Clear, fast, and easy to understand. Follow the steps and you'll write a captivating resume effortlessly, in only a few minutes! So simple, the assistant will tell you exactly what to do to highlight your skills.
Final Thoughts
These infographic tools are a perfect companion for both every designer and a newcomer who wants to create an effective graphic visual representation with minimum effort and background knowledge. If you're a newcomer, there's truly no need to worry because you'll be amazed at how simple these tools are to use (even for me who is not a computer guru).
The number one reason why infographics are totally awesome is that they have the capability of representing tons of information in a fun and creative way that no one can stay indifferent to.
In accordance with your niche or brand, you can choose from infographics related to presenting statistics and numbers to infographics related to creating videos in HD quality. Also, the majority of these tools (if not all of them) are already equipped with ready-to-use templates, and all you need to do is pick the one that you like most and let your creativity do the rest of the job!