Are you looking to leverage Instagram to market and promote your business? If you answered "Yes," you need to develop a strategy to help set your Instagram marketing efforts for success.
Data shows that 70% of shoppers look to Instagram for their next purchase. The figure highlights how you can leverage Instagram to market your products and business and get more customers.
However, it would be best if you had a solid strategy to guide your Instagram marketing efforts and use the top social media tools to drive your expected results.
Let's jump into it.
1. Map your posts to align with your marketing plan and goals
If Instagram is an integral part of your marketing plan, it only makes sense for your efforts to complement your email, content, and other social media marketing initiatives.
Start by looking at your company's marketing calendar and brainstorming content for your Instagram efforts. Consider activities such as your product launch and seasonal events. Plan Instagram content for each action and every process step, from teasers and announcements to implementation and collaborations with other brands. Plot your Instagram activities and events with a content calendar.
For example, the social media management platform Vista Social offers a content calendar for planning and scheduling your Instagram, Facebook, Twitter, and other social media posts. Then, you can post your content immediately or set the posts to auto-publish on your preferred dates and times.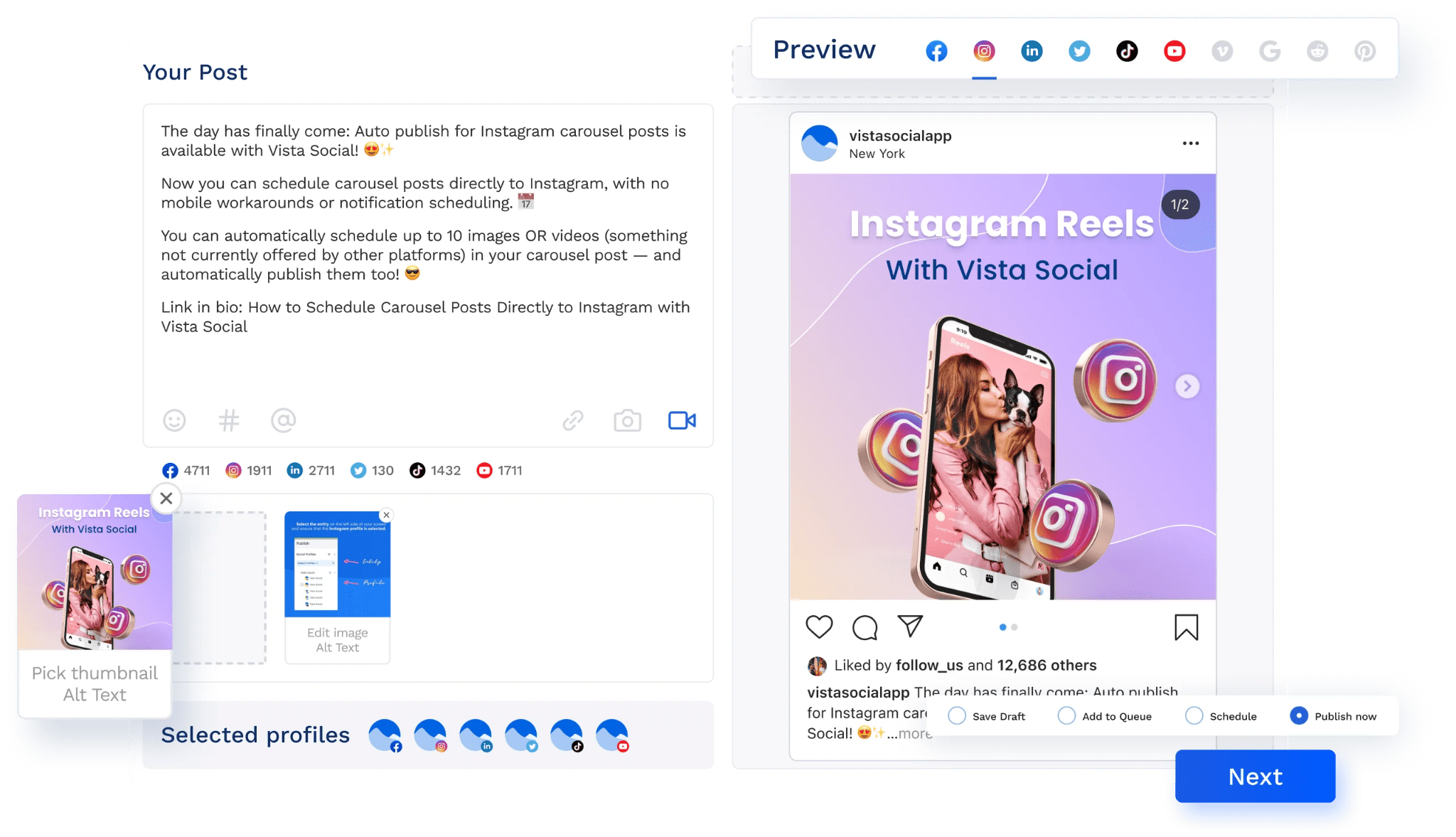 Image source: vistasocial.com.
The platform offers sophisticated and modern social media management features. For instance, the tool suggests trending and relevant Instagram Reels hashtags and has a centralized inbox for engagement management.
It also has analytics and reporting tools for agencies, an organized media library, and capabilities to look for User-Generated Content (UGC) by searching for hashtags within the platform. Read this comprehensive review of Vista Social to learn more.
Also, ensure the Instagram content you plan, and plot in your calendar aligns with your strategy and goals by setting objectives for each post (or set of posts).
2. Know your target audience and the content they prefer
The Instagram content you post should resonate with your target audience, or you won't likely get the views, follower growth, engagement, and conversions you want.
Begin by learning more about your Instagram audience. One way of doing this is to look at Instagram Insights. The Instagram feature can tell you more about overall trends across your content's performance with your audience and followers.
It can show you insights for specific Stories, posts, Reels, live videos, and other videos you posted to see each content's performance and engagement. The tool also tells you about your audiences' top locations, age range, gender, and when followers are active.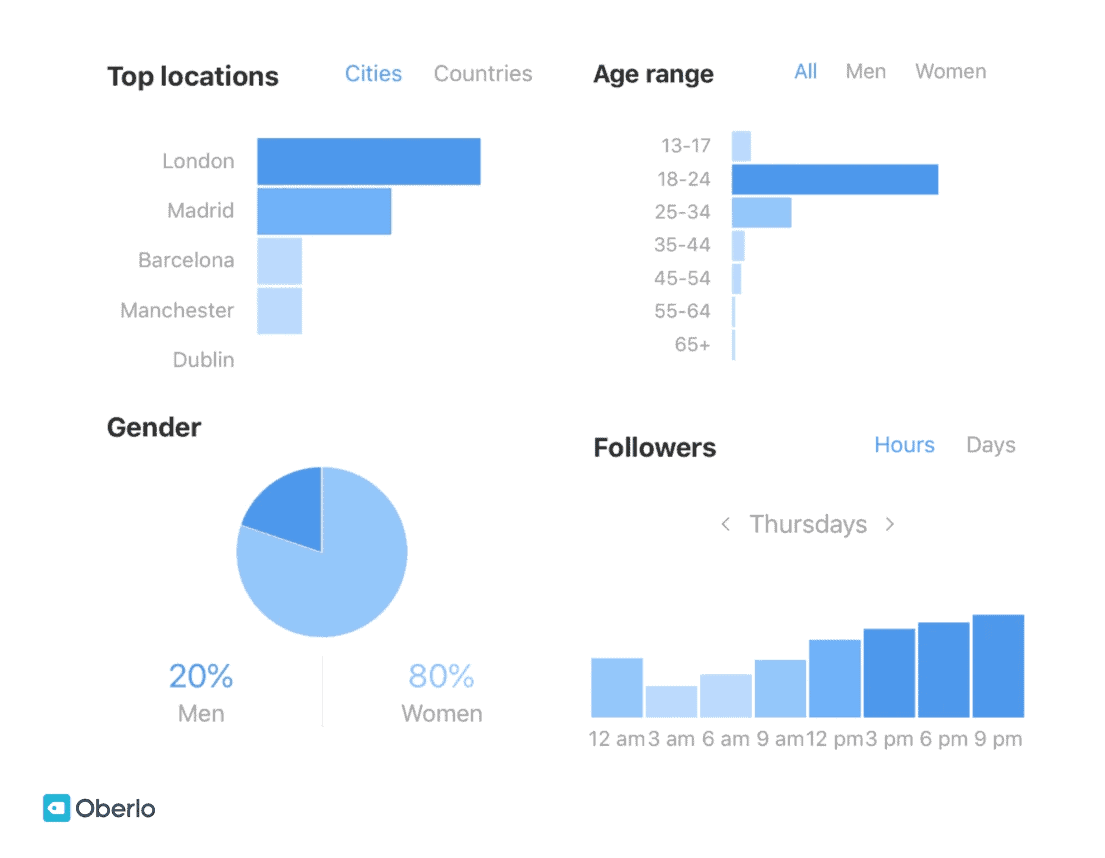 Image source: oberlo.com.
You'll get valuable data crucial to developing your content tracking approach.
Other insights you can get include an overview of Instagram accounts engaged and reached and your total followers. Leverage the information and insights to create content that resonates and engages your target audience.
These also help you pinpoint gaps in your Instagram content strategy, allowing you to address and improve your posts and marketing efforts accordingly.
3. Set a posting schedule and frequency
Nailing your posting frequency is critical to your Instagram marketing strategy's success. After all, if you post too often, you could annoy your audiences into unsubscribing or unfollowing your brand and spend too many resources without getting significant returns. On the other hand, if you post too infrequently, your audiences could forget your brand exists, and you'll miss many opportunities to engage and convert them.
The key is determining your brand's optimal posting time.
Find out which days and times when your audiences are most active and likely to engage with your content.
You can check this information on Instagram Insights or use social media management tools with robust audience analytics tools. Leverage the information to gain insights and determine optimal posting times and frequencies for maximum audience engagement.
4. Determine the best content to post
Once you better understand your target audiences on Instagram, it's time to develop a content strategy. Your Instagram content strategy should help you determine what posts to create and share to showcase your brand, connect and engage with your audiences, and meet your business goals.
Mix up your Instagram posts with various content types, including the following:
Videos
Photos and images
Stories
User-Generated Content (UGC)
Reels
Collaboration posts, events, and takeovers with other brands and influencers
Contests and giveaways
Carousel posts
Paid social media ads
Content series (weekly tips, daily highlights, etc.)
For example, Ulta Beauty offers weekly tips on its Instagram Stories.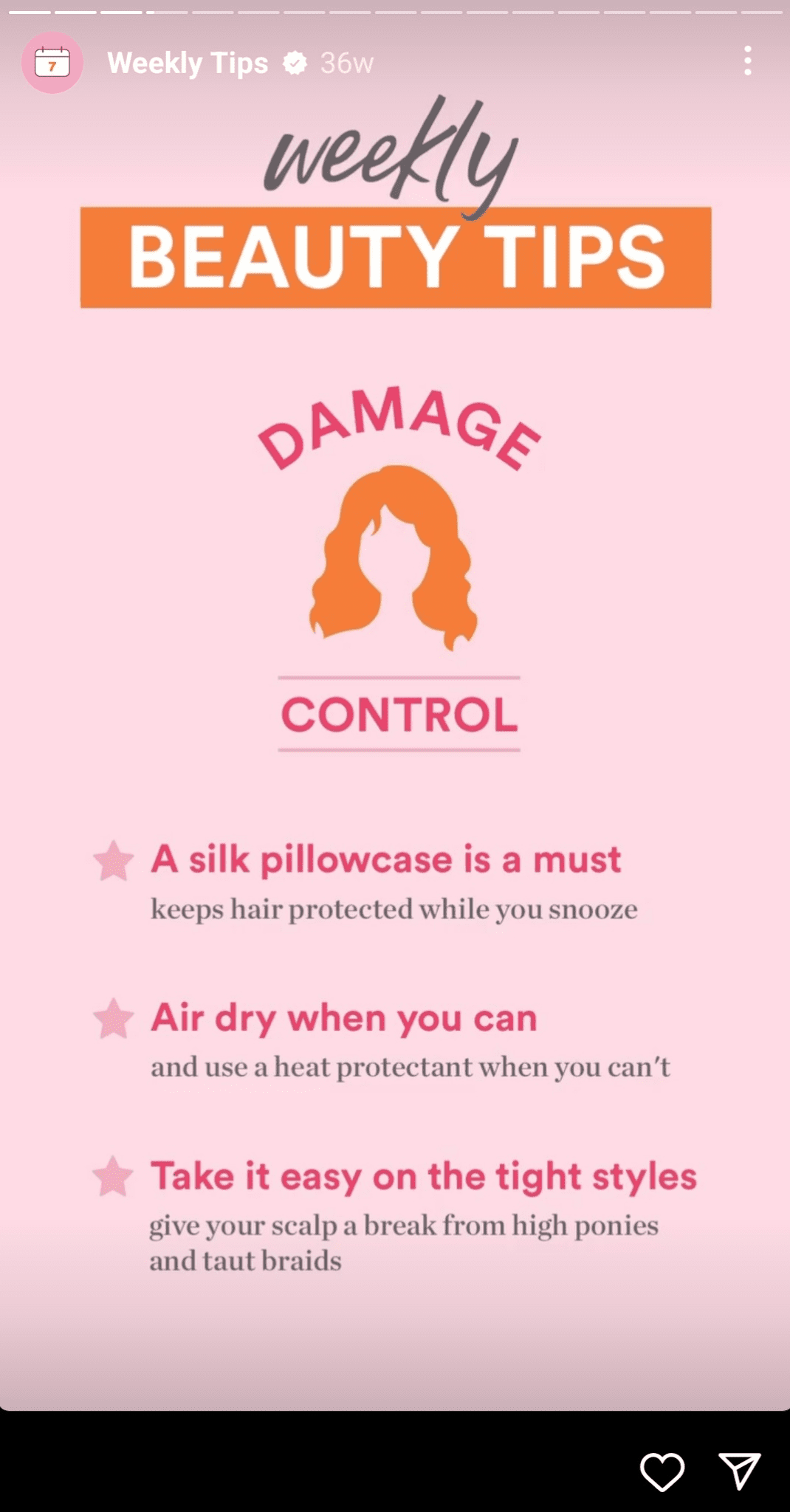 Image source: instagram.com.
The content type is a great way to keep your followers interested and maintain continuous engagement. If you offer Software-as-a-Service (SaaS), such as sophisticated attendance tracking software, you could create an Instagram carousel post that briefly highlights your tool's key features.
Track your IG content's performance to see which posts to improve, keep producing, or scrap based on engagement rates, views, impressions, etc.
Develop a comprehensive content writing guide to ensure you produce quality content that aligns with your campaigns, branding, and goals.
5. Learn from competitor content
Besides researching your target audience, get information on your competitors, such as other brands in your industry or niche. Identify the big players in your industry that are active on Instagram and learn what they're doing well, including what you could do better.
Your competitors and business likely have the same target audience, so it's crucial to consider the following:
The competitors' engagement rate
Whether your competitors respond to comments
The types of questions your competitor's followers ask
The hashtags your competitors use
The content forms competitors use on Instagram (and other social media channels)
Your competitors' CTAs
The goal isn't to copy what your competitors are doing well. Take inspiration from their successful efforts instead to help shape and inform your Instagram marketing strategy.
Get your Instagram marketing up and running
It takes a well-thought-out strategy, constant tweaking, and adopting the best tools to achieve Instagram marketing success.
Jumpstart your initiatives and increase your chances of succeeding with this guide's tips on developing a solid IG marketing strategy.