Remember those good old days when you would take pictures with your camera, and all the eyes suddenly turned red when you saw the photographs for the first time? Red eyes still happen today, not as often as they did, but there is a way of handling that. In the old days, when your photo albums looked like those of a vampire family, you just had to deal with it. Fortunately, people are now editing their pictures.
Photoshop, the most famous tool for image editing, is for much more than red-eye removal, of course. Anyone using images in their work has been relying on this tool. Even people that are not designers or professional photographers have "Photoshop" listed as skill in their resume. It is more than evident that employers consider this skill as an important one. This is not without reason.
Not all people are ready for that. Unless you are a professional designer or photographer, you probably don't need at least half of the features it offers. For example, if you are just looking to edit images to create great content for your WordPress website visitors, you can do it with a good plugin. All in all, there are plenty of other tools you could use to edit your images.
Do you need Photoshop?
Apart from the learning curve required to get a hold of all the features, Photoshop's price usually answers the question here. While image editing is vital in the Instagram-Pinterest marketing era, not everyone is willing to spend around $250 per year for a piece of software. Especially the one you have to learn and that won't magically fix the images itself.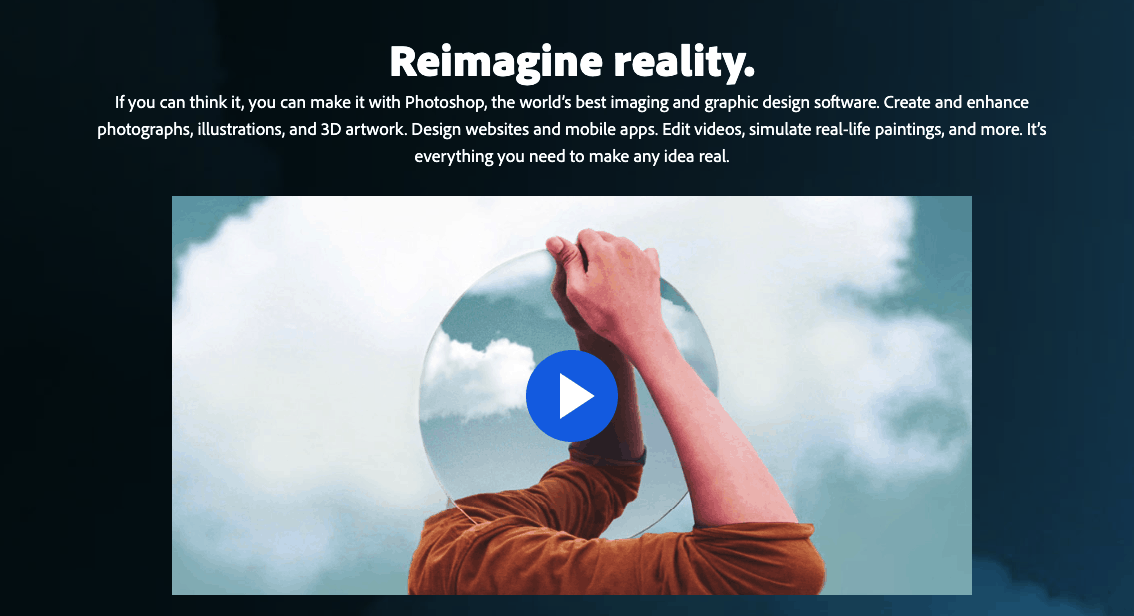 If you are a professional designer or photographer, this probably brings money to the table, so it is well-spent. Even if you are looking to start sharing your images with the world, you could splurge for Photoshop. However, if you need a reliable tool for image editing for tiny twists and tweaks, then you are probably better off with some of the alternatives.
To save you the time you would spend searching, we got a list of five Photoshop alternatives you could use to create needed changes to your images. The best news – all of them are free, too!
Photoshop Alternatives you could use for free
For those just starting their image-editing journey and looking to get a grip on the ropes, here are five alternatives they have been looking for to get started. Let's check them out, shall we?
Paint.NET
While on the nostalgia, red-eye route, it is impossible not to mention Paint.NET. With everyone and their aunt having used Paint at one point or another, it was apparent there was a need for a more powerful version of it. This is how Paint.NET came to be.
While it doesn't look promising, and it cannot compare with Photoshop features-wise, it supports many of the features found with Photoshop. For example, it supports layers with blending modes, which is, by far, is its most used feature. On the other hand, it does not support slice, patch, or spot healing tool. However, you can also take advantage of rulers, and many other basic options with this alternative.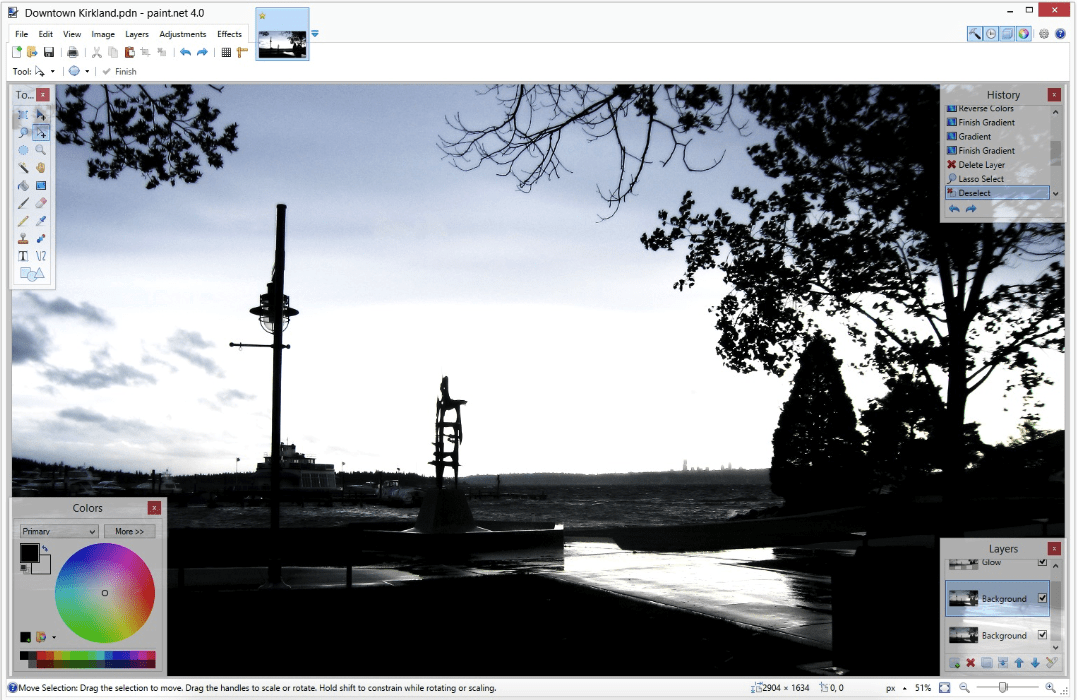 Probably the best reason for using Paint.NET is the fact that you have used it in the past and you are familiar with it. It also supports a ton of existing file types. So, regardless of the file type, you can make smaller alterations with this alternative.
GIMP
Probably the most apparent Photoshop alternative and the most recommended one is GIMP. Out of all free options, this one is perhaps the closest you could get to Photoshop when it comes to features. With it, you can do pretty much everything you would want to do, thanks to the wide variety of features it offers.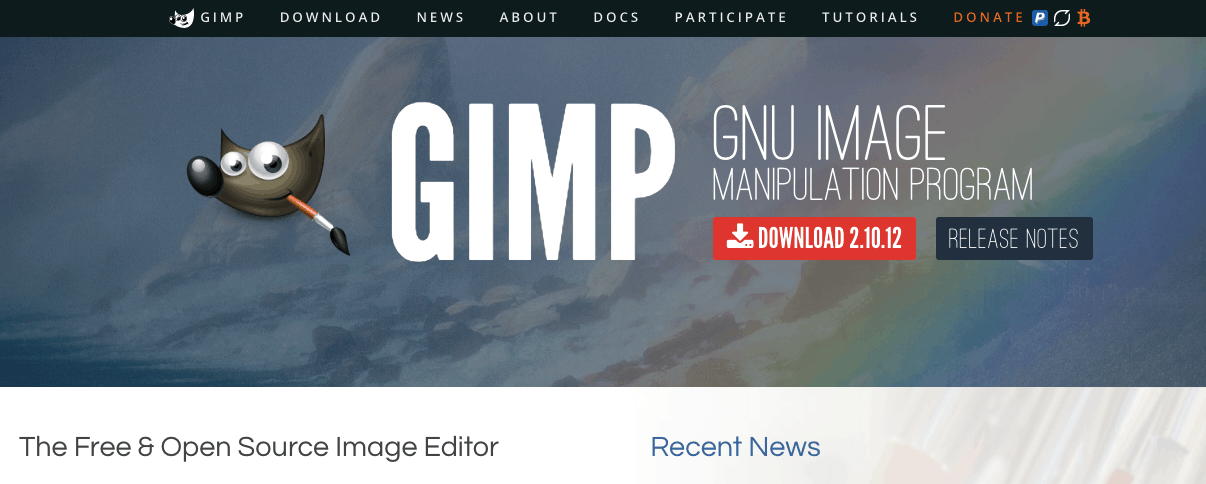 From comprehensive layer support with blending modes, and the support for rulers and guiders, this alternative has pretty much all the basics you would generally need. Unlike Paint.NET, it supports image slicing, so that's a bonus feature that you get for free with this alternative. You can also rely on its history toolbar to be able to adopt or discard any changes you make quickly.
On the other hand, several issues with this tool have been reported in the past. From brushes acting weirdly, to text tool lacking in intuition, it could take some time to get the perfect image. The overall feeling people have been having with this tool is that it could use some work on user experience. However, when you compare these issues with dollars you could save, it is probably not that big of a deal. You can also get this for any operating platform, which is a huge bonus.
Pixlr Editor
The first online editor on the list, Pixlr editor is a popular choice for anyone looking to create quick fixes on one or two images now and then. Being online, it saves you installation time. Therefore, it is also compatible with all operating systems, so it is no wonder that many people rely on this one to get those quick fixes done.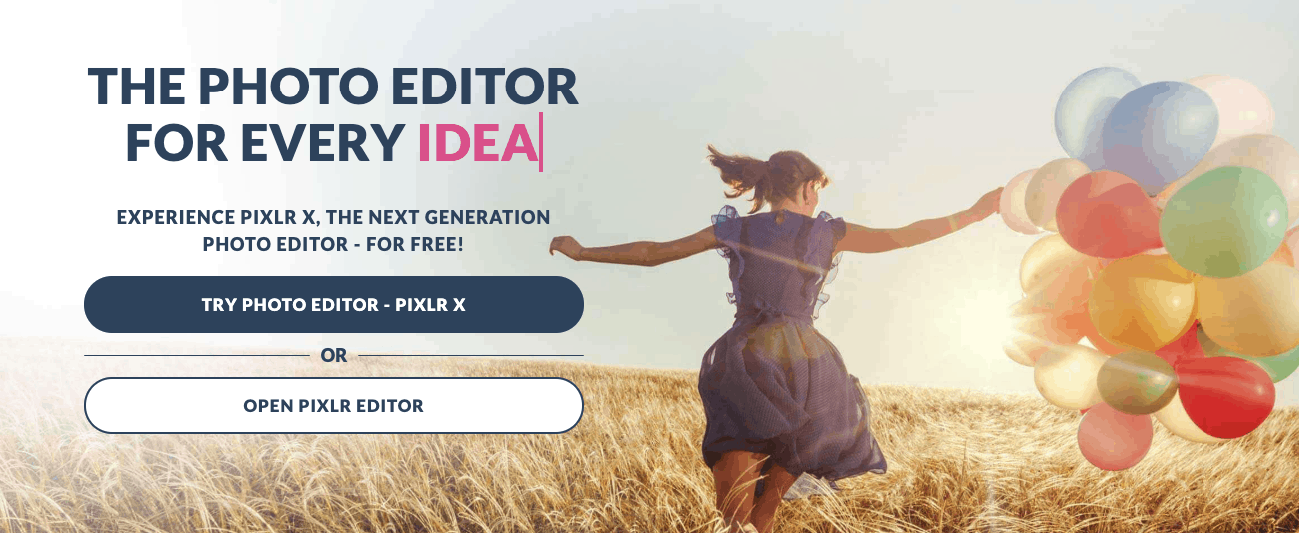 It has quite many powerful and useful tools which can handle any quick fixes you might need to create. From support for layers and blending modes, history tool, and even healing tool that Photoshop users love, this option will not leave you with your image editing efforts half done. Use some of the effects or filters or any of the available advanced tools you would need to edit your images.
Again, entirely for free. The biggest con about this tool is the fact that the supported files are somewhat limited, and that for specific file types you have to get the paid version.
Krita
Another highly recommended alternative for Photoshop is Krita. Its excellent reputation mostly stems from the fact that this tool looks and feels very similar to Photoshop. People that have used Photoshop before are having fewer struggles getting used to this tool.

People in creative editing probably find these two similars due to the similar arrangement of tools in the toolbar, and the fact that the black theme is set as default. It supports Slice Tool, which many people find incredibly useful during image editing. The other useful option is that you can open multiple images in tabs, which is quite essential if you take your image editing seriously.
On the other hand, it's no Photoshop and lacks a couple of tools. There is no history tool, for example, and the text editing tool is not as productive as Photoshop's one. Still, for a free alternative, it is a pretty good choice. It has quite a variety of supported files, and it works on all of the platforms.
Seashore
If you are a mac user, then Seashore could be your alternative of choice. It is more or less a beginner's tools. Features are carefully selected so that it is easy to use and easy to get started. If you are looking to get a grip on the image editing process, without spending a fortune in advance, then Seashore can provide you with the basics.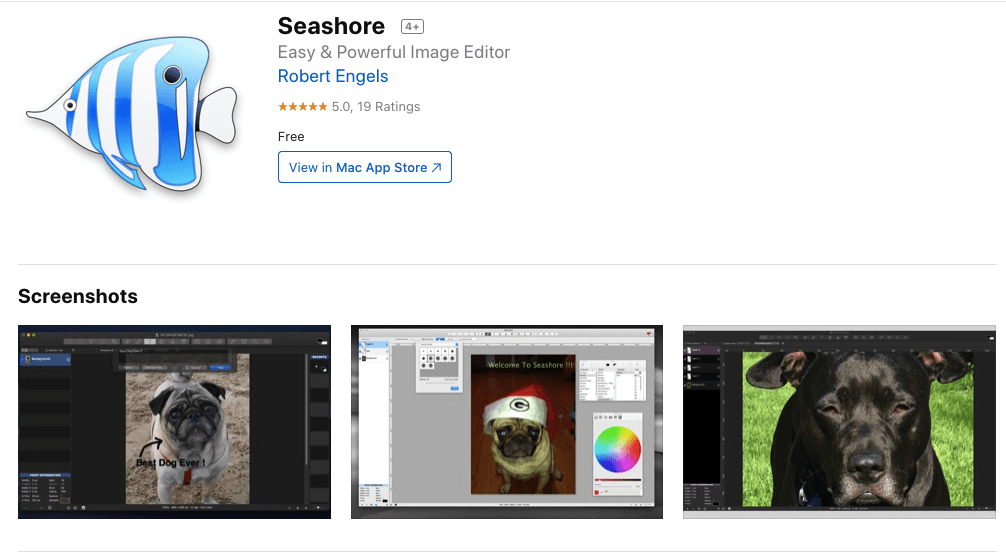 This option provides the few crucial tools you would use Photoshop for, but, being the free solution, can only do so much. It supports layers, which is probably the most crucial feature. It also supports pressure sensitivity, which is incredible for those pressure-sensitive drawing tablets you might be using.
On the other hand, this tool is a bit limited as to what files it supports: You can edit GIFs, but you will have less luck with PSD. Overall, it is an excellent tool for beginners, however, if you are trying to do more with it, you might get disappointed.
Sumopaint
Sumopaint is another Photoshop alternative which you can rely on for small fixes. Being an online editor, it supports all operating systems, but is, therefore, also a bit limited when it comes to features.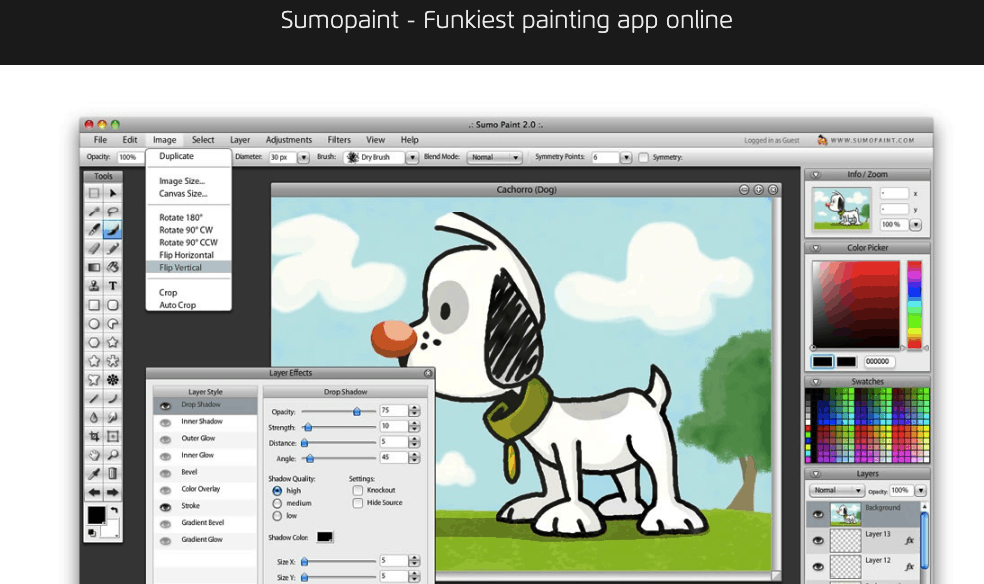 It does offer a bunch of great tools and features you can use. From basic resizing and cropping, it also supports layers and blending modes. With this editor, you can also take advantage of numerous filters and effects which have proven to be more than enough for basic editing needs.
However, the biggest issue lays in the fact that this editor is not entirely free – many features are behind a paywall. This includes the text tool, for example.
Still, it does cover most of the effects and tools that you would use within Photoshop every day. The pro version starts at $4 a month, so it might not be that steep price to pay. On another note, Sumopaint is a bit limited when it comes to file type support, as it only supports PNG, JPG, and SUMO. Overall, a great online tool for quick editing, all flaws considered.
Overall
Since you might have expected to find an alternative as reliable as Photoshop, don't feel down. Photoshop is the industry's standard for a good reason.
However, if you are looking to dive in with image editing, any of these will do. Considering that all the alternatives are free, you can give each a shot and see which one do you find the easiest to use. Master one tool, then another. Once you are confident enough, you can go ahead and get yourself some Photoshop.
On the other hand, if you are looking just to remove the red-eye effect, and add some filters to your images, or create images for that gallery you planned on your site, it is sure that any of these will do just fine! Each of them has its own set of editing features after all, so the biggest question here is: Which one fits you the best?