Unbounce is a landing page builder. To explain what Unbounce actually is, first, we have to explain what landing pages are. Landing pages are either standalone or integrated within your website, and they show and offer a resource from your business in exchange for the visitor's contact information. A good landing page has to be focused on a certain aspect that your audience is interested in, like an email campaign promoting an album. The landing page is designed in such a way to target only the people that are probably going to be interested in this album, and they are going to be interested because this album contains the information that goes into the topic your audience cares about. You can convert a higher percentage of your website audience into leads whom you can follow up with.
When talking about Unbounce, it is a tool that helps us build a landing page by offering a drag and drop builder that is easy to use and requires no coding whatsoever, we can also choose a template that is matching what we want to accomplish, and it also offers you the option to publish it with their WordPress landing page plugin or directly to your custom domain.
Swipe Pages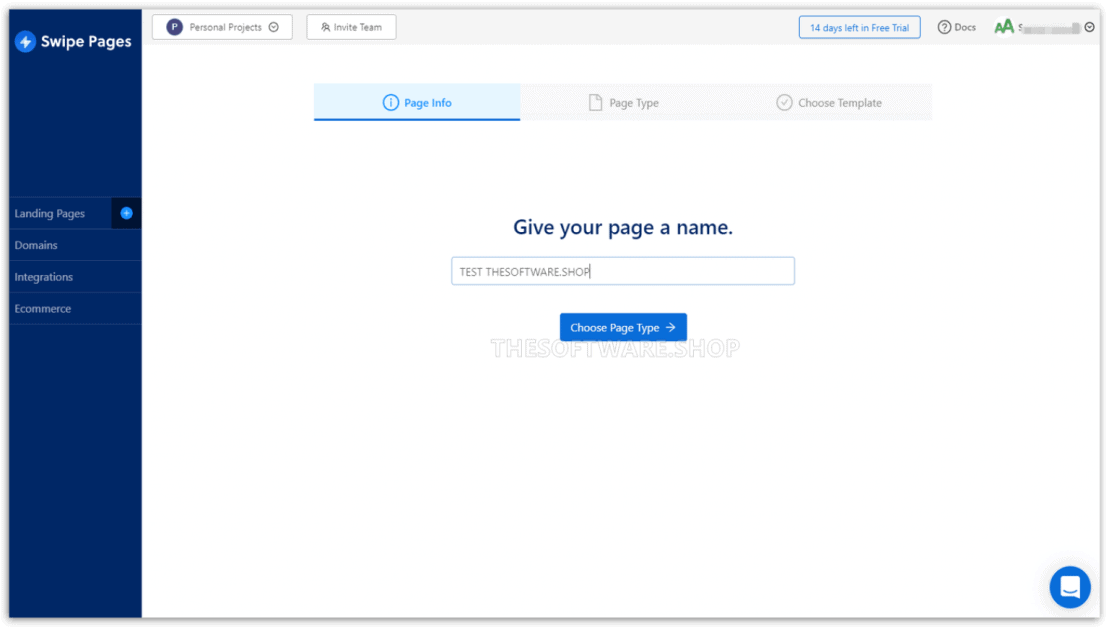 Swipe Pages is a landing page builder that offers you professional and fast landing pages with no coding. It is most commonly used for digital marketers and agencies that want to increase their return on investment of ad campaigns. You can create Accelerated Mobile Pages (AMP) in just a few minutes and they have a very low bounce rate (around two seconds), so your business will be even better because it is not going to take forever to load a page. You can track results and the performance of certain landing pages with the built-in analytics that shows you in detail how your landing page is doing by offering analytics in certain time periods, variant analytics so you would know which version of the landing page is the best one and you can sync it with Google Analytics and Facebook Pixel with your tracking ID.
You can learn how to use the drag and drop user interface in a matter of seconds and Swipe Pages made full customization available so you can do whatever you want with your landing page.
You can also use the same feature to publish the landing page and sell products using Stripe Checkout. When it comes to prices, there is a single, double, and multiple option. All of the options have all features included, just the numbers are different. For example, for the single option, you get three custom domains, 100,000 monthly unique visitors, five sub-accounts, and space for five team members, while for the multiple option you will get fifteen custom domains, 500,000 monthly unique visitors, 25 sub-accounts, and space for 5 team members. The price for the single option is 49 dollars and the multiple option is 147 dollars. The great thing about it is that you have a 60 – day money-back guarantee.
Instapage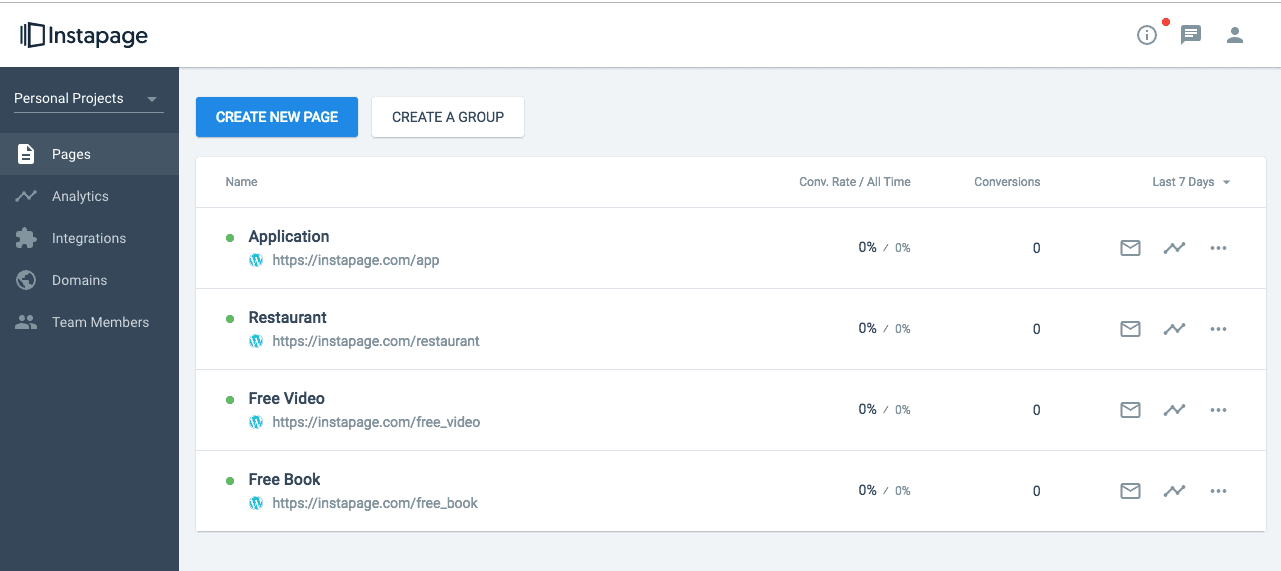 Instapage is, among other things, a landing page builder that is the only one with a collaboration feature, it also has 500+ layouts that have been predesigned to match your every need, it has built-in AMP support for the best mobile experience that they can offer and with that, they have a very fast landing page load speed due to their Thor Render Engine technology. It also has a drag and drop builder for a user-friendly experience.  Precise design feature helps you that your landing pages look as professional as possible and they have reusable page blocks that help you create landing pages at scale and update them worldwide. There is a 14 day trial period and Instapage can be yours for 199 dollars per month for the business version (not all features are included) or you can get the enterprise version which does have all the features, but the price is custom, so who knows how much would it cost. If you are not rich, I would suggest looking into some other options because this is pricy for most people.
LeadPages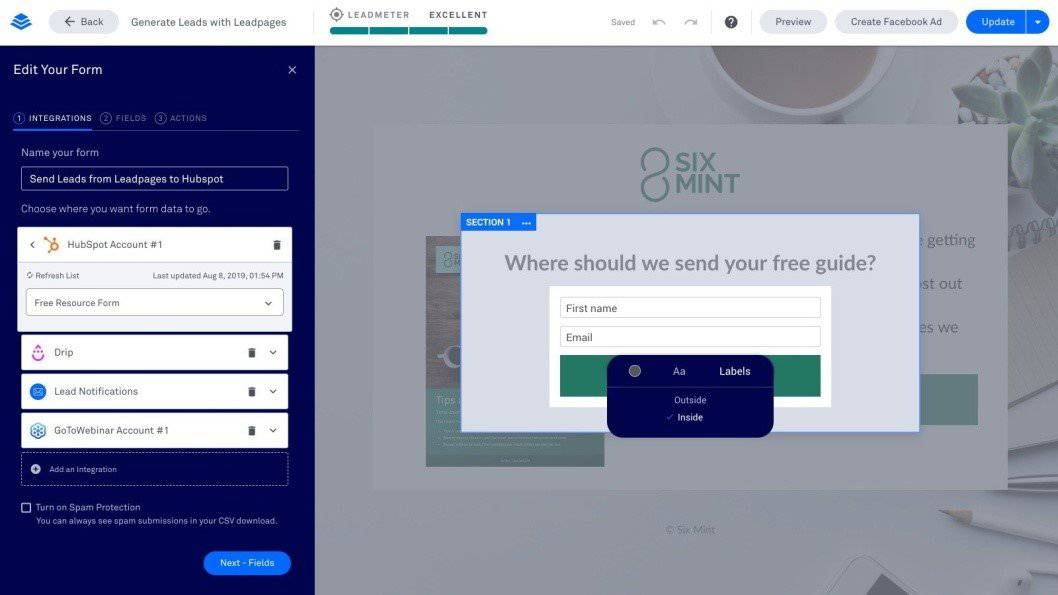 LeadPages is a landing page builder that helps small businesses connect with an audience, collects leads, and closes sales. They do that with their templates that you can use to make a smartphone-friendly website in a matter of minutes. LeadPages also has a drag and drop user interface so it is as simple as possible to make a website that looks professional and aesthetically pleasing. It also has the option of complete conversion where you can edit and add alert bars, pop-ups, opt-in texts, and many more. The built-in analytics are easy to read, you can make A/B split tests to see the difference in growth between different landing pages and it offers real-time conversion tips. There are three different subscriptions, the standard one being 37 dollars per month and the advanced one being 321 dollars per month, which is a lot to pay just to get all the features.
Mailchimp

Mailchimp offers you to make a website that is so personalized that you will make every detail count. First, you start off with picking your own custom domain, which will represent exactly what products you are offering.  You can test out everything before you make it public, so no mistakes will happen when designing your landing page. You do not have to have an e-commerce store with Mailchimp because it is connected to Square payments and you can sell directly from your landing page. You can also highlight certain products that are on sale or are new, so people would know what exactly they need to look for. Another great thing about it is that you can offer free downloads to newcomers and hold contests so your audience would grow.
There are many options that you can do with Mailchimp, but it does come with a price. All the features are included only in the Premium version and that one costs 299 dollars per month, so it is still a little pricy, but still there offer a free version that you can use forever, which is good. If you are looking for something cheaper, but not free, the two other deals differ in price a lot. The Essentials version is 9 dollars per month, while the standard is 14 dollars per month and it is the most popular one.
ClickFunnels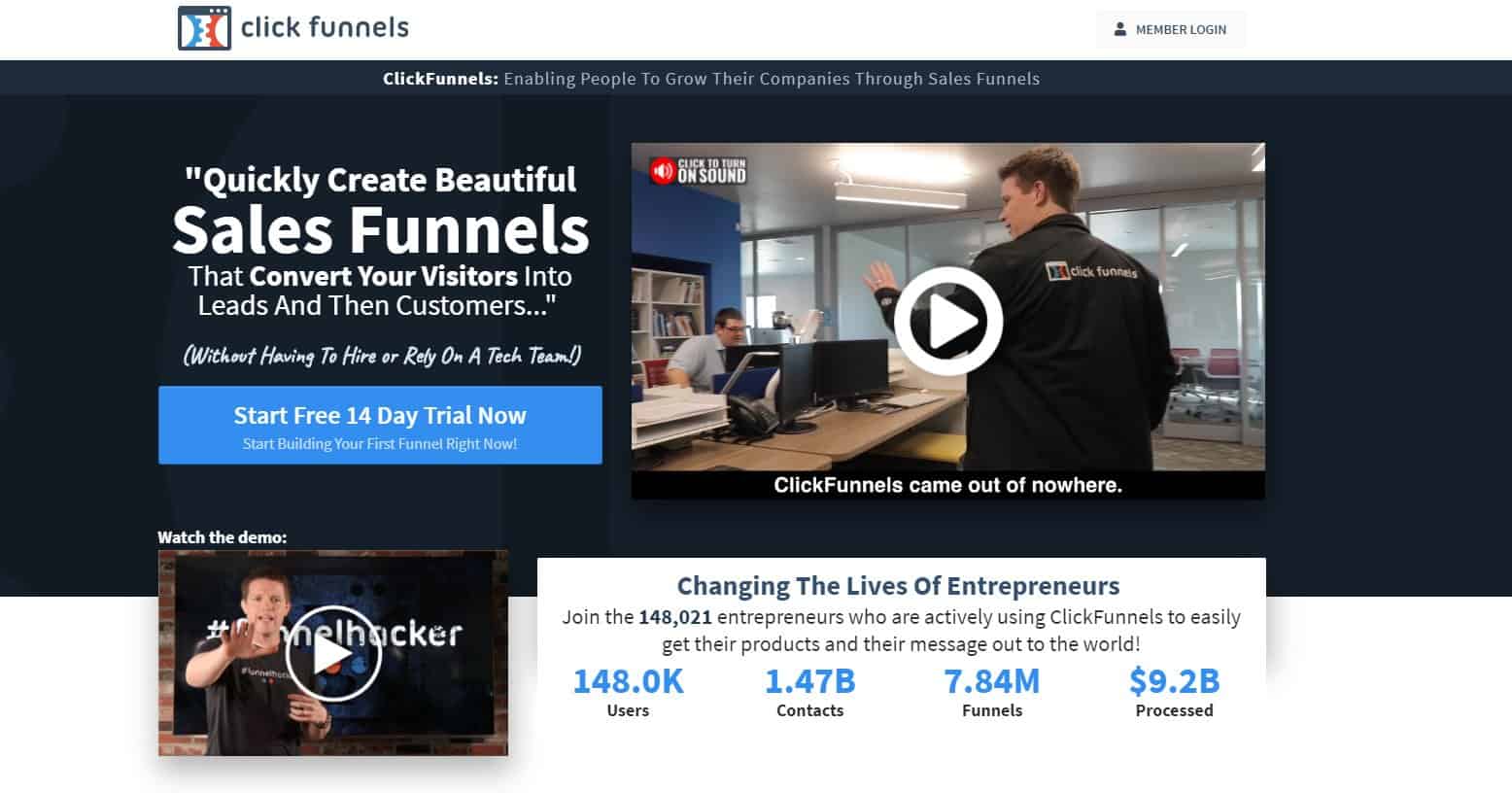 ClickFunnels is a landing page builder that offers you everything that you need for marketing, selling, and delivering your products online. It comes with a simple drag and drop editor for maximum simplicity, it also has a smart shopping cart with one click upsells for bigger revenue, and it offers email and Facebook Marketing automation for your business. If you want to stay connected with your audience, it also can send highly targeted messages to your customers through email or social media. If you need to get their contacts first, you can generate leads that will help you in capturing your visitors' contact information, so you can add them to the mailing lists and send them information that you want them to see.
The prices do not show up on the page unless you search for them outside their webpage, which is always a bad sign. Nevertheless, you can find them by searching for them and the Basic subscription costs 97 dollars per month, but there are two more options. The Platinum one is 297 dollars per month and the "special" TwoCommaClub offer costs 2,497 dollars per month. My advice is, unless you own a huge corporation, do not even consider this plan.
Conclusion
All in all, if you want the best option out of all of these, it is definitely Swipe Pages. Not only does every version that you buy have all the features included, but it is a one – time sale, so there are no monthly and annual plans for payment. Just buy it and you are done. There is also a 60-day money-back guarantee, where you can test the product and all the features and then decide if you like it or not. If you ask me, that is a great deal.