Writing a quality copy will help your SEO and increase trust with visitors. Try writing a few sentences even for the most minimalistic pages.
How to add content to a coming soon page?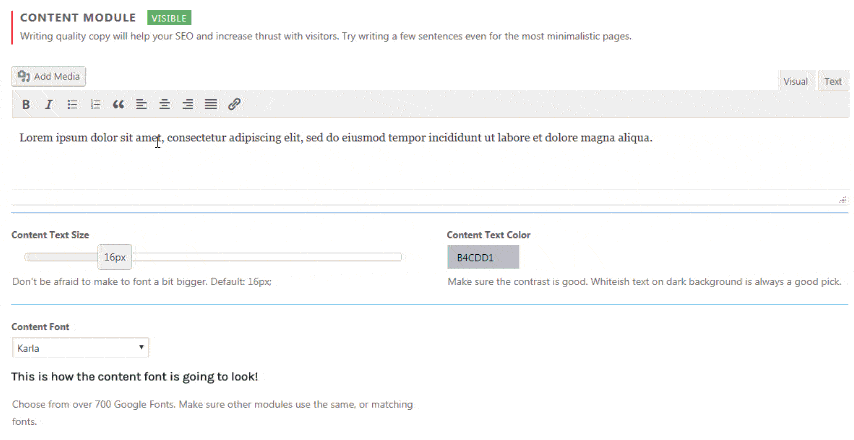 Go to Settings -> Coming Soon PRO -> Design -> Content
Use the standard WordPress Visual or Text editor to enter text content (write, add links, create lists, align the content…)
Choose the font size – use anything from 6px to 50px
Select the font color making sure the contrast is good. Whiteish text on dark background is always a good pick
Choose from over 700 Google Fonts
Be creative and write a sentence or two. Although the styling of your content won't matter much to Google and other search engines, don't just settle for the first font and color combination. Make the content easily readable, and make it look good. Styling will make a difference so, spend a few minutes more until you get that perfect combination.
If you know your way around CSS, you can always open Advanced settings and style the content into details by entering custom CSS code.
Documentation didn't help? Contact support!
Customers who purchased and have a valid PRO license - contact our support via the contact form built into the plugin or use the general contact form. If you're using the later method please include your license key in the message or contact us via the email address used when purchasing. This speeds things along.
Using the free version? We have you covered too. Head over to the forums. First look at older threads and if you don't find anything useful open a new thread. Support is community-powered so it can take some time to get an answer. If you need premium support this second - upgrade to PRO.