Enable Coming Soon Mode Remotely
If you have an Agency license, you will be able to control all of your sites remotely from the Dashboard. So, instead of logging in to each website you manage, you quickly enable or disable the coming soon mode by clicking a single button in the Dashboard.
Please note that localhost websites cannot be controlled remotely.
How to Enable or Disable Coming Soon Mode Remotely?
Go to https://dashboard.comingsoonwp.com/ and log in
Open the "Sites" page
Find the website you want to control remotely
Choose the blue "Remote Actions" button and click on it
Select "Enable/disable coming soon mode"
Confirm that you want to enable or disable the mode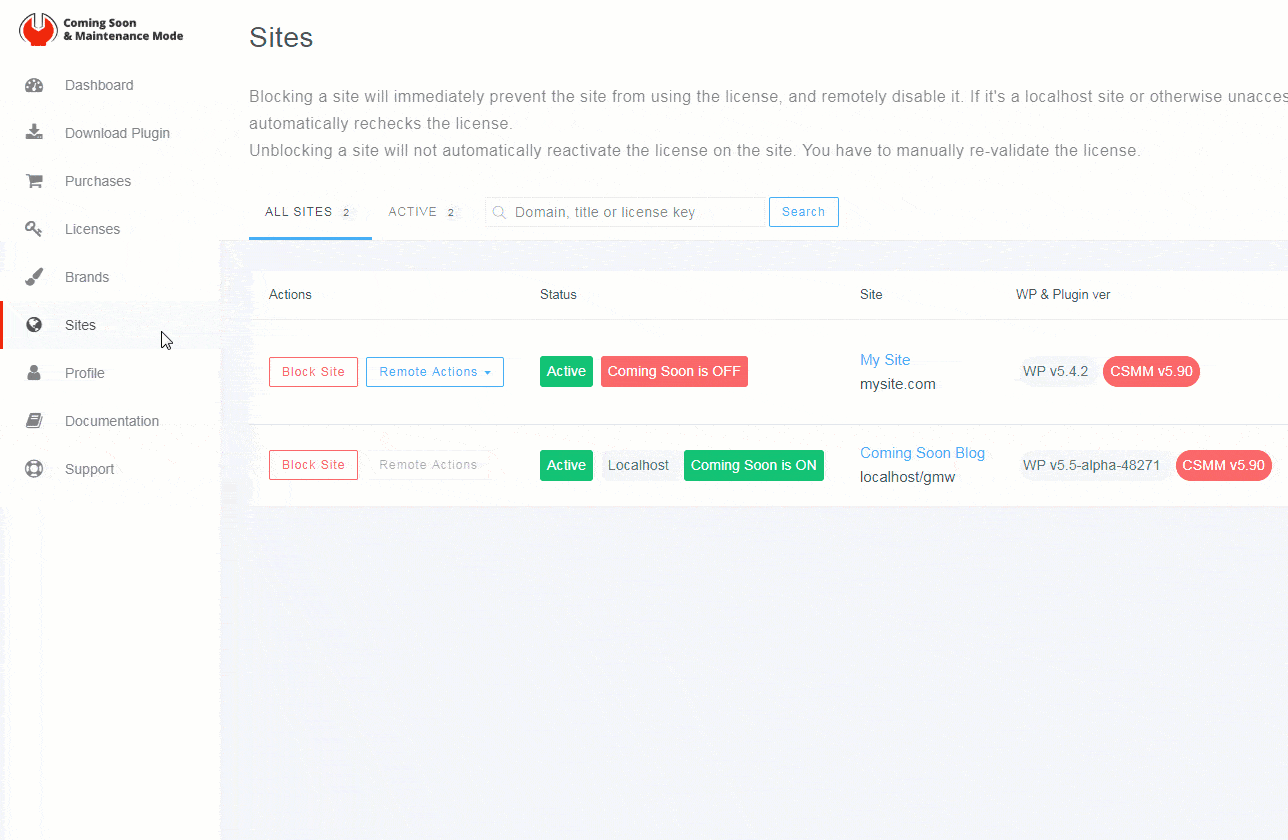 Sync & Revalidate License
If you want to synchronize site data with the Dashboard and revalidate the license (for example, when you make changes to a Brand), all you need to do is click a button.
This option lets you grab the latest stats from the selected websites so you can check the latest graph changes. More importantly, this option revalidates the license and makes the changes active.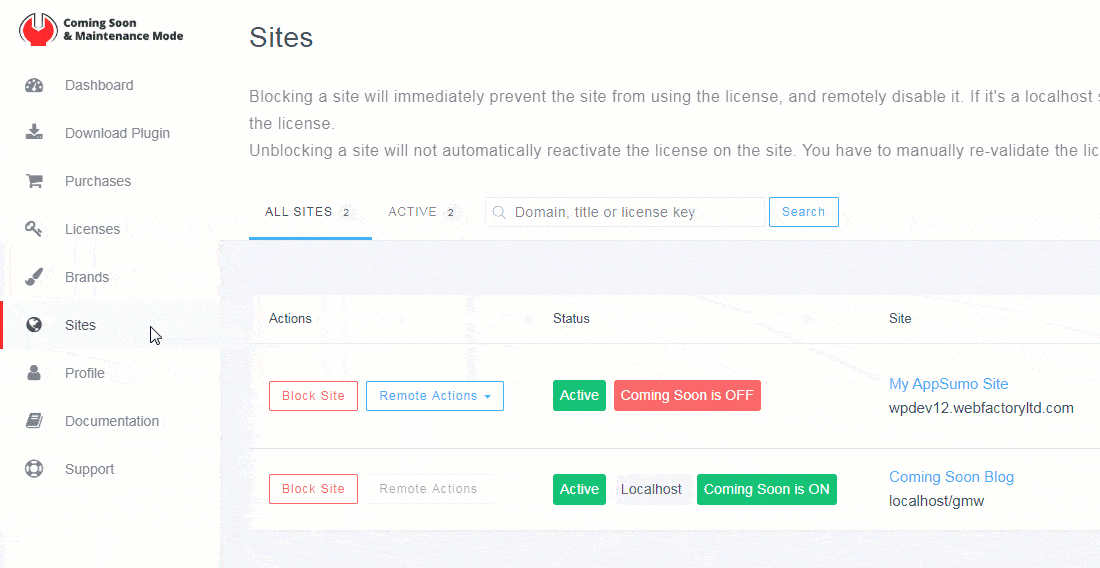 Check Stats Remotely
If you have an Agency license, you can quickly check the statistics of any of your sites directly from the Dashboard.
How to Check Stats remotely?
Open https://dashboard.comingsoonwp.com/ and log in
Go to the "Sites" page
Find the site you want to check
From the far right side of the screen, click on the stats thumbnail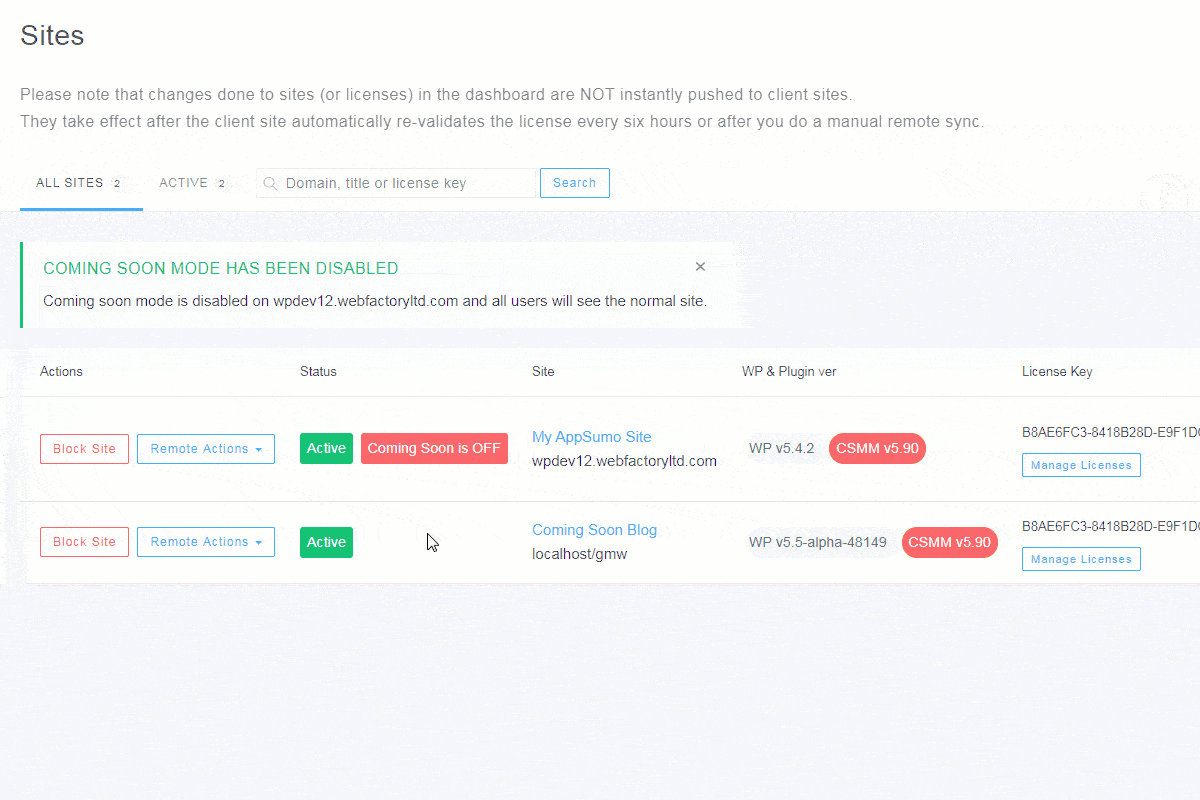 Documentation didn't help? Contact support!
Customers who purchased and have a valid PRO license - contact our support via the contact form built into the plugin or use the general contact form. If you're using the later method please include your license key in the message or contact us via the email address used when purchasing. This speeds things along.
Using the free version? We have you covered too. Head over to the forums. First look at older threads and if you don't find anything useful open a new thread. Support is community-powered so it can take some time to get an answer. If you need premium support this second - upgrade to PRO.