By clicking on the Edit icon (pencil), you will be able to manage that particular license that you have selected. A new settings page will appear, holding all the important options regarding licenses.
License type:
Key – automatically generate a license (can't be edited). This key should be used on a website in order to activate the plugin. As soon as you select the Key option, you will be able to see the auto-generated license key below as shown in the image. You can copy this key to use it on a client's site.

Domain – set a domain for which you want to activate the plugin. Once you install the plugin on that particular domain, you will just need to click the button to activate it. No key needed.
Please make sure to enter the site address exactly as shown in WP-Admin under Settings – General – Site Address (please note that http and https are two different things). We don't support any wildcards so, if you have multiple WP installations on the same domain you have to create multiple license keys – each with the domain set to the site address.
Maximum Active Sites
The option is available only when the License Type: Key is selected.
Enter the maximum number of active sites that can use this license key. While you can create 10 licenses with 10 sites max each (giving you a theoretical total of 100 active sites) you won't be able to simultaneously activate more sites than set by your purchase.
For purchases with an unlimited number of active sites, the limit is 100 per license. For the next batch, you will have to create a new license and assign its max number of sites one more time.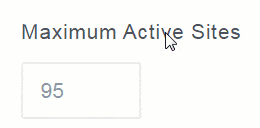 Valid Until
Choose how long the currently edited license will be valid:
Forever – for lifetime products, this option makes the current license valid forever as well. For non-lifetime products, this option makes the current license valid until the date set by the product you purchase. For example, if you have purchased a product for only one year, setting this option to forever makes this license valid for that one year as well. In case you continue the subscription, the license will be automatically prolonged to the new date set by date of purchase/subscription.
Pick a Date – Click on the date to open a calendar. Simply choose a date until you want the license to be valid. For example, if you want a specific license to be valid only for two weeks on the client's website, you can set the date and forget about it.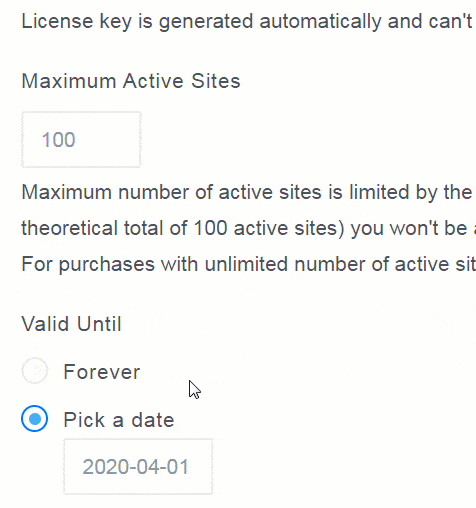 Update License
In order to save changes, click the blue Update License button.

Delete License
By clicking the button, you will delete the current license. You can always create a new one.

Additional Info
Purchase / Product – if you have purchased more than one product from WebFactory, you will be able to select the product for which you want to write down additional notes.
Note – write a note to remind you about the details of this specific license. The note is visible only to you, so feel free to write anything you like.

Extra Features
White Label – check the box to hide the license key info and WebFactory branding. All sites using this key will not be able to see the key. Also, those websites won't show any traces of WebFactory.
Agency Themes – check the box to add an additional pack of Agency themes to all sites that are activated with this license key.

Documentation didn't help? Contact support!
Customers who purchased and have a valid PRO license - contact our support via the contact form built into the plugin or use the general contact form. If you're using the later method please include your license key in the message or contact us via the email address used when purchasing. This speeds things along.
Using the free version? We have you covered too. Head over to the forums. First look at older threads and if you don't find anything useful open a new thread. Support is community-powered so it can take some time to get an answer. If you need premium support this second - upgrade to PRO.