The Sites settings page holds the most important information about each website that you have associated with the Coming Soon & Maintenance Mode plugin. On this page, you can see the status of each website, block each one from having access to the plugin, view the current version and license keys. You can also see when the site was added to the system, and the last time that particular site pinged the licensing server.
Search
If you have more than just one site added to the system, you will be able to quickly search your websites.

Block Site
By blocking the site from using the license, that particular license key will be immediately returned to the available pool of licenses. The website will be deactivated next time it checks the license.
To block the site:
Click on the red Block button
Confirm the action by clicking the blue "Block Site" button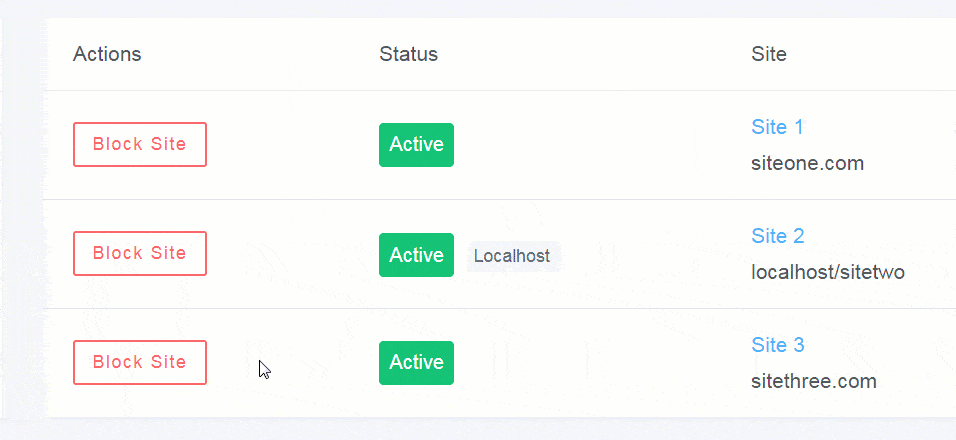 Status
Shows the current status of a site. A site can be active or blocked.

Site
Shows the name of the website as well as its URL.

WP & Plugin ver
Shows the version of WordPress and Coming Soon & Maintenance Mode plugin for each site.

License Key
Displays the license key being used by that particular sites. Next to the key, you will find the "Manage Licenses" button that will open the License settings page.

Added / Last Ping
Shows the date when the site was added to the system Also, here you can see when was the last time that particular site contacted the licensing server which tells you if the site is active or not. Hover over the underlined timestamp to view more details.

Documentation didn't help? Contact support!
Customers who purchased and have a valid PRO license - contact our support via the contact form built into the plugin or use the general contact form. If you're using the later method please include your license key in the message or contact us via the email address used when purchasing. This speeds things along.
Using the free version? We have you covered too. Head over to the forums. First look at older threads and if you don't find anything useful open a new thread. Support is community-powered so it can take some time to get an answer. If you need premium support this second - upgrade to PRO.