Minimal Coming Soon & Maintenance Mode comes with five design elements you can display on your coming soon page. Those elements can be easily rearranged on the page via the simple drag and drop module.
How to arrange modules on the page?
What you need to do is select the module, grab it with your mouse and move around until you get it to the desired position. So, whether you want the logo on the top or the bottom of the page, it's up to you, and you won't have to deal with any custom code to get it there. You can also edit each module by clicking the little pencil (edit) icon that will appear as soon as you place the mouse cursor over the module.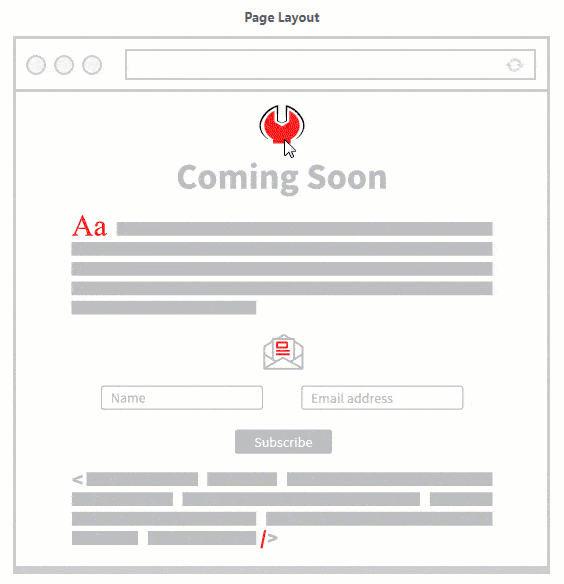 The elements you can arrange are:
Logo – add any image you want as your logo
Header – write a headline
Content – write anything you want
Subscribe Form – display a subscription form and start collecting email address to your MailChimp list
Custom HTML – add any HTML code
Video (PRO) – display a video
Countdown (PRO) – add a timer
Progress Bar (PRO) – shows a bar with a percentage of completion
Social Icons (PRO) – add and style social icons
Map (PRO) – shows a Google Map with a custom location
Documentation didn't help? Contact support!
Using the free version? Please head over to the forums. First look at older threads and if you don't find anything useful open a new thread. Support is community-powered so it can take some time to get an answer. You can also always contact us via the contact form found in the plugin, but if you need premium support this second - upgrade to PRO.