Even if you are using the free Minimal Coming Soon & Maintenance Mode plugin, you can still contact our support with any questions. If you have any questions, something's not working right or you have a suggestion, don't hesitate to send us an email. We will respond in the shortest time possible (usually up to a few hours).
How to contact Support?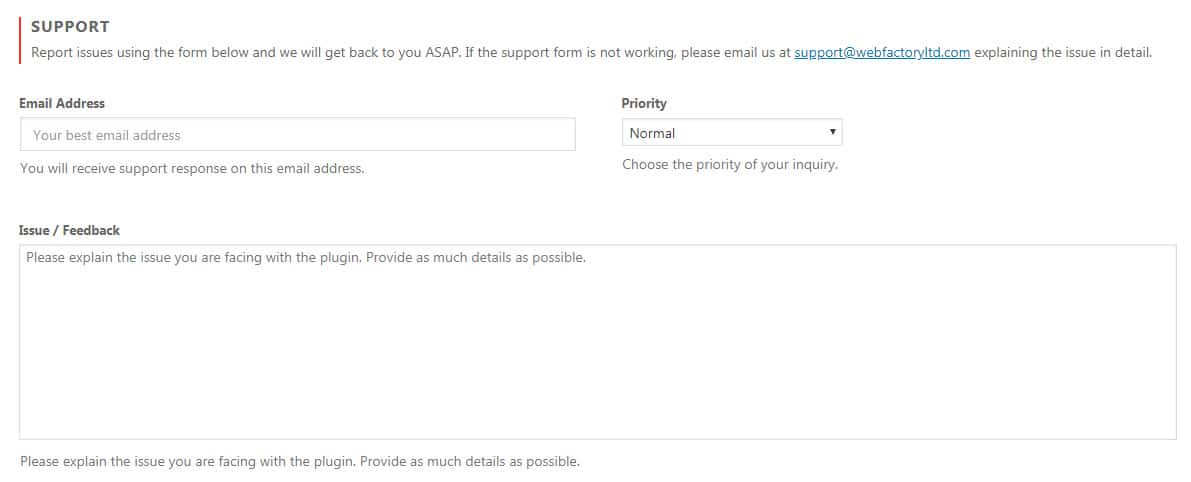 Go to Settings -> Maintenance Mode -> Support
Write your email address
Write your message
Click "Send Support Message"
What is Additional data and why do you need this?
This information about your site and the plugin will help our support agents to detect issues and solve problems much faster. You don't have to do anything; the information will be automatically sent to our support agents, and it's displayed to you so that you know what info is being passed via the email. This will help to speed things up, so this is our preferred method of contacting support.
Contact us directly via email
But if you can't send us a message via the support tab, you can do that directly by sending an email to support@webfactoryltd.com.
When contacting support, please try to be as descriptive as possible, and include as much information about your site.
Documentation didn't help? Contact support!
Using the free version? Please head over to the forums. First look at older threads and if you don't find anything useful open a new thread. Support is community-powered so it can take some time to get an answer. You can also always contact us via the contact form found in the plugin, but if you need premium support this second - upgrade to PRO.